Not all batteries are created equal, and not all batteries make sense – in capabilities or price point – for every customer. To help sort among your options, this Battery Showcase provides a snapshot of what several of the top battery suppliers are offering in the residential and small commercial segments right now.
Panasonic Life Solutions Company of America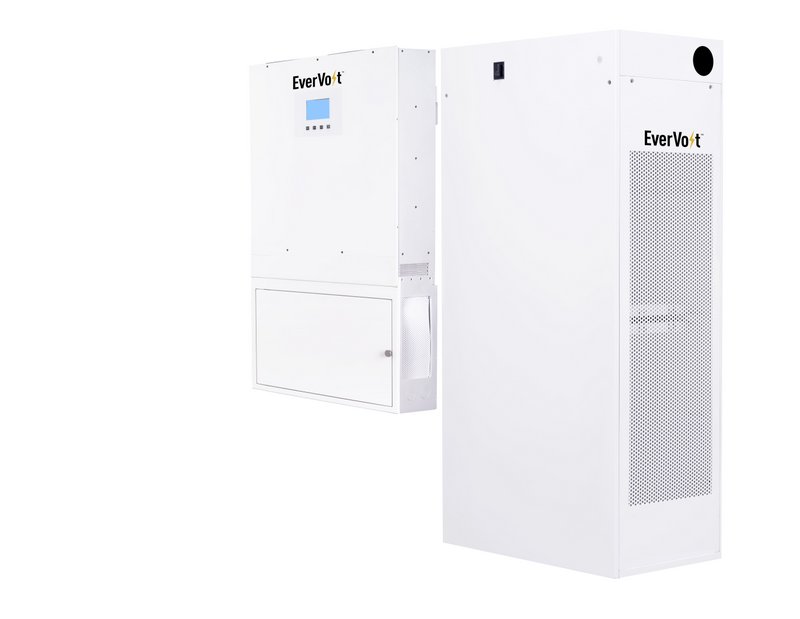 Name: EverVolt Home Battery
Type of battery: Lithium-ion
Chemistry specifics: NMC
Applications: Residential
Panasonic's EverVolt Home Battery is a residential energy storage solution that can be installed new or with an existing system. EverVolt can be tailored to fit any home's energy needs. It is available in AC- and DC-coupled versions, both of which can be scaled down to 11 kWh or expanded to 102 kWh to provide continuous back-up power. Equipped with pre-programmed time-of-use settings, advanced software and a user-friendly app for homeowners, EverVolt can be customized between multiple operating modes and provides visibility into system status. There are only three main components of the EverVolt home battery: the inverter, the battery enclosure and the battery modules. EverVolt only requires a one-person installation and is field serviceable. It is backed by a 10-year warranty provided by a company with a century-old record of staying power and dependability.
Key Specs
Capacity: 11kWh to 102 kWh
Battery Voltage: 46.2V – 48V nominal.
Energy: 11.4 kWh useable Standard, 17.1 kWh usable Plus
Peak Power: 5.5kW off-grid, 7.0kW grid-tied
Dimensions: 29" x 47" x 18"
Systems commonly paired with:
Panasonic EverVolt (learn more in this webinar)
DC coupled: Tigo TS4 optimizers with rapid shutdown, NEP rapid shutdown.
AC coupled: Enphase Microinverters, SolarEdge, SMA, Other standard US compatible solar inverters.
Warranty: When installed by an EverVolt-certified installer and registered through the Panasonic website, the battery storage product is backed by a 10-year product and performance warranty.
Sales: Website
---
Rolls Battery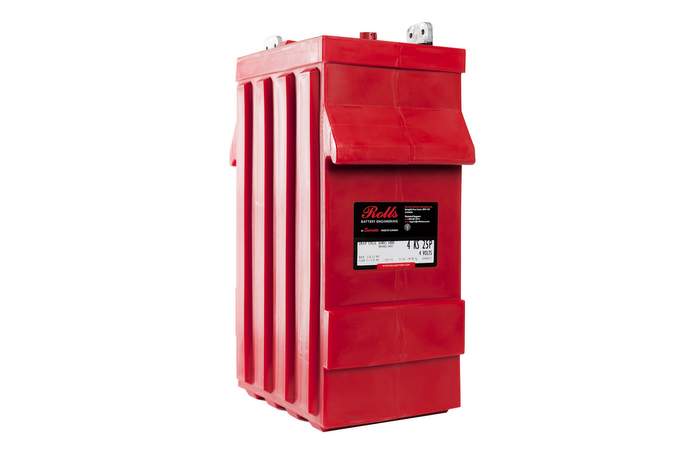 Name: Series 5000 Heavy-Duty Flooded Deep Cycle Renewable Energy Line
Rolls Series 5000 flooded deep cycle models include heavy-duty industrial cells with industry-leading capacity and dual-container construction for added durability and protection. The unique, modular cell construction in these 4, 6, 8 & 12V models offer installers a selection of capacity options and easier transport & assembly when installing in remote sites.
Key Specs
Heavy-duty industrial-grade enveloped plate design for exceptional cycle life
High liquid reserves for cell protection & extended watering intervals
Modular cell & dual-container construction
Warranty: Rolls offers an industry-leading manufacturer warranty on all Rolls
Full offering: Flooded and sealed VRLA AGM & GEL deep cycle lead-acid batteries, LiFePO4 lithium models
Sales contact: sales@rollsbattery.com
Also check out its Advanced NAM Carbon Additive lineup.
---
Fortress Power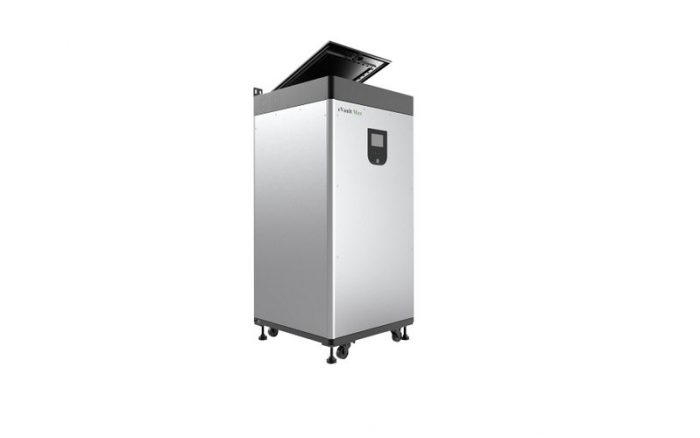 Name: eVault Max
Type of battery: Lithium Iron Phosphate
Applications: Residential and C&I
The eVault Max 18.5 is packing the essential features of the flagship eVault battery into a more robust and intelligent design. The eVault Max is the largest single battery available on the market – providing a variable output up to 370 kWh making it the ideal residential and commercial solution. The Battery Management System (BMS) has been improved to scale up to 20 units and provide closed-loop communication with approved inverters. Fortress Power engineers optimized the internal structure of the eVault Max battery to make installation and service simple, and intuitive for our installers. The eVault Max comes with a standard 10 Year Warranty with 6,000 life cycles (up to 16 years of life!)
Key specs
UL1642, UL1973, UL9540
98% Efficiency
Max Charge/Discharge Current (continuous) [A] = 180
Storage Temp: 6 months: 14°F ~ 77°F (-10°C ~ 25°C) / 3 months: -4°F ~ 113°F (-20°C ~ 45°C)
Enclosure Protection Rating = IP55
Commonly paired with: Schneider, Outback, Magnum, SMA, Sol-Ark, Victron, Morning Star, Midnite Solar, (Closed-Loop Communication with Sol-Ark, Schneider and SMA)
Warranty: 10 Years
Sales: sales@fortresspower.com| www.fortresspower.com
---
Generac
Name: Generac PWRcell Battery
Type of battery: Modular, DC-coupled smart battery
Chemistry specifics: Lithium Nickel Manganese Cobalt (NMC)
Applications: Residential
The Generac PWRcell battery has up to 9 kW of maximum continuous power and 18 kWh of capacity, and PWRcell can keep a whole home running during a power outage. Generac's PWRcell battery is easy to install, featuring components that can be lifted and installed by a single installer and a plug-and-play connection to the inverter and DC-coupled solar. The unit itself can be installed indoors or outdoors, either on the floor-standing or wall-mounted. The PWRcell battery system is also highly configurable: customers may choose the amount of power and capacity that suits them best, 9-18 kWh per battery and a maximum of 36 kWh per inverter if a second battery is installed.
Key specs
9 to 18 kWh Useable Energy (per battery)
9 to 36 kWh Useable Energy (per system)
4.5 to 9 kW Max. Cont. AC Power (Via PWRcell Inverter)
96.5% RTE (DC-DC)
Dimensions: 22″w x 10″d x 68″h
Commonly paired with: Generac PWRcell Inverter and PWRzone Solar
Warranty: 10 years or 7.56 MWh per module (45.36MWh for PWRcell Battery M6 config)
Sales: Website
---
Blue Planet Energy
Name: Blue Ion HI
Chemistry specifics: Lithium ferrous phosphate (LFP)
Applications: Resi and C&I
Blue Ion HI is Blue Planet Energy's premium battery system for those who desire a flexible and superior energy storage experience. As a universal pairing for any 48-volt battery-based inverter, the Blue Ion HI effortlessly accommodates energy storage from a variety of sources, including solar PV, the utility grid, generators, and more. Thoughtfully designed, Blue Ion HI boasts intuitive features that dramatically simplify installation, including removable panels for easy internal access, a specially designed racking system for precise battery module installation and proprietary conduit knockouts for a no-drill process. Like all Blue Planet Energy solutions, Blue Ion Technology delivers safety through a benign battery chemistry and an intelligent architecture with an unmatched 15-year performance warranty. Blue Ion HI is proudly built in the USA and deployed around the planet for grid-optional energy storage applications that support decarbonization and electrification goals.
Key Specs
non-toxic LFP battery chemistry
15-year performance warranty (8,000 cycles/100% DoD)
UL9540a listed
Capacities of 8 kWh, 12 kWh, and 16 kWh
High-power 8kW continuous performance
Commonly paired with: All leading inverters, such as SolArk, SMA, Outback, Schneider, etc.
Warranty: 15-year performance warranty
Sales: sales@blueplanetenergy.com
---
Crown Battery Manufacturing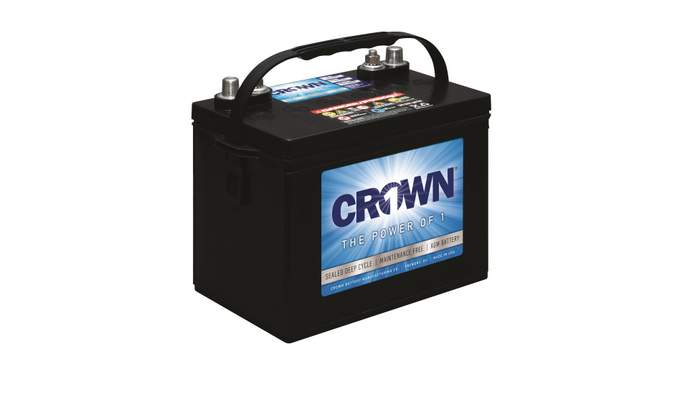 Name: CROWN1 Maintenance-Free Home and Business Batteries
Type of battery: AGM (absorbent glass mat)
Applications: Resi and C&I
CROWN1 batteries incorporate 80%+ recycled materials, and they're 99% recyclable (lithium-ion is 0%-60% down-cyclable). They are engineered and manufactured in the United States and proven in 10,000+ installations on six continents — everything from a Department of Energy single-family home pilot project to North America's largest off-grid school and Central Asia's biggest microgrid. Designed for turnkey installation and longer life, Crown batteries feature robotic welding with 3,960 more adjustments than conventional methods. The industry's heaviest plates hold more active material, for more chemical reactions. US-based sales and tech support help you avoid costly on-site drives and inspection delays. Protect your supply chain with 100% domestic critical materials and simple, robust shipping from 14 sales and distribution offices in North America and more than 60 countries.
Key specs
Sustainable – 100% renewable energy for manufacturing, 98.9% recyclable
100% U.S.-Engineered and robotically Manufactured to ISO 9001:2015 standards
Powers multiple generations of renewable energy facilities, since 1926
250+ quality checks per battery – for maximum consistency, durability, and lifespan
3. 6-, 8-, and 12-volt models feature 33-390 Ah (20-hour rating) capacities and virtually unlimited configuration options
Systems commonly paired with: N/A
Warranty: Varies; batteries are engineered and robotically assembled for longevity
Sales: Website
---
BYD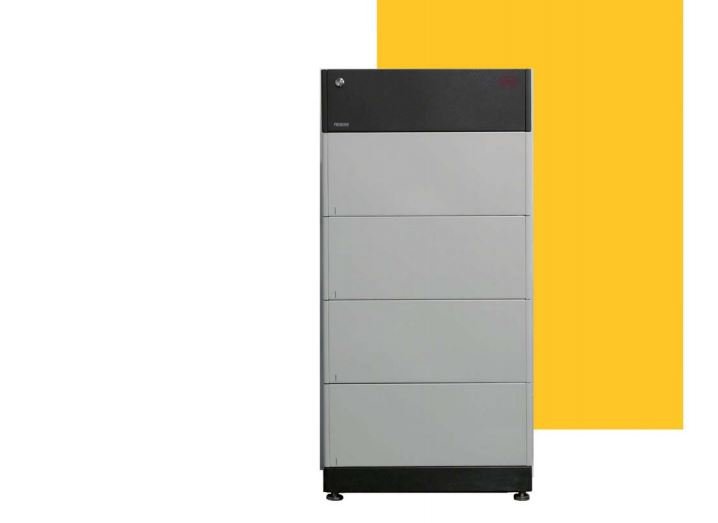 Name: BYD Battery-Box HVL Series
Type of battery: High Voltage
Chemistry specifics: Lithium iron phosphate
Applications: Resi and C&I
Battery-Box from BYD is the next generation of residential storage. Capable of high-powered emergency-backup and off-grid functionality, has the highest efficiency thanks to a real high-boltage series connection, requires no internal wiring and allows, for maximum flexibility and ease of use.
Key specs (for HVL 12.0)
Usable Energy 12 kWh
Max Output Current 50 A
Peak Output Current 75 A, 3 s
Round-Trip Efficiency ≥96 %
Operating temperature 14°F to 122°F
Systems / Inverters it is commonly paired with: GoodWe A-ES
Warranty: 10 Years
Sales: Website
---
KiloVault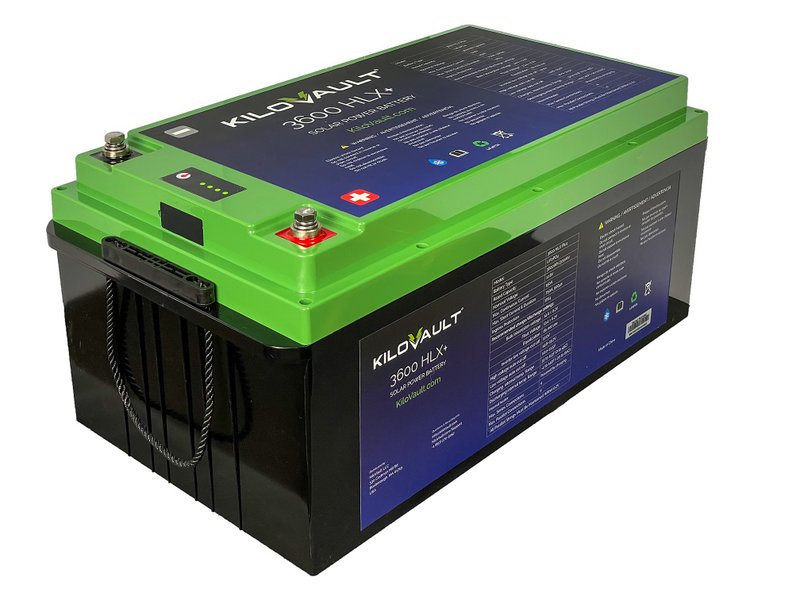 Name: KiloVault HLX+ Series
Type of battery: Deep Cycle Lithium Battery
Chemistry specifics: LFP (LiFePO4)
Application: Residential and C&I
The KiloVault HLX+ series is the first solar lithium battery made for both hot and cold. HLX+ s­­eries offers the features of both the HLX and CHLX series of batteries, at an exceptional value. Key upgrades allow for ease of use and battery bank performance, and premium quality at the same competitive price of earlier models. Designed with versatility in mind, the HLX+ serves as a drop-in replacement for lead-acid batteries in a renewable energy system, providing more energy and a higher cycle count with less weight. They also thrive in marine, RV, camper, golf cart, medical device, lighted signage, and off-grid applications. The HLX+ boasts some of the highest surge ratings in its class, perfect for kitchen appliances or large power tools.
Key specs
Rated voltage: 12.8 V DC
Voltage Configurations: 12, 24,36, 48 V DC
Rated capacity: 1200 Wh / 2400 Wh / 3600 Wh
Continuous Discharge: 100A / 150A / 200A
Max Charge Current: 80A / 150A / 200A
Systems commonly paired with: Schneider Electric, Outback Power, Morningstar, Midnite, Sol-Ark, Victron
Warranty: 7.5 Years
Sales: Website | info@kilovault.com
---
sonnen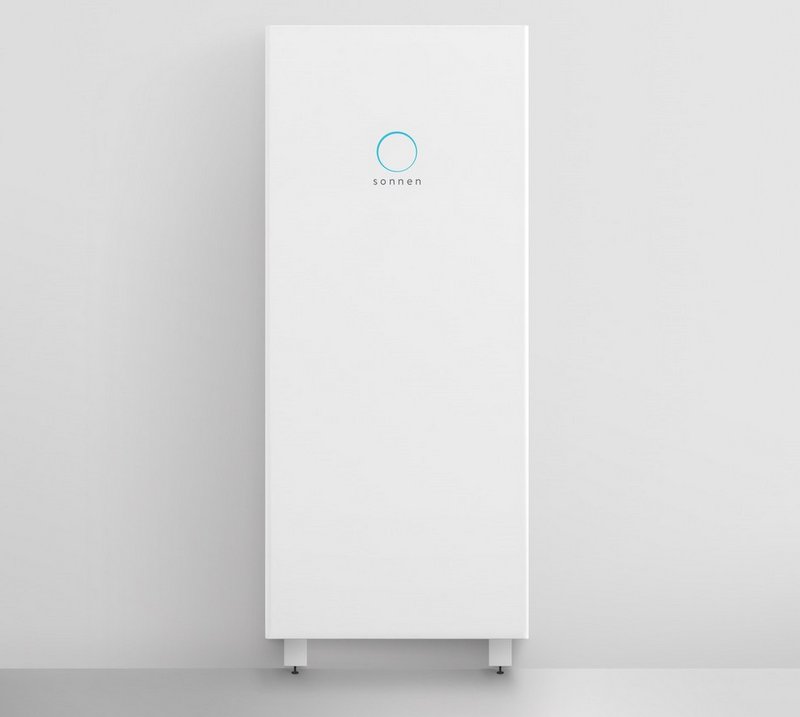 Name: sonnenModule
Type of battery: Residential energy storage
Chemistry: lithium iron phosphate
Application: Residential
The sonnenModule is designed with a built-in, custom sonnen battery management system (BMS) that allows the batteries to charge and discharge to 100 percent of the usable capacity. The lithium iron phosphate battery chemistry is built for safety and is both cobalt free and 100 percent recyclable, so they're ideal for homes. The entire system is designed to last with a factory-limited warranty of 10-years / 10,000 charge cycles and is expected to deliver 58 MWh of energy over the lifetime of the system.
Key specs
Optimized for performance using a custom BMS, designed by sonnen
Safe, long-lasting, sustainable (cobalt-free and 100% recyclable) LFP battery chemistry
Fully usable 5kWh capacity per battery module, with a 10kWh total system capacity
Up to 58 MWh of estimated total watt hours over the life of the warranty
Systems commonly paired with: sonnenCore & sonnenInverter
Warranty: 10,000 cycles or 10 years
Sales: Website
---
LG RESU HV
Chemistry specifics: Lithium Ion
Applications: Residential
LG Chem RESU 10H 400v Lithium Ion battery for safe and reliable residential energy storage. 9.3kWH Usable (9.8kWH Total), 63Ah capacity. RS485 Communication port. IP55 rated Enclosure. Requires additional storage management hardware. Compatible with the SolarEdge StorEdge SE-7600A-USS or SE-7600A-USS-HP residential inverters. 1 Battery per inverter at this time, can be expanded to 2 with future firmware updates. Product Dimensions: 29.3 x 35.7 x 8.1 (in) / 745 x 907 x 206 Product Weight: 214 (lbs)
Key specs
9.8kWH total energy
8.8kWH usable energy
189 capacity Ah
17.8W x 19.1H x 8.9D, In Dimension
165 weight lb
Systems commonly paired with: GoodWe A-ES
Warranty: 10 Years
Sales: Website
---
SimpliPhi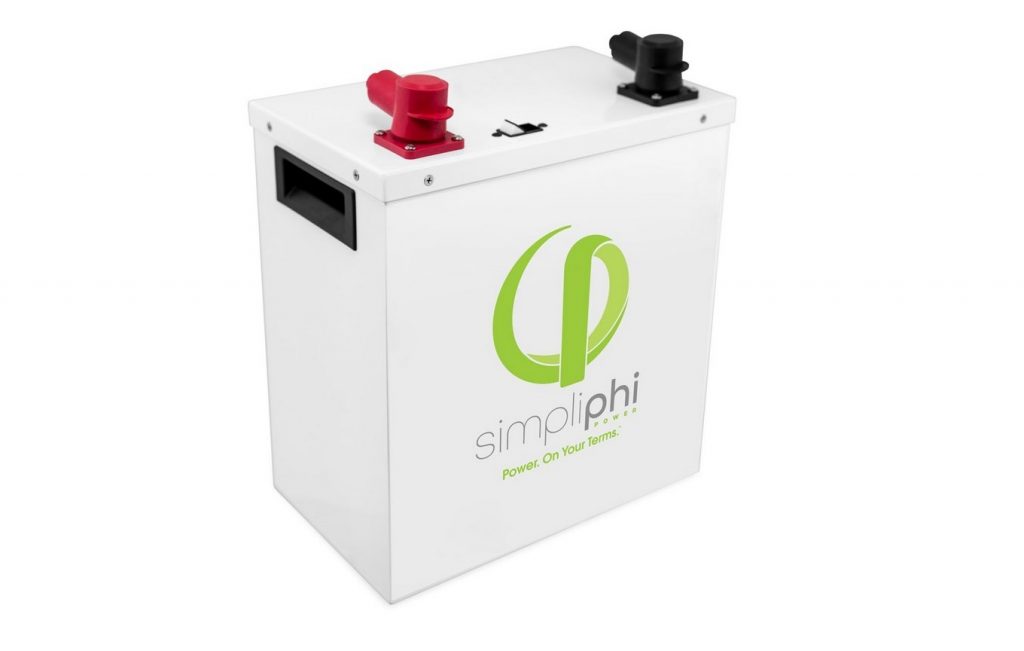 Name: PHI 3.8-M BATTERY
Type of battery: Lithium Ferro Phosphate (LFP)
Applications: Resi and C&I
The PHI 3.8-M kWh 60 Amp deep-cycle Lithium Ferro Phosphate (LFP) battery is optimized with proprietary cell architecture, power electronics, BMS and assembly methods. It is modular, light- weight and scalable for installations that range from kWh to MWh. Provides power security and seamless integration of renewable and traditional sources of energy in conjunction with or independent of the grid: net zero, peak shaving, emergency back-up, portable and mobile.
Key specs
Cycle Life: 10,000+ (@80% DOD)
MAX Discharge Rate (10 minutes): 24V: 80 Amps DC (2.05 kW DC); 48V: 80 Amps DC (4.1 kW DC)
Amp-Hours: 24V: 151 Ah; 48V:75 Ah
Max Continuous Discharge: 24V: 75A DC (1.9 kW DC); 48V: 37.5A DC (1.92 kW DC)
Depth of Discharge: Up to 100%
Operating Efficiency: 98%
Commonly paired with: Sol-Ark, Schneider, Magnum, Outback, Samlex, Victron, Morningstar
Warranty: 10 years
Sales: sales@simpliphipower.com, simpliphipower.com
---
Yotta Energy
Name: Yotta SolarLeaf, SL1000
Type of battery: modular
Chemistry specifics: Lithium-Iron Phosphate
Applications: C&I
Yotta provides a scalable, distributed energy storage solution for buildings. Yotta offers a fully-integrated energy storage solution that seamlessly integrates behind each solar photovoltaic (PV) panel in a solar array. Engineered with smart thermal regulation technology, the SolarLeaf safely enables a distributed and scalable format while maximizing the life and performance of the battery under extreme temperature conditions. Yotta's solution doesn't need to be installed indoors. As a result, Yotta's solution significantly reduces the total installed costs of solar + storage.
Key specs
Max Power Output (discharge) – up to 750 W, from battery but further limited by solar inverter
DC Conversion efficiency – 95%, solar to battery to inverter, at the beginning of life
Solar PV Input – up to 750 W
Module Compatibility – 60-72 cell PV modules, Voc(max) 60V – Isc(max) 12.5A
Rated kWh Capacity – 1000Wh @100%DoD; 800Wh @80%DoD
Commonly paired with: The Yotta Dual-Power Inverter.
Warranty: 10 yrs extendable to 20 yrs
Sales: sales@yottaenergy.com | www.yottaenergy.com
---
POMCube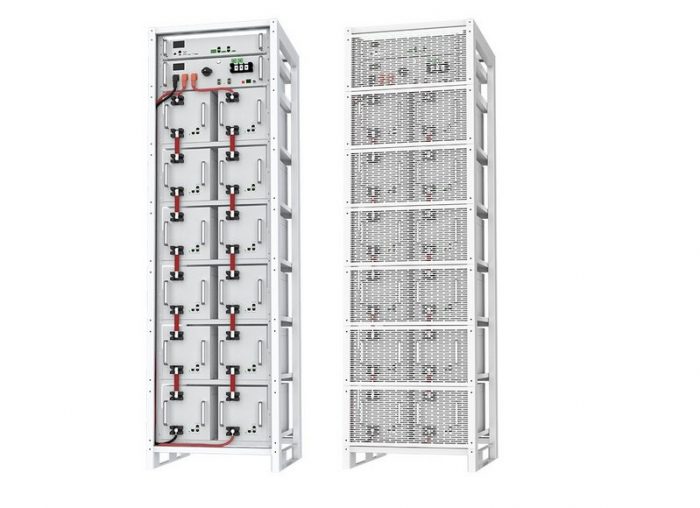 Name: POMCube Mega Battery System
Type of battery: Lithium-ion
Chemistry specifics: LiFePO4
Applications: Residential and C&I
A plug and play battery system with true 400V system voltage. The lightweight modular design enables a single installer to set up the entire battery cabinet within 30 minutes. Each of the eight pluggable battery modules weighs less than 45 lbs and can be installed by customers without connecting any wire. Battery management system (BMS) with active load balancer protects the battery while allowing maximum usable capacity on every cycle. The POMCube Mega battery system is developed for residential and small/medium-sized commercial & industrial uses. As more and more homeowners are looking for whole-house backup, a larger battery system is needed to meet ever-increasing energy consumption. Mega is also the versatile solution for many business owners. Before, energy storage was either too large or too small for them. Moreover, this is a reliable UPS when there is an outage. With its stackable modules, Mega is more friendly in installation and future maintenance. And Mega is warrantied with 6,000 cycles. Listings: UL9540, UL1973, UL1642, UL1998
Key specs
Rated Energy: 41.0 / 51.2 / 61.4 / 71.7 kWh, parallel supported
Charge & Nominal Voltage: 448 / 560 / 672 / 784 Vdc; 409.6 / 512 / 614.4 / 716.8 Vdc
Nominal Capacity: 100Ah
Operating Voltage Range: 384 ~ 467.2 Vdc (41.0 kWh), 480 ~ 584 Vdc (51.2 kWh), 576 ~ 700.8 Vdc (61.4 kWh), 672 ~ 817.6 Vdc (71.7 kWh)
Continuous Power: 20.5 / 25.6 / 30.7 / 35.8 kW
Commonly paired with: All kinds of PCS rated in the supported voltage range as well as customized communication protocol.
Warranty: 10 years
Sales molly.hu@pomcube.com / www.pomcube.com
Listen to more in-depth conversations on Solar Builder's YouTube channel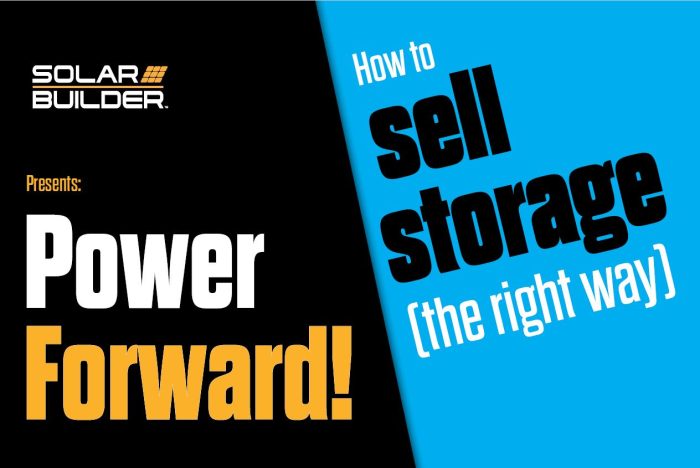 Our most popular series include:

Power Forward! | A collaboration with BayWa r.e. to discuss higher level industry topics.
The Buzz | Where we give our 2 cents per kWh on the residential solar market.
The Pitch | Discussions with solar manufacturers about their new technology and ideas.
Tags:
Blue Planet Energy
,
Buyer's Guide
,
BYD
,
commercial
,
Crown Battery
,
EverVolt
,
Fortress Power
,
Generac
,
KiloVault
,
LG
,
off-grid
,
on-grid
,
Panasonic
,
Rolls Battery
,
SimpliPhi Power
,
Sonnen
,
Yotta Solar