From education to innovation, the 2015 nominees had a ton of stories to tell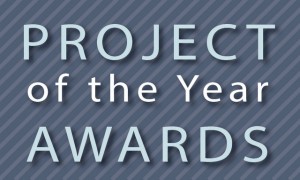 Here's the best thing about our Project of the Year Awards: Ours readers vote on the winners. I say this is the best thing not because of the interaction (over 1,000 votes cast), or because of the social media campaigns waged by the nominees or because of the power of democracy or because it is just fun to vote on things. All of those are true too, but the real virtue of the vote is it takes the decision out of our hands.
Not that we are looking to avoid work, but picking "the best" among the field of entries is nearly impossible. How do you define the best? Is it the biggest, baddest install? Is it the innovative techniques? Is it the most philanthropic? My nose is starting to bleed just typing out the questions.
Not to go into mushy "you're all winners!" territory, but when reading over all of the submissions, they all seemed like the best. Innovative PPA models; providing energy in underdeveloped areas; collaborative university projects; jaw-dropping designs. And so on.
But there can be only one. As in previous years, nominees were divided into ground-mount and roof-mount categories. Thanks again to everyone who took the time to cast their vote, and another big heap of thanks to everyone who submitted projects. And hey — never too early to get a jump on the 2016 Project of the Year Nominations!
Roof-Mount WINNER
Bishop O'Dowd High School
Oakland, Calif. | 51 kW
Education and renewable energy go hand in hand. The energy revolution we've seen the last few decades has come about because of some serious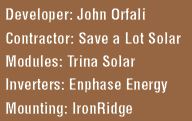 education and re-education of the public. If humans plan on sticking around awhile, growing an awareness of sustainability is as important today as acquiring skills in math, history and language arts. Bishop O'Dowd High School believes in these principles.
This private school in Oakland, Calif., wants to help create a sustainable environment as part of its mission, with an emphasis on resource conservation, respect and learning from nature. These lessons pop up both in its curriculum and in its operation.
The school has a Center for Environmental Studies, two plant propagation centers and even a director of sustainability on staff. The center has been awarded the highest Leadership in Energy and Environmental Design (LEED) certification possible.
Despite all of these forward-thinking initiatives, Bishop O'Dowd had a problem: With a two-story building facing southeast, the classrooms get too hot during the day, causing students to lose focus. The sun also shines a glare that makes seeing the fancy new audio/visual equipment a struggle.
Ground-Mount WINNER
USVI Solar I
St. Thomas, U.S.  Virgin Islands | 5 MW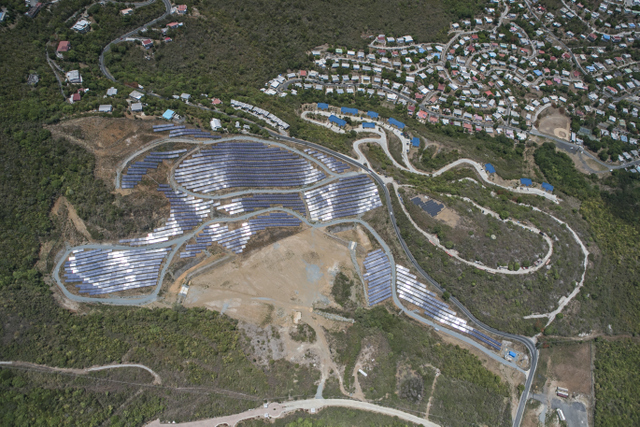 Daunting. That was the first word Sam Ley, energy systems engineer for AES Distributed Energy, used to describe USVI Solar I, our Ground-Mount Project of the Year. And really, we could have just printed that one word in bold, 72-point type near the photos and summed up USVI Solar I without telling the whole story. But let's go ahead and tell it anyway.
Located on a rocky, overgrown steep hill that was freely available to the Virgin Islands' Water and Power Authority (WAPA) because it was unusable for development, the USVI Solar I project required some serious engineering and patience to get online. But USVI Solar I is more than just a harrowing solar development war story as this project is hugely important for the 40,000 people living on the island.
In 2009, the U.S. Department of Energy reported that the Virgin Islands was almost 100 percent dependent on imported oil for electricity, water desalinization and transportation, resulting in electricity costs that were nearly four times the U.S. national average. Since the Hovensa oil refinery closed in 2012, WAPA has utilized expensive, polluting diesel generators for electricity. Now, WAPA has a new vision for generating renewable energy and stabilizing its grid with the goal of reducing fossil fuel use by 60 percent by 2025.
This 5-MW PV plant is the largest PV plant in the U.S. Virgin Islands and is expected to generate approximately 7.9 million kWh of electricity annually — which is about 10 percent of the island's energy needs and provides lower-cost energy to WAPA at a fixed rate. And none of it would be possible without the right screw.
Roof-Mount Runner-Up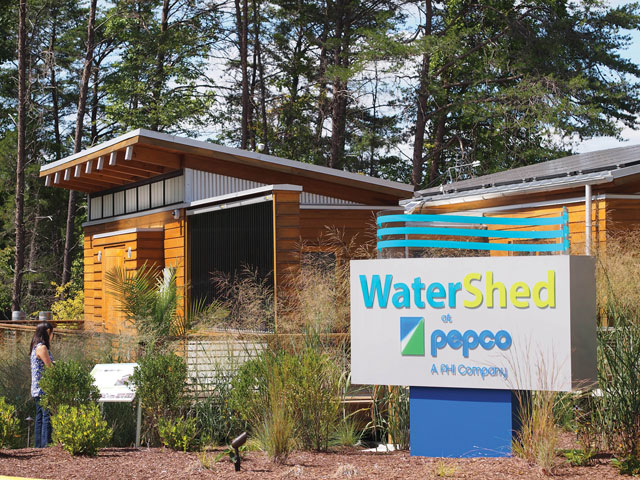 This runner-up in the rooftop category really can't be pinned down by one label. Sure, it is a cool looking building with a nice rooftop and storage system, but that's just one facet of a project meant to promote total sustainability.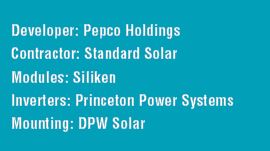 In the summer of 2014, Standard Solar, a leading solar energy company, partnered with Pepco, a subsidiary of Pepco Holdings that delivers electric service to more than 815,000 customers throughout Maryland and the District of Columbia, to develop an innovative behind-the-meter solar microgrid demonstration project at the WaterShed Sustainability Center in Rockville, Md. The solar microgrid project was developed in a public setting designed to highlight the system's capabilities, which was an important factor in its creation.
The project is a beacon — a teaching tool. Basically, Pepco wanted the WaterShed Sustainability Center to showcase environmental initiatives to help educate the public about all of energy-efficient and environmentally friendly practices at their disposal — like how the house captures most of the rain water on the site.
Ground-Mount Runner-Up
In 2012, the National Aquarium in Baltimore began exploring rooftop solar as a way to decrease dependence on traditional energy resources.
However, given the National Aquarium's unique building design, rooftop panels were nearly impossible. The limited roof space could only accommodate a very small system, and its aging roof was soon scheduled for replacement. The Aquarium wanted to make a more substantial conservation impact, simultaneously securing long-term, fixed pricing on a significant portion of its renewable energy, while receiving renewable energy from its home state of Maryland.
Oh, what to do? Enter Cambridge Solar.
Honorable Mentions
Santa Ana Golf Club, Bernalillo, N.M. | 250 kW
Developer: Osceola Energy
Contractor: Osceola Energy
Modules: Canadian Solar
Inverters: SMA America
Module: S-Flex
You've seen solar carports, probably many of them, but you haven't seen solar carports like this.
The Santa Ana Golf Club solar carport epitomizes the balance of form and function. This solar carport consists of two structures, each spanning 336-ft in length by 38-ft width, with a total of 840 310-W solar modules and utilizes the solar modules to generate energy while simultaneously offering guests a shaded area to park their cars during the day.
Twenty-eight steel columns span the structure, consisting of 26 bays, each with an LED light to softly light up the structure at night. The minimalist design integrated Spanish-style steel corbels, locally sourced hand-fused glass emblems of the Santa Ana Golf Club logo and a custom color palette that complemented with the surrounding buildings.
"Our fundamental belief is that renewable energy systems should be both functional and aesthetically pleasing," Osceola Energy says. "All too often we hear that 'solar is ugly,' and we stand to challenge that perception. Our motto is 'solar so beautiful, you'll want to show it off.'"
Charlton Solar, Charlton, Mass. | 4.4 MW
Developer: Nexamp
Contractor: Nexamp
Modules: Yingli Solar
Inverters: AE Solar
Mounting: RBI Solar
Constrained by population densities and interconnection capacity, most optimal solar sites in the Northeast have already been developed, leaving more challenging landscapes necessitating site-specific designs. The 4.4-MW Charlton Solar plant in Massachusetts is one of two "managed growth" projects built in 2014 that required creative engineering and operational solutions. Steep slopes and a ledge needed blasting, complex drainage solutions were implemented to control storm water and innovative construction management enabled swift installation on undulating terrain. Despite challenges, Charlton Solar took just five months to complete after acquisition closing. Its success demonstrates solar's readiness to curb surging energy costs in the region.
Be Like Brit, Grand Goave, Haiti | 30 kW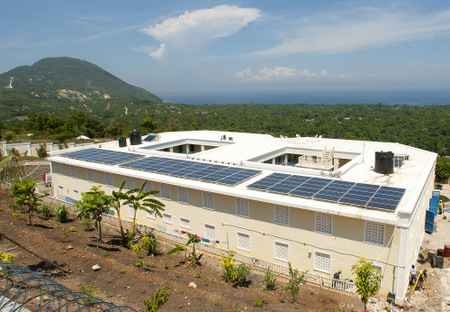 Developer: Solect Energy
Contractors: Solect Energy, Downing Electric
Modules: Canadian Solar
Inverters: Magnum Energy
Mounting: IronRidge
In January 2010, Britney Gengel, a 19-year-old student from Massachusetts, was killed in the devastating earthquake that struck Haiti while volunteering in one of the country's local orphanages. To honor Brit, her family started a foundation and built a 22,000-sq-ft, earthquake-proof orphanage shaped in the letter B, for Brit, in Grand Goave, Haiti. Prior to the installation, Be Like Brit got its electricity from the local utility, which was unreliable and cost the organization around $4,000 per month. Enter the solar industry:
Solect, along with two local subcontractor partners from Massachusetts, sponsored two installation team members to travel to Haiti to lead the installation. Solect donated 50 solar panels to the orphanage in order to manage construction costs for the organization and ensure that more of the non-profit's donations could be used to provide care for the children, instead of paying for electricity.
The finished project now provides 60 percent of the electrical needs of the orphanage. The project is one of a kind in that it utilizes large-scale battery storage for a commercial project. The battery system for Be Like Brit consists of 48 two-volt batteries, which is an incredibly large amount of back-up power for a system of this size.
University of Miami Frost School of Music, Coral Gables, Fla. | 71.5 kW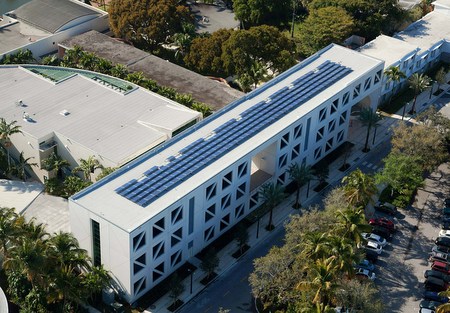 Developers: HOK (Hellmuth, Obata &
Kassabaun, Inc.)
Contractors: Skanska USA Building Inc.,
Advanced Green Technologies and Advanced Roofing Inc.
Modules: Canadian Solar
Inverters: SMA America
Mounting: SunLink
Designed by award-winning architects Yann Weymouth and HOK, and constructed by Skanska USA, the University of Miami's new Frost School of Music facility boasts two buildings with 41,089 sq ft of upscale teaching spaces and beautiful curb appeal. Located on UM's Coral Gables campus, the Patricia Louise Frost Music Studios is seeking to be the first LEED Platinum certified building in the city of Coral Gables, Fla.
Additionally, the completed rooftop solar arrays are built to withstand 180 mph wind speeds, qualified for a 20-year NDL on all penetration flashings from the roofing manufacturer and helped the building qualify for two LEED points in the energy efficiency category.
The completed solar arrays will offset 13 percent of the building's total energy consumption and produce 101 MWh annually.