The coronavirus crisis is having a huge impact on solar installation business and project timelines. It's also served to highlight areas in the solar PV sales proposal, permitting and design process that many solar companies could improve or streamline, via remote site assessment, shade analysis, system design software and integrated sales tools. We sent out a call for providers to explain their latest innovations in this space, their target customers and just how you can use their services to your advantage. Give it a scroll and see if anything could improve your workflow or sales funnel in either trying or thriving times.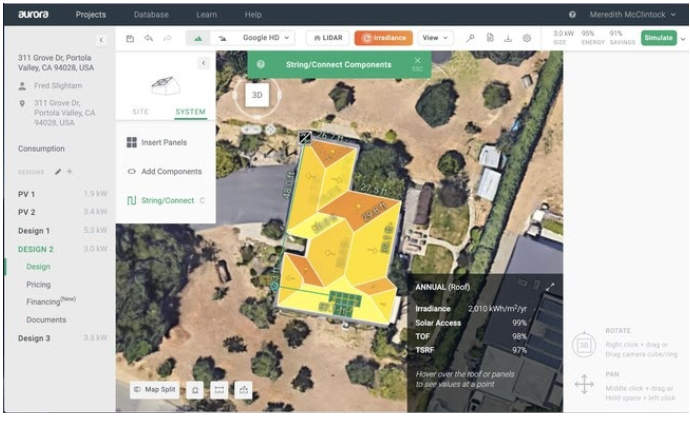 Target customer: Residential and commercial solar contractors
Aurora's world-class engineering team has developed its patented SmartRoof technology, which is the only solution in the market that allows solar professionals to create a highly accurate 3D CAD model of a site in just a few minutes. Using these models, Aurora can forecast how many solar panels will fit on a property, calculate how much energy they will produce, and predict how much money the installation would save a property owner. Aurora's technology enables shade reports that are equivalent to on-site measurements, and are accepted by all major rebate authorities such as NYSERDA, MASSCEC, Energy Trust of Oregon and the Connecticut Green Bank.
Top features
Model the site from an uploaded blueprint, and quickly and accurately create Title 24-compliant PV system designs
Accurately estimate how much energy a PV system will produce
Can be used in both the performance and prescriptive method to size the minimum required PV system
Aurora's shade reports are accepted as the required documentation for solar access of PV systems
Recent updates: Aurora is the first—and currently only—to formally receive the California Energy Commission's (CEC) certification as an approved solar assessment tool for solar access verification for new home construction.
Examples: Learn more in our 2020 Residential Rooftop Report
---
Solar-Log WEB Enerest 4.0 and Base hardware
Target customer: Commercial installer, developer, O&M provider
Solar-Log solutions protect the investment made in solar, throughout the lifetime of the array. Solar-Log WEB Enerest 4.0 is an intuitive software platform to streamline energy monitoring and management. The Solar-Log Base hardware connects to a variety of onsite devices for reliable data logging and control. When combined, these tools help ease onsite installation, troubleshoot underperformance, maximize production, and enable service provider to monitor even the largest fleets with ease.
Top features
Multi-orientation analysis – Enables users to identify the ideal panel layout by analyzing the MPPT's generation based on orientation.
Innovative Bus Analysis Function – The Solar-Log Base comes with an integrated oscilloscope feature which will test the quality of the cabling and communication reliability between the inverters and the Solar-Log.
Communication Heat Map – A comprehensive graphic, the heatmap provides a way to quickly see if communication has been lost with an inverter, and if so, when the interruption occurred and for how long.
Recent Updates: The Solar-Log Base and Solar-Log WEB Enerest 4.0 are completely redesigned products, so everything is new. The Solar-Log Base was released in 2019 and Solar-Log WEB Enerest 4.0 will be available Q2 2020.
Example: Multi-orientation analysis
Installers can determine the best layout for panels by performing a multi-orientation analysis. Comparing the output of panels placed along a specified direction (say South or East West orientation) for a particular rooftop plant, Solar-Log can help identify differences in generation patterns along the two different orientations at different tilt. Solar-Log can provide information as to which specific tilt and orientation has the maximum yield. Solar-Log can also provide a glimpse into the impact of shading during a specific time frame. Comparing panels of different orientations, on the MPPT level, voltages and deviations can clearly indicate why the relative generation is lesser in one specific direction. Providing the site engineer with this insight can reduce the time it takes to troubleshoot and help avoid unnecessary truck rolls.
---
Solaria (coming soon)
Target customer: Residential installers installing highly efficient Solaria panels
With its flagship PowerXT, Solaria offers maybe the most beautiful, highly efficient and sleek solar power panel available. Solaria is partnering with OpenSolar to deliver a free state-of-the-art sales proposal / design tool for its expanding group of dealers across the U.S. This comprehensive tool enables Solaria dealers to create interactive proposals that factor in every component of system design and deployment. It is accessible via desktop and mobile devices, empowering Solaria dealers to boost their phone and online sales – and streamline their work in the field. It also includes customer and business management functions.
In the coming months, we'll be issuing a series of announcements as we look to serve the U.S. solar industry with a range of new solutions –again, all free to users– to help the industry adapt and thrive at this challenging times.
---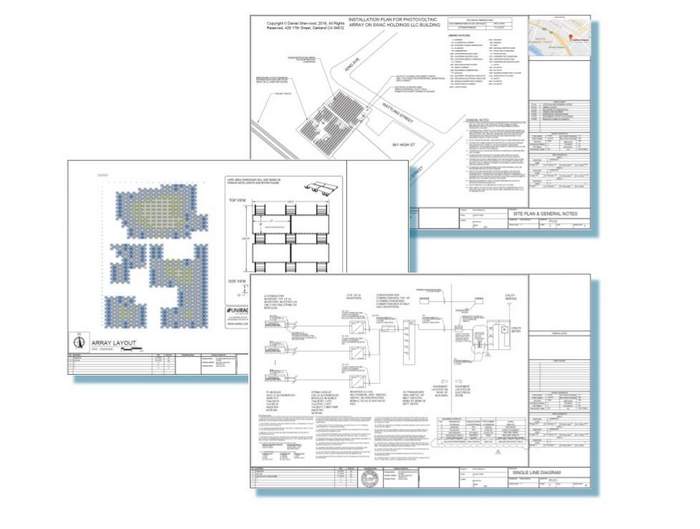 PVComplete's PVCAD
Target customer: Residential and commercial roof mount, carport and ground mount installers and EPCs
PVCAD is the first and only CAD for solar, delivering solar engineering built on Autodesk technology. For solar designers who want the highest standard of precision and accuracy, PVCAD delivers unparalleled efficiency so you can finalize designs and quote jobs faster. Automatically generate single line diagrams and get complete electrical calculations with one click. Selecting module, inverter and racking/mounting system from PVCAD's integrated solar equipment databases not only saves time but reduces the risk of costly errors and omissions.
Top Features
Automatic roof, carport and ground mount layouts
Energy production modeling
Automated stringing, single line diagrams, BOM creation
Recent Updates: Integration with PanelClaw ClawOS and Ecolibrium Ecodesigner software to easily get ballast diagrams for your PVCAD layouts.
Example:Need to get permits for your solar projects? Do you know what your final design should be, but you need a final planset? Save time and let PVCAD generate a layout and electrical design directly in CAD that is ready to submit for permitting.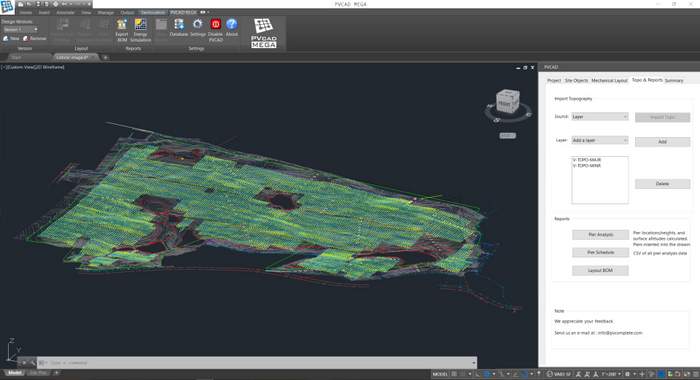 Target customer: Utility-scale developers and EPCs
PVCAD Mega is the first solar design software for single-axis tracker and multi-megawatt projects built in the AutoCAD environment, empowering utility-scale solar engineers with CAD precision and processing speed to optimize tracker and fixed-tilt project design, improve project economics and accelerate utility-scale solar deployment. In addition to enabling the industry's fastest layout speed, PVCAD Mega also improves the accuracy of project modeling with advanced capabilities such as topography and pier analysis, which replaces average grade with unique post heights for every pier on a project site.
Top features
Automatic layouts including placement of partial trackers, access roads and equipment pads
Quickly iterate and compare between design options side by side
Advanced topography and pier analysis in less time, including custom topo data
Recent Updates: View tracker layouts and topography in 3D
Example: Do you have a project site that you're considering for a single-axis tracker or multi-megawatt installation? Instead of spending hours creating different layouts, only to find out your site isn't feasible, maximize the efficiency of your design time by creating multiple iterations of your layout in PVCAD Mega in minutes.
---
Target customers: Large-scale solar developers, small residential installers, financiers, EPCs
Energy Toolbase provides a cohesive suite of project estimating, storage control and asset monitoring products that enable solar and storage developers to more efficiently develop and deploy projects. The Energy Toolbase products are used by more than 1,200 distributed energy organizations worldwide to accurately, objectively and transparently analyze projects.
Top features:
Robust energy storage modeling capabilities,
extensive utility rates database,
best-in-class customer support
Recent updates: Energy Toolbase joined forces with Pason Power in 2019 to create an end-to-end software platform that will empower solar + storage asset owners and developers to successfully and thoughtfully sell, build, operate and manage energy systems.
Example: Solar and energy storage developers utilize the Energy Toolbase platform to model a project from start to finish in minutes. Energy Toolbase is a robust sales tool that provides an accurate economic analysis of solar and storage projects to present to customers and more efficiently close deals.
---
Target customer: Anyone who sells residential solar
Nearmap on OpenSolar is an innovative solar design and sales platform to help boost your solar sales. This solution leverages Nearmap's best-in-class imagery in an intuitive solar design tool to allow you to manage your sales pipeline and generate compelling solar proposals in minutes. Improve your ability to easily share the benefits of clean energy and persuade your customers to buy solar systems with beautiful and accurately designed proposals.
Top Features
Comprehensive – an ideal pre-sales toolkit; design, model, share, propose and close solar deals from a single platform
Brand promotion – customize the tool to showcase your brand and wow your customers
Ultimate mobility – design multiple proposals easily and quickly on any accessible device
Recent updates: To support the entire solar sales journey, Nearmap on OpenSolar has recently added: Investment ROI calculations for in-depth monthly savings information and annual financial analysis, full Plan-set or Single Line Diagram from Natron that can be requested directly through Nearmap on OpenSolar, Project management functionality for scheduling and status management with Google calendar integration as well as more complex SREC modeling
Example: Nearmap on OpenSolar allows solar pros the ability to generate an accurate system design with premium imagery for a beautiful proposal, helping win over new customers. Without ever setting foot on site, solar pros can select images of the property with the proposed solar system from multiple angles, and design in real-time a dynamic proposal in minutes. Multiple system designs and multiple financing options give the customer the opportunity to easily and quickly compare options. If proposals are shared electronically, the Nearmap on OpenSolar tool notifies you when the proposal is opened so you can follow up immediately.
---
BlueWave Solar's SMART Agricultural Canopy Shading Analysis Tool
Target customer: Solar developers, farmers, and state officials working on dual-use solar projects in Massachusetts
The Solar Massachusetts Renewable Target Program (SMART) Agricultural Canopy Shading Analysis Tool is used for dual-use solar projects, specifically agrivoltaics, to determine how to position a solar array to achieve optimal sunlight for crop growth. The tool shows the amount of direct sunlight available per square foot within a given solar project with time-phased shade map simulations to assist with crop planning, based on location in Massachusetts. The tool merges solar design and agricultural planning principles to spur evolutions in solar design, encourage more efficient and productive land use, enable new farming business models, and help distill dual-use concepts for public consumption.
Top features
The SMART Agricultural Shading Analysis Tool is the only publicly available dual-use planning tool available for solar developers in Massachusetts.
The tool was developed in partnership with the Massachusetts Department of Energy Resources (DOER) and Massachusetts Department of Agricultural Resources (MDAR) and represents the emergence of key players to help incentivize dual-use solar development.
The precision of the tool allows for project planning down to the square foot level.
Example: Since 2013, Knowlton Farms has partnered with BlueWave to build two arrays totaling 6.2 MWdc to maximize the value of land, minimize the risk of revenue loss and prepare the farm for future generations. The third and newest project at Knowlton Farms of 3.1 MWdc will demonstrate new levels of excellence in sustainable solar design by pioneering the dual-use (solar + agriculture) model with the use of the SMART Agricultural Canopy Shading Analysis Tool. BlueWave used the tool to determine how to position the array for optimal sunlight to promote crop growth, and the panels will be built high enough for people and equipment to maneuver below. The array will feature two acres of food crop cultivation (beginning with strawberries, leafy greens, and pumpkins) and twelve acres of rotationally grazed beef.
---

Target Customer: EPCs, Engineers and Developers
Raptor Maps' aerial site assessments enable teams to properly plan the installation and remotely confirm project progress. Aerial inspections are 75% faster than manual inspections, allowing teams to obtain necessary permits faster and eliminating developer bottlenecks by inspecting more sites in a shorter period of time. Teams are able to view obstacles, accurately plan measurement missions and gain a precise base inspection map. The aerial inspections eliminate safety hazards by removing manual rooftop visits. Design the site right the first time with precise aerial data and prevent unexpected costs later in the project.
Top features
CAD File: Files containing exact measurements of boundaries, obstructions, and offsets, based on IFC standards.
CAD Compatible Files: Teams utilize AutoCAD compatible files to accurately and safely plan rooftop sites.
Fast turnaround time: Professional drone pilots can be deployed and collect data within a week, deliverables arrive quickly to enable project progress.
Recent Updates: Raptor Maps recently released its annual report on factors affecting production in PV systems. The company leveraged a subset of its data repository of PV system "digital twins" to query 7,880 MW across 25 countries and 6 continents to help PV system owners and operators benchmark and improve their portfolios.
Example: A solar third party EPC firm was hired by an Asset Owner to construct 4 rooftop PV systems. Traditionally the EPC firms used manual rooftop visits to measure rooftop obstructions, parapets, and offsets. The firm hired Raptor Maps to perform turnkey service aerial rooftop inspections prior to beginning the 4 sites. Raptor Maps deployed a local professional pilot to perform the measurement survey and within days the EPC firm was delivered AutoCAD files containing the parapet measurements, obstructions, and offsets. Other deliverable files contained a point-cloud, orthomosaic, digital surface model, 3D mesh and other key files needed for successful rooftop PV system planning. The service expedited the measuring survey process and enabled them to acquire all necessary permits and move forward with construction.
---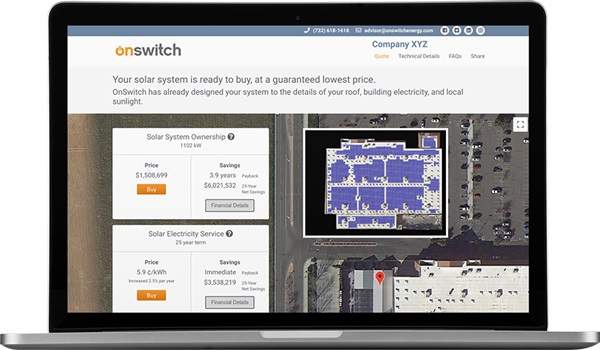 Target customer: National and regional commercial solar EPCs
OnSwitch's AI-powered marketplace makes it easy for commercial solar EPCs to win more projects and reduce their costs to build the projects. How it works: EPCs who are qualified to install OnSwitch's pre-designed, standardized rooftop solar systems join the marketplace. SkyQuote software automatically designs and accurately prices rooftop solar systems, saving weeks in the sales cycle. OnSwitch matches contract-ready projects with OnSwitch EPC partners. EPC partners slash their soft costs and overhead by having OnSwitch leverage their technology to do the sales, marketing, engineering, equipment sourcing, project administration, contract reviews, permitting applications, and interconnection applications.
Top features
Automated commercial solar design – SkyQuote software automatically generates contract-ready designs and quotes using high definition aerial imagery and pricing from pre-qualified solar EPCs.
Project management support – OnSwitch specializes in project management of complex commercial solar projects and provides top quality engineering, equipment sourcing, and project administration for EPC partners at reduced costs.
SkyQuote's database – OnSwitch has a large and growing database of contract-ready commercial solar project quotes for buildings across the U.S.
Recent Updates: OnSwitch is currently recruiting EPC partners nation-wide with projects being planned in the next six months in California, New York, New Jersey, Connecticut and Maryland.
Example: OnSwitch, which has a long-term development partnership with a leading national commercial solar project finance company, used SkyQuote technology to help accelerate development of rooftop solar projects for a Fortune 100 customer. OnSwitch's SkyQuote was used to generate designs and obtain accurate price quotes for the customer's building portfolio. Armed with the data, the project finance company was able to prioritize and move forward with the 18 highest value projects totaling 5 MW of capacity. Construction is already underway in partnership with multiple OnSwitch EPC partners.
---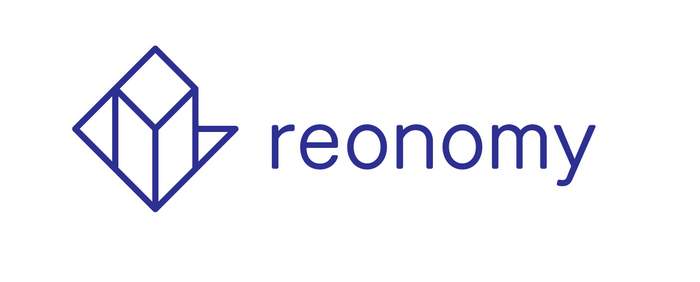 Target customer: Solar Installers of all sizes
Reonomy leverages big data, partnerships, and machine learning to connect the fragmented, disparate world of commercial real estate. With data on each of the 55,948,309 commercial properties in the US, including sales history, tax info, property size, debt history and ownership contact information, the platform helps solar installers specifically target commercial building owners and property managers who will likely be in need of solar services now or in the near future due to legal requirements or interest in moving toward more sustainable practices. Installers can filter by geography, asset type, building and lot size, and owner portfolios.
Top features
Lead generation through property type, geography, and size to hone in on a specific type of client.
Dive into a property's ownership and access contact info to reach out on the spot, or simply take the property away as a lead to reach out later.
Understand owners in great depth: If a solar installer knows the name of a property owner, or if they identify one using Reonomy, they can then identify additional properties they own or are associated with to focus their lead acquisition efforts on the largest commercial property owners and set up sizeable projects.
Recent updates: In November, Reonomy raised $60 million in Series D funding, which it has used to expand its machine learning capabilities and platform-driven applications in its efforts to continue developing the most robust and comprehensive CRE data solutions available in the market. Solar installers have access to enhanced AI capabilities to help generate leads faster than ever before. Following the funding announcement, Reonomy also announced a partnership with the leading data-driven marketing solutions provider, Infogroup. This partnership added attributes from over 315 million individuals and 24 million businesses nationwide to Reonomy's existing database of properties, bolstering prospecting opportunities for solar professionals.
Example: If, for example, a Reonomy user primarily installs solar PV for warehouses, they are able to narrow their list of leads down based on that property type. Once a target building owner is identified, the user then has access to contact information, along with other commercial real estate property they own, increasing the chances of installing solar panels at multiple properties.
---

Target customer: Residential solar installers
The Solar Marketplace is an efficient way for solar installers to increase sales while reducing customer acquisition costs by 50 percent or more. The product attracts in-market, quality customers for better conversions and provides simple tools for submitting quotes and for tracking progress of prospects. The product provides installers with import insights into their sales funnel performance, along with competitive metrics to further help installers grow their business.
Top Features
A focus on customer experience: The Solar Marketplace allows consumers to learn and shop at their own pace with full transparency and support from unbiased Energy Advisors.
Standardized quotes for easy comparison: All quotes are presented to consumers in an easy-to-understand, apples-to-apples format, while giving installers the option to create "Custom Quotes" with more flexibility and customization, or "Standard Quotes" which are built from pricing, equipment, and financing templates set up by installers ahead of time.
Installer insights dashboard: The Market performance section shows installers their close rate compared to competitors, along with insights into how their quotes compare in terms of price, equipment and more, with help from a dedicated Partner Success Manager to help them master the platform.
Recent Updates: Similar to Consumer Reports, the EnergySage Buyer's Guide is an easy way to compare, sort, filter, and search the quality, aesthetics, performance and pricing of solar equipment, including panels, inverters, and batteries. The guide helps shoppers better understand equipment and helps installers plan for future inventory.
Equipment Manufacturer Endorsement badges are an added metric for evaluating solar quotes, while giving installers a new way to differentiate themselves.
Example: One reason why customer acquisition costs remain stubbornly high is because the industry continues to sell solar through a traditional, manual sales process; one that is opaque, inefficient, expensive and not scalable. By bringing sales online and attracting in-market, quality customers, the EnergySage Solar Marketplace is able to reduce CAC by 50 percent or more, and allow installer partners to grow their businesses.
---

Target customer: Residential Installers
Wave Solar generates residential solar leads along with software for appointment setters.
Top Features
Leads are generated on websites with high Google search rankings like SolarPowerRocks.com
Every lead gets a text or phone call to verify their info
The sales software features call, text and email tools to increase appointment set rates
Recent Updates: In October 2019 Wave Solar acquired Solargraf's lead generation business along with their website MySolarInstaller.com.
Example: Installers that want to grow sales volume can signup on wavesolar.com, build a campaign and start getting new customers the same day. Wave Solar's self-serve dashboard is similar to Facebook or Google AdWords, and allows installers to customize geography, lead types and utility filters. As leads come in, appointment setters can call, text and email the leads right through the software. The email feature ties into your existing gmail or outlook account and features open tracking and templates.
Listen to more in-depth conversations on Solar Builder's YouTube channel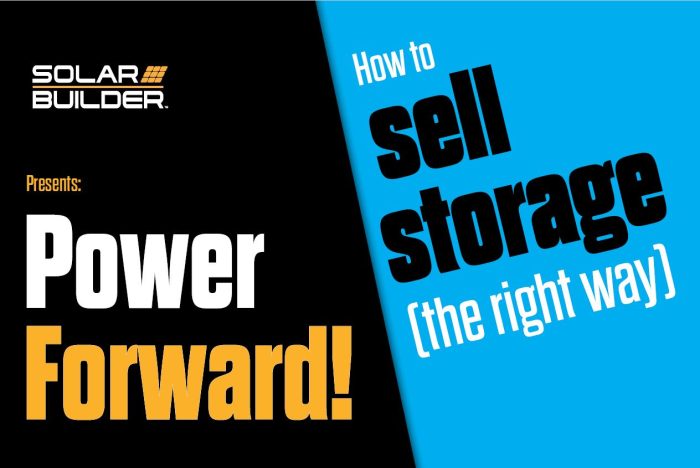 Our most popular series include:

Power Forward! | A collaboration with BayWa r.e. to discuss higher level industry topics.
The Buzz | Where we give our 2 cents per kWh on the residential solar market.
The Pitch | Discussions with solar manufacturers about their new technology and ideas.
Tags:
Aurora Solar
,
BlueWave Solar
,
Energy Toolbase
,
EnergySage
,
Nearmap
,
OnSwitch
,
Open Solar
,
PVComplete
,
Raptor Maps
,
Reonomy
,
software
,
Solar Builder Buyer's Guide
,
Solar-Log
,
Solaria
,
Wave Solar