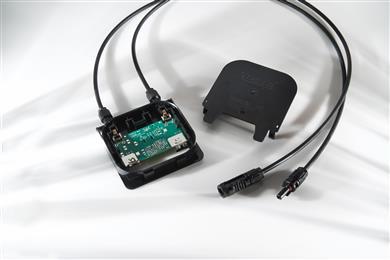 TE Connectivity just introduced a new smart junction box that enables printed circuit boards (PCBs) to be integrated into solar panel solutions.
The SOLARLOK Medium junction box is designed to terminate customer-designed PCBs that can monitor its functionality and allows the junction box to be shut down remotely when required. Special clips allow the PCB to be quickly and reliably connected to the solar panel foils.
The SOLARLOK Medium junction box is supplied with foil-rails and clips, has an operating temperature range of minus 40 degrees Celsius to 90 degrees Celsius, and is rated for 1000 or 1500V. The junction box is rated up to IP67 and is approved by TUV and UL.