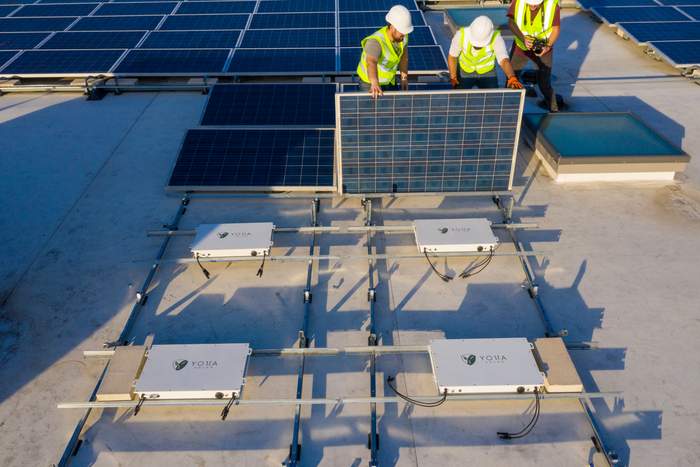 Yotta Energy is a company we've been following for a while that has a patented thermal management system for batteries that would enable a decentralized solar-plus-storage format for C&I rooftops. After closing a $5 million seed funding round this week, they are going to finalize UL certification and commence commercial production of their panel-level, PV-coupled energy storage technology. The investors for this round include Fiftysix Investments, EDP Ventures, Skyview Ventures and other undisclosed investors.
"The Yotta team have innovated a solar-plus-storage solution perfect for the small to medium commercial markets – a key growth market globally," said Ray Rothrock, FiftySix Investments founder. "Yotta's decentralized format can easily scale and fits the market direction, while also significantly reducing the costs of rooftop solar-plus-storage installations."
Yotta's panel-level energy storage solution can easily fit under any solar module, neatly integrating with the solar racking array. Its format follows the success of module-level power electronics (MLPE). The plug-and-play design simplifies and standardizes the integration of energy storage with solar projects, eliminating the need for heavy, difficult to install enclosures and complicated HVAC systems. Additionally, Yotta's passive thermal management technology allows its batteries to withstand extreme weather and extend their lifespan.
"Yotta's unique solution streamlines the installation of storage coupled with rooftop PV units, allowing for important cost savings. We believe this is decisive to allow the scale up of distributed storage in the C&I segment," said Luís Manuel, Executive Director of EDP Ventures.
Wood Mackenzie has estimated that the United States is sitting on 145 GW of unused solar potential. It further anticipates annual global energy storage deployments to increase from 11 gigawatt-hours in 2020 to 164 gigawatt-hours in 2030, reaching a cumulative 741 gigawatt-hours, the large majority being tied to solar.
"There is not a cost-effective commercial energy storage solution available today and improvements in battery costs and efficiencies only solve part of the problem," suggests Matt Coleman, Principal at Skyview Ventures. "Yotta's patented solution takes a whole system design approach which will facilitate the commercial rooftop solar and storage market."
Tags:
commercial
,
Yotta Energy