Big-time partnership
Shoals Technologies Group is collaborating on structural and electrical balance of system solutions for utility-scale solar with Array Technologies. This relationship will leverage the complementary nature of Shoals' electrical BOS solutions with Array's trackers. The integration of offerings will result in improved performance and stronger economics for project developers and asset owners as well as higher efficiencies for engineering, procurement and construction (EPC) companies. Grab a beer and talk to the Shoals team about it. Booth 3426.
How to boost lagging utility-scale projects
Alencon Systems LLC will mark the debut of the latest generation of its DC-DC optimizer, the SPOT, at SPI 2017. The SPOT X2 features significantly improved on-board firmware to ensure greater energy yield. Headlining the software improvements in the SPOT X2 is an improved maximum power point tracking (MPPT) algorithm that ensures optimal PV power harvesting under fast changing weather conditions. The SPOT X2 has been recast in a manner to make it easier to install to minimize soft costs — such as labor and ancillary installation materials — associated with PV retrofits. Minimizing installation costs is key to achieving the highest rate of return on PV retrofits. At SPI, Alencon will also be demonstrating the SPOT for its unique application in enabling DC-coupled solar + storage installations. Booth 1115.
New workmanship coverage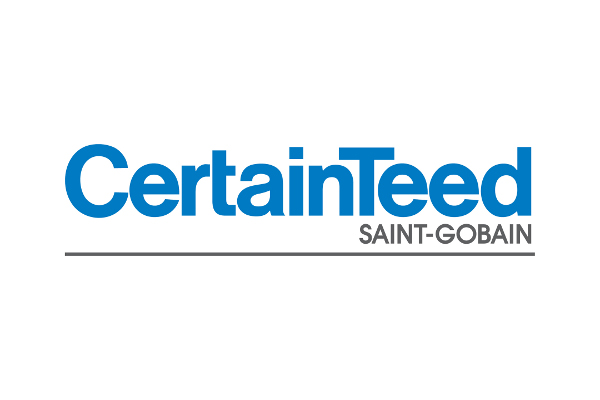 CertainTeed Solar has increased the duration of its installation workmanship warranty coverage to 25 years. The company now covers nearly all major system components for a 25-year period while adding coverage of their professional installation for the same duration — a nice selling point for CertainTeed's Master Solar Installers. Booth 2463.
High-voltage versatility
Launching at SPI this year, the Delta Commercial Series M125U inverter supports high DC input voltage up to 1,500 volts. The M125U's all-in-one design includes string fuses, surge protection devices, DC & AC switches and an arc fault detection circuit. Its string monitoring function can precisely record real-time current value up to 20 strings through a communication interface. The M125U is developed for versatility to meet a widening range of customer needs. It supports wall mount bracket/stands for both horizontal and vertical installation. Utilizing an electrolytic capacitor free design and NEMA 4X protection, the M125U is extremely durable. Booth 2135.
Inverter + EV Charger
If you missed Intersolar, you missed the debut of the world's first inverter-integrated electric vehicle (EV) charger from SolarEdge. By supplementing grid power with PV power, SolarEdge says the Level 2 EV charger offers charging up to six times faster than a standard Level 1 charger with its innovative solar boost mode. SolarEdge's HD-Wave inverter, once integrated with an EV charger, will not only provide the existing management and monitoring of solar production, but will also enable EV charging from a single inverter and dashboard. The combined solution will offer considerable cost savings on both hardware and labor by eliminating the need for additional conduit, wiring and breaker installation. Booth 3741.
New ways to install on tile
At SPI, the EcoFasten Solar team will show you its new SimpleTile-RB (pictured). EcoFasten Solar engineers have field-tested half a dozen iterations. They tested for uplift. They tested for shear. They tested for ease of use. SimpleTile-RB employs EcoFasten's patented, watertight compression technology so you can be confident that your installs will maintain the integrity of the roof. You will have to see the new attachment method and new approach to base and flashing alignment for yourself. Booth 4643.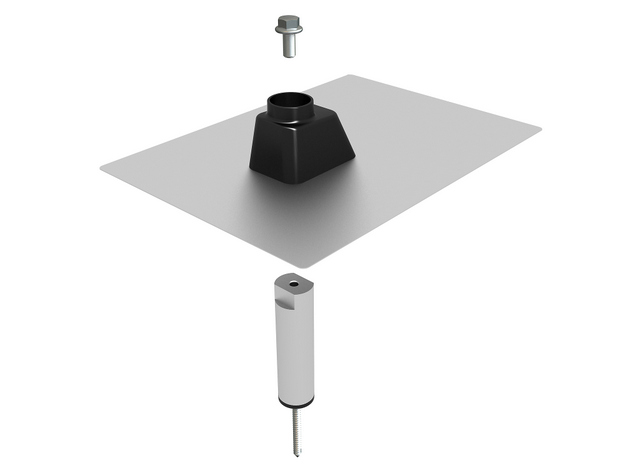 SunModo's new TopTile Mount System anchors solar racking entirely above the tiles, which spares the installer needing to disrupt tiles, remove battens, damage underlayment or leave leak-prone holes or fasteners. The TopTile Mount System features three mounting options that secure panels 4-7 in. above the tile surface, using stanchions with water-proof sealing washers and moldable flashing. Booth 1108.
Key to project success
Today's tight deadlines require reliable turn-key services. Leveraging more than 85 years of experience in the commercial design-build specialty structures market, RBI Solar works with its clients to identify the most economical, durable and robust solar structures. Its services include complete signed and sealed engineering drawings for all 50 states, high-tech manufacturing, nationwide installation and end-to-end technical support to help you solve the toughest challenges in the industry. Booth 2709.
A lovely DC-couple
Panasonic Eco Solutions North America and U.S.-based inverter manufacturer Pika Energy are partnering to offer a DC-coupled solar smart battery — Harbor 10P/15P — that will begin shipping in late 2017 and is available for pre-order today. The solar-ready Harbor Smart Battery combines Panasonic's lithium-ion battery modules and Pika Energy's power electronics in a slim, floor-standing, wall-mounted enclosure to provides 10 kWh or 15 kWh of usable energy and up to 6.7 kW of continuous power. Booth 2014.
Direct fasten
E Mount AIR GEN II is Roof Tech's Rail-less PV Mounting System with Integrated Flashing (ICC-ESR 3575) that is fastened directly to either the roof decking or rafters. Roof Tech says to expect GEN II to be easier and faster to install than its previous generation. Other features to note: fewer parts, increased height level adjustment, clamp-top bonding pin and preassembled hardware. Booth 4641.
Model energy storage projects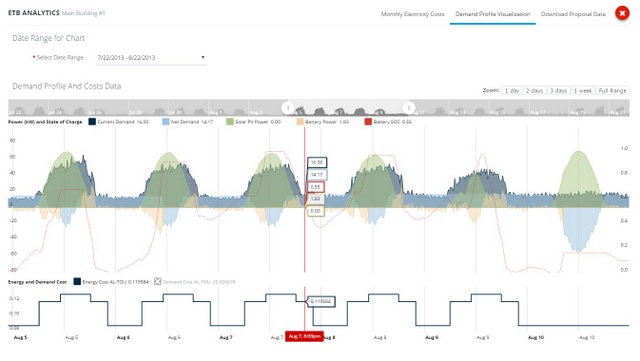 Energy Toolbase is launching its cool new energy storage software update at SPI this year. This update enables users to model and optimize the economics for any type of behind-the-meter energy storage project. Users can objectively and transparently model energy storage systems from different vendors, utilizing any type of control strategy, including "peak-demand shaving," "Time-of-use (TOU) arbitrage," and "self-consumption" strategies. Take it for a live demo test-drive. Booth 608.
Four-step module mount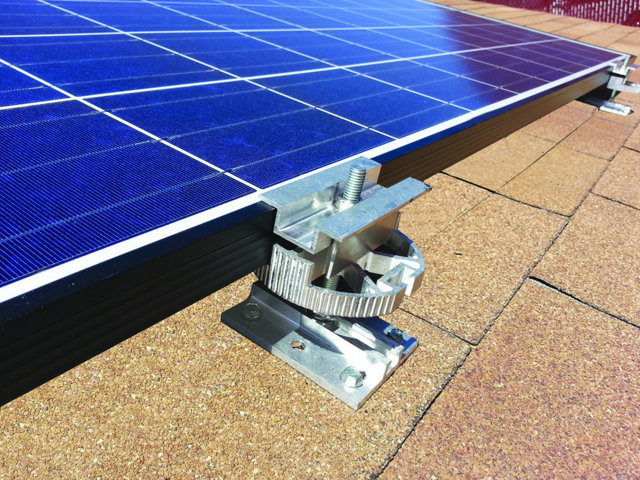 The rail-less design of the POWER DISK system from Preformed Line Products features a base that attaches anywhere on the roof for easier modular layout in four steps. The system is quick to install with fewer components and tools required than traditional rail systems. Vertical adjustments are made by simply spinning the disk. POWER DISK includes integrated grounding and is compatible with most framed PV modules. And now you can design your next project with the new POWER DISK Design Tool with built-in, code-compliant engineering and a simple user interface. Optimize your residential roof layouts with the deck mount attachment. Booth 1015.
Your shingle solution
Quick Mount PV engineered its patented Elevated Water Seal Technology into an integrated L-foot and flashing for cost-effective, super-fast, single-bolt installation. The L-Mount Series comes in single- and double-slot options for maximum versatility and works with all leading racks, designed for simple lag-bolt installation onto existing composition/asphalt shingle roofs. No shingle cutting required. Booth 3339.
SolarRoofHook's new Low Profile QuickBOLT for Asphalt Shingle Roofs simplifies the installation process by removing the height adjustable nature of the original QuickBOLT, shortening the installation time to less than one-minute. This not only makes the installer's job easier, but saves time and money up on the roof. The Low Profile QuickBOLT also allows installers to create a level array with no adjustments. Booth 1414.
Boosting module density on flat commercial roofs

There are only a few ways to maximize your module density: minimize the interrow spacing, increase module power and/or switch the system orientation from south to east-west. Everest Solar Systems tackled the problem with a different perspective and created the D Dome System, an east-west facing solar racking system. Using an east-west orientation rather than a south-facing system practically eliminates interrow spacing between modules. Eliminating interrow spacing allows the installer to add more modules on the roof and produce more power without having to use high-power modules. Booth 4567.
New at Ecolibrium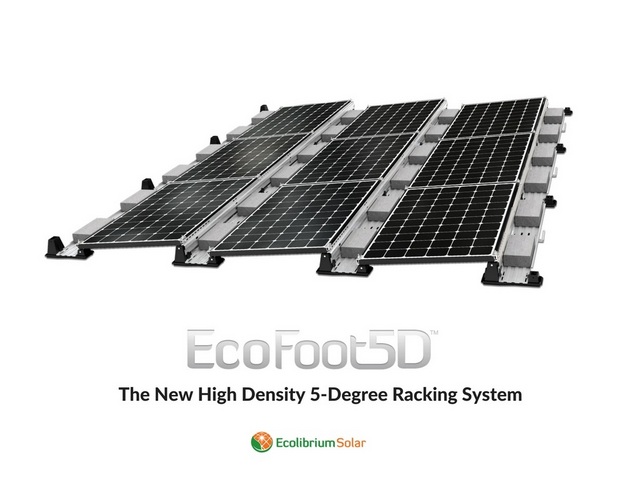 The new EcoFoot5D High Density 5-Degree Racking System from Ecolibrium Solar delivers 18.4 percent more power than 10-degree systems by combining a small 7-in. by 16.7-in. roof-friendly modular base and dense 9.9-in. inter-row spacing. The result is a tightly packed array that enables installers to maximize power density on flat roofs. EcoFoot5D is built on the EcoFoot Modular Platform that has more than 200 MW installed. Bases fall into alignment as modules are placed. Preassembled parts eliminate the need for PV panel preparation. The combined effect is an organized workflow and fast, non-stop installation.
But that's not all. For pitched roofs, the new EcoX Tile Hook enables easy attachment of EcoX Rail-less Racking to tile roofs. Installers benefit from fast assembly, 30 percent fewer penetrations and reduced logistics. Two height options attach to curved and flat tiles. Shingle, metal or deck mounting are available. For more, visit booth 6501, call (740) 249-1877, or email sales@ecolibriumsolar.com.
Meeting new solar+storage standards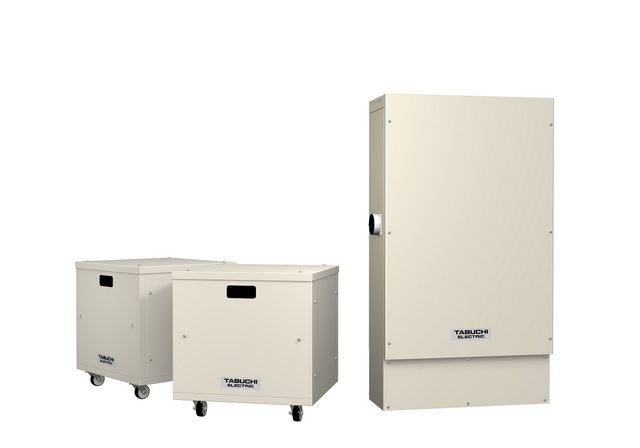 Tabuchi America has launched its Next Generation Eco-Intelligent Battery System (EIBS). Tabuchi's grid-friendly system includes a high-efficiency inverter, stackable batteries, and integration with GELI software for the most adaptable battery storage system on the market. The system is also compliant with UL 9540 certification requirements which certifies that it is a complete home energy storage system that interacts safely with the UL 1741 certification requirements for hybrid inverters. Booth 1721.
Tags:
AceClamp
,
Alencon
,
AllEarth Renewables
,
Array Technologies
,
Baja Construction
,
CertainTeed
,
Delta Group
,
EcoFasten
,
Ecolibrium Solar
,
Energy Toolbase
,
Everest Solar
,
Fronius
,
Ginlong Solis
,
Heyco
,
Ideal Power
,
Nuance Energy
,
OMG Roofing
,
Pika Energy
,
Quick Mount PV
,
RBI Solar
,
Roof Tech
,
Shoals Technologies Group
,
solar connections
,
Solar FlexRack
,
SolarEdge
,
SolarRoofHook
,
Soltec