Kick off this pivotal year in solar the right way, by heading to Long Beach, Calif., Feb. 14-16, for Intersolar North America (ISNA) and Energy Storage North America (ESNA). While you're wandering that massive trade show floor at the Long Beach Convention Center, you'll want to stop by the following booths to see what's new.
If you haven't registered yet, check out the link at the end of this first booth preview.
---
K2 Systems | Booths 28, 1853
New K2 Systems products ready to sell at Intersolar
K2 Systems will have an indoor and outdoor booth, and it will be the racking sponsor for the Solar Games.
Booth 1853 (indoor) will have an area for you to meet with our team as well as displays of our innovative new roof attachments for composition shingle, tile and flat roofs. They will have a happy hour there on Tuesday from 1-5 p.m. This booth is located directly across from the Solar Games where you will be able watch installers using K2's racking.
The K2 trailer will also be outside at booth 28 and will showcase The South Face system that will be available for purchase at the time of the show. Check out the happy hour there on Wednesday from 1-5 p.m. Be sure to stop by for a beer!
ALSO: Be K2's guest to the show. Get either a free expo hall pass or 20% off a full registration pass by registering with this link.
---
Hoymiles Power Electronics Inc. | Booth #149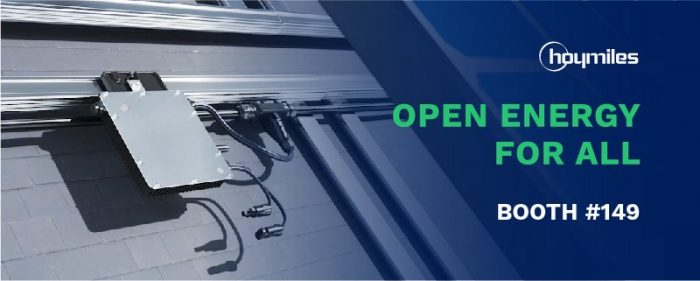 Hoymiles is a global MLPE (Module-Level Power Electronics) solution provider, specializing in microinverters, storage systems and rapid shutdown systems. With a vision of a clean, sustainable future, the company is empowering homeowners and professionals in more than 110 countries and regions to join the journey to true open energy.
Products to be presented include the featured HMS-500/1000/2000 microinverters, which offer one, two and four input channels respectively. They all come with independent MPPTs so that each solar panel works on its own without interfering or being interfered by other panels in the array.
Furthermore, the excellent 99.8% MPPT efficiency and the 96.7% CEC peak efficiency promise higher solar harvest, lower per-watt costs and shorter payback period. Users can view the detailed operation data of the system on the cloud via their mobile phones.
The company will also showcase the new HRSD rapid shutdown devices. The module-level shutdown function will bring the ultimate safety to any string inverter system. Visit Hoymiles' booth to get more information about its smart energy solutions. Learn more here.
---
FranklinWH | Booth #723
FranklinWH Provides Whole Home Energy Solutions to Intelligently Manage and Store Home Energy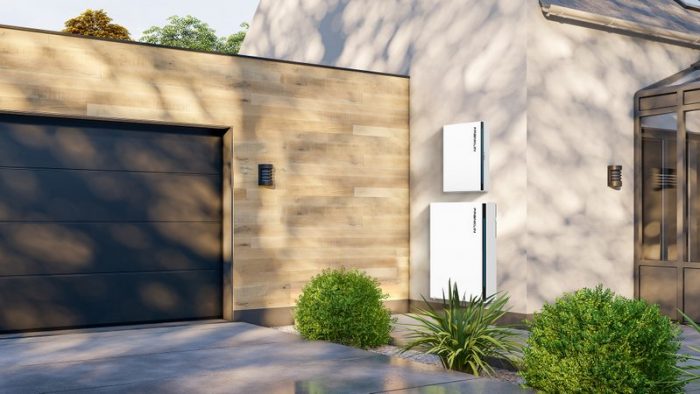 FranklinWH is focused on energy management solutions providing safety, reliability, and energy independence for homes. Franklin Home Power (FHP) is a whole-home energy management system integrating solar, battery, grid, and generator power sources and managing them to optimize home energy supply.
The heart of the FHP system are two components: aGate X and aPower X.
The aGate X is an intelligent home energy management center that integrates solar, battery, grid, and generator power sources and manages them to optimize consistent energy supply, balances loads for efficiency and cost, and provides rapid backup in case of grid outages.
The aPower X is a 13.6 kWh AC-coupled battery with a built-in inverter. It uses extremely safe LFP cells. Fifteen aPower X batteries can be connected to each aGate X to power even the most demanding home loads.
Become a FranklinWH Certified Installer at www.franklinwh.com/apply. Call them at 888-837-2655 for more information or visit www.franklinwh.com. You can also learn more in this episode of The Pitch:
---
Rolls Battery | Booth #1141
Premium deep cycle batteries from Rolls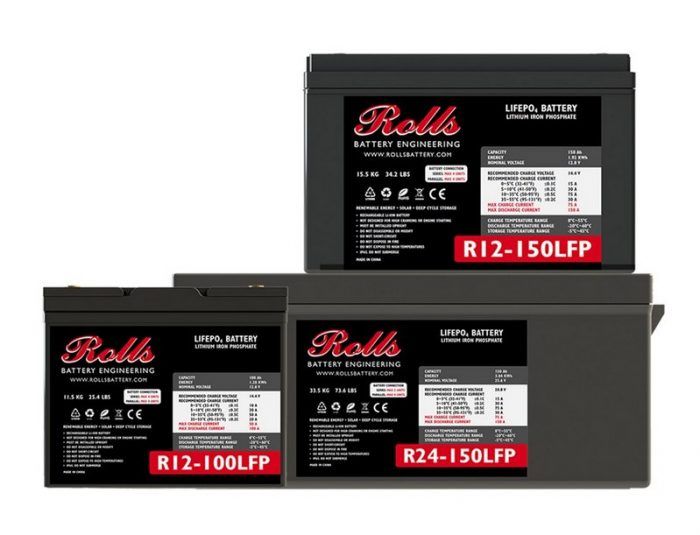 Chosen by Renewable Energy industry professionals and customers worldwide, Rolls premium deep cycle batteries provide dependable, long-lasting energy storage, offered in a wide range of voltage and capacity options. Used in small to large-scale off-grid, grid-tied and backup power applications, Rolls full range of 2V, 4V, 6V, 8V & 12V deep cycle models offer dependable, long-lasting performance in a variety of capacity options.
With a reputation spanning over six decades, Rolls traditional flooded lead-acid, maintenance-free VRLA AGM-S, AGM-R & GEL batteries and new LiFePO4 lithium models are known to deliver exceptional cycle life and superior quality. Learn more at rollsbattery.com.
Rolls Battery is also an equipment sponsor of the 2023 SOLAR GAMES! The Solar Games tasks teams with building residential solar + storage systems live on the #isnaesna23 expo hall floor. Teams that compete will be judged on installation quality, safety, speed, and other criteria. Learn more about the 2023 Solar Games at Intersolar North America.
---
CAB Solar | Booth #1219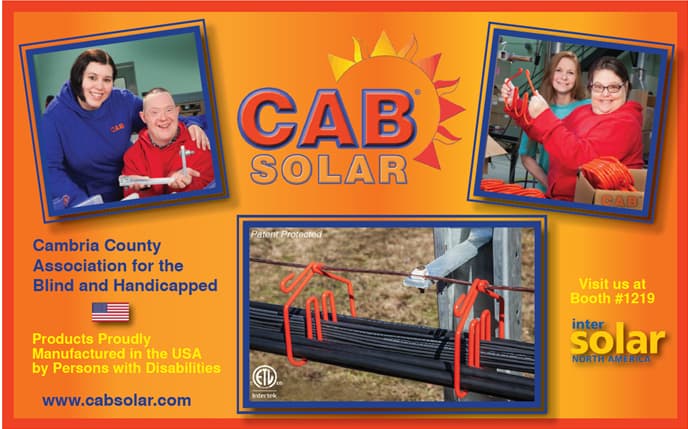 At Intersolar this year, discover why the CAB Solar Cable Management System is the above-ground cable management approach for utility scale projects and how each order supports a truly unique and dedicated mission.
CAB's patented Solar Cable Management System has revolutionized the solar cable management industry by utilizing the messenger wire as the EGC and GEC for Integrated Grounding. The CAB multi-carrier hangers are available in a wide range of styles to efficiently separate large bundles of cables. They are designed to be easily and quickly installed on tracker, ballasted, or fixed tilt projects.
The CAB Solar Multi-Carrier Torque Tube Hangers offer a sturdy, long-term solution for under panel cable management and they are ideal for bifacial panels. They are designed for fast, snap-on installation over many styles of torque tubes or fixed tilt structures.
CAB Solar Cable Management Systems and all CAB Products are manufactured in the USA by persons with disabilities at the Cambria County Association for the Blind and Handicapped (CCABH). Each and every order supports the CCABH mission of developing and supporting an environment for persons with disabilities which promotes vocational and employment training, independence, and community involvement through rehabilitation, recreation, and low vision services, and providing education for the prevention of blindness. For more information or free samples, click here.
---
RECOM | Booth #1309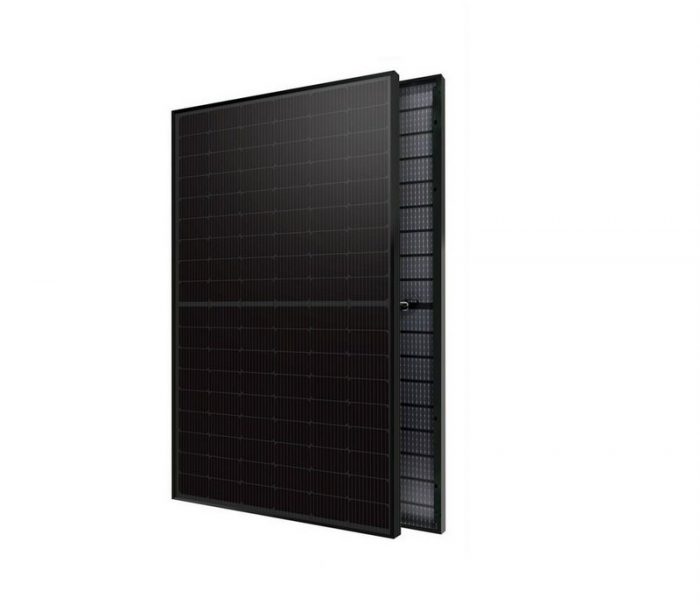 RECOM will present its Panther series for the U.S. market. Panther series are based on the mono PERC cell, using half-cut technology available in monofacial and bifacial, single glass and double glass modules. They are produced in various sizes with power outputs from 410 W up to 655 W with nominal efficiency up to 21.09% (or a strong 34.7% with optimal bifacial operation). The Panther series modules are designed to produce no less than 87.20% of their nominal power in the 25th year from the warranty start date surpassing industry's average for half-cut technology, thus securing high return on investment. Also, Panther series' sleek design and full black color blend perfectly with the architecture of modern structures.
---
Fluke | Booth #1941
Revolutionize Your Solar Operations at Intersolar with Fluke's Latest Game-Changing Technology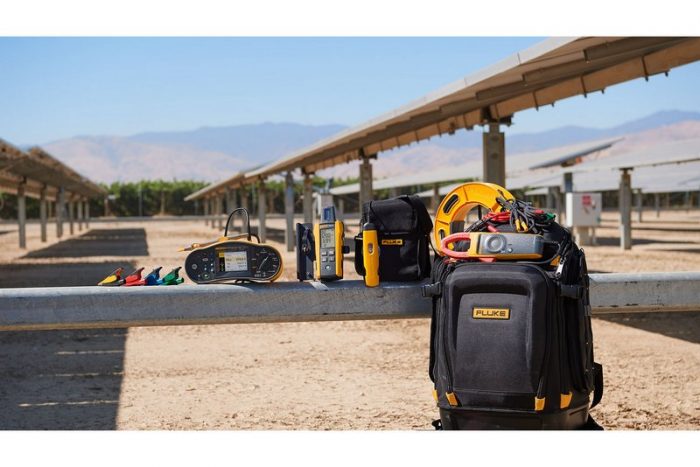 Fluke, the industry leader in advanced electrical testing, measurement and diagnostic solutions, is showcasing the future of solar testing at Intersolar.
You won't want to miss the live demonstrations of its SMFT-1000 Solar Multifunction PV Tester and Performance Analyzer, I-V Curve Tracer. It's an all-in-one solution that'll blow your mind with its ability to verify PV system performance and safety. A powerful tool that'll give you real-time insight into your solar panels' performance and generate client reports in no time.
Fluke's team of experts will be on hand to answer any questions and give you a closer look, so swing by booth 1921 to see the future of solar testing in action. More info here.
---
HellermannTyton | Booth #2122
The leader in American-made solar cable management solutions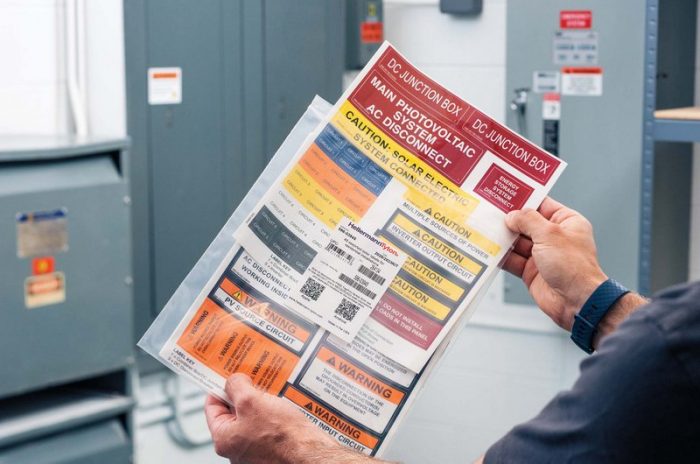 HellermannTyton continues to raise the bar in solar cable management and identification with several recent game-changing solutions to help installers work faster and safer.
Its NEC Solar Label Value Pack is the only code-compliant kit on the market. Similar label kits often contain non-code-compliant labels, plus some that are not required. That's wasteful and adds unnecessary cost. This new update to HellermannTyton's label packs includes a numbered key to indicate where labels should be applied to help you pass inspection the first time. Choose between the NEC 2017 and NEC 2020/2023 compliant kits.
TagPrint Xpress Solar, HellermannTyton's free mobile app, puts the power of code compliance in the palm of your hand. Create high-quality solar labels on a HellermannTyton printer without the use of a PC. Or, use it as a complement to the information provided with your Solar Label Value Pack.
Also, its exclusive Golden Row Kits take the guesswork out of determining the perfect wire management design for utility-scale PV systems. Learn more about this and other installer-inspired solutions at the booth or head to this link.
---
Morningstar Corp. | Booth #2152
Two Product Milestones from Morningstar: Reimagined Controllers & Refined Inverters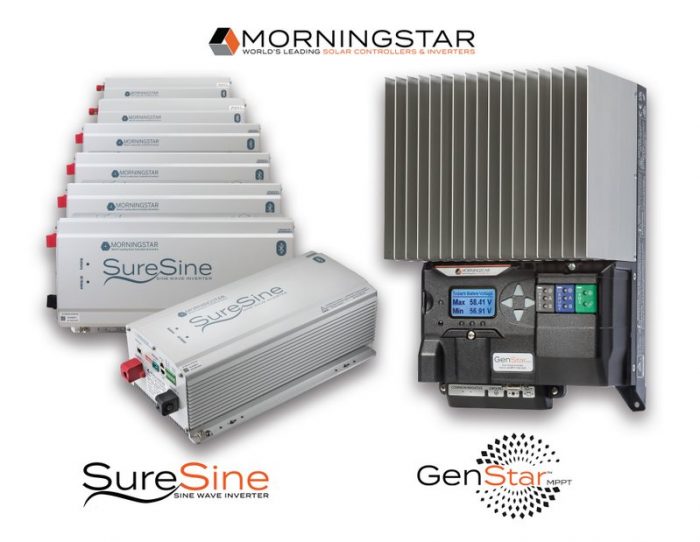 GenStar MPPT, the industry's first fully integrated solar DC charging system. An all-new design from the leader in charge controllers with "lithium DNA." All the most installer-requested features are on-board, including key communications and control functions. Additional features can be easily added via Morningstar's ReadyRail/ReadyBlock technology. Snap-in blocks provide battery metering and monitoring, signaling and load control, and lithium battery communications/control, making it easy to grow a system to meet future needs.
The new SureSine off-grid inverter line is Morningstar's response to demand for "a Morningstar of inverters" built to the same high standards as the brand's iconic charge controllers. Six new models from 150-2,500W with 120 or 230V output and 12, 24 or 48V DC input options cover a wide range of applications requiring a high-performance, industrial-grade inverter. SureSine comes with wireless Android and iOS utility apps and NRTL certification, plus AC hardwire remote terminal options. Learn more here.
For even more depth, check out one of our recent Morningstar webinars:
---
Aurora Solar | Booth #259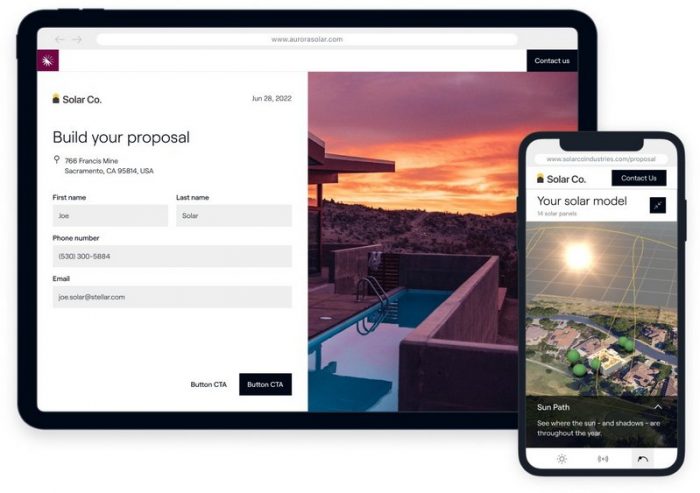 Aurora Solar is creating a future of solar for all. The company is putting the power of data and technology into the hands of every solar professional to make solar adoption simple and predictable. The cloud-based platform uses data, automation, and AI to streamline workflows and grow solar businesses faster. More than 7,000 of the industry's top organizations rely on Aurora and over 10 million solar projects have been designed with the platform globally. The San Francisco-based company was the only climate tech business named to the 2022 Forbes AI 50. For more information, visit www.aurorasolar.com and follow on Twitter @AuroraSolarInc.
---
Discover Battery | Booth #1151
Discover will showcase new products to enhance its solar offering and is launching a preferred installer program.
Discover Battery introduces the ELEMENT Energy Storage System. ELEMENT ESS features 100Ah / 5.12kWh 48V nominal 19" (3U) rack mount battery modules with or without integrated heating for cold-weather sites. Discover's industry-leading, high-current Gen4 BMS powers inductive loads and energizes transformer-based inverters with 3C peak power and 1C continuous discharge while enabling ultra-fast, 1C dynamic charging. ELEMENT systems are easy to specify, quick to install, and simple to permit. The modules are safety certified to UL1973, UL9540 BESS, UL9540A and IEC62619 for rapid permitting with all major brands of power electronics.
Discover is launching a new preferred solar installer program that provides installers sales leads, promotion of your business, preferred wholesale pricing, rewards and enhanced website access and tools. See us and get started at Intersolar.
For more info, head here, or email solarsales@discoverbattery.com
---
Terrasmart | Booth #1225
Terrasmart continues to power progress via lens of Augmented Reality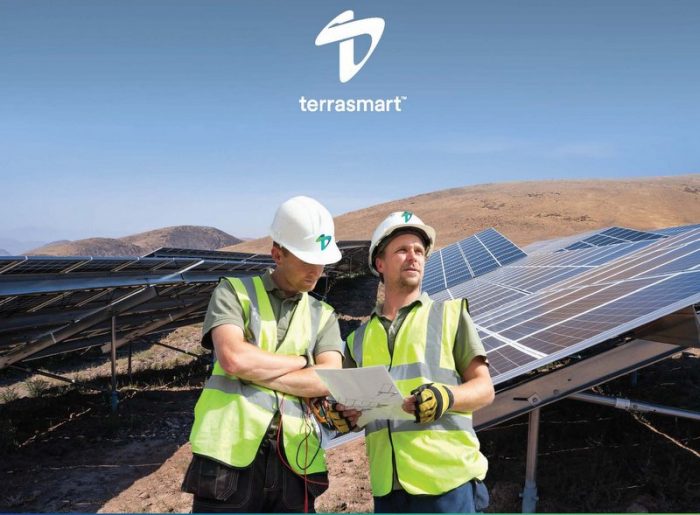 Terrasmart is featuring all of its products and services through the lens of Augmented Reality (AR). From project optimization software, SIFT, to ground mount and tracker foundation selection, paired with integrated racking to electrical wiring and installation, Terrasmart delivers true agnostic solutions to support every stage of your project's lifecycle.
Live demos of SIFT, Terrasmart's Solar Instant Feasibility Tool, will be available throughout the show. Modeling hundreds of layouts, performance goals and financial scenarios in seconds, SIFT is used for faster feasibility studies and ensures you select the right products and maximize IRR.
Take a deeper look into Terrasmart's GLIDE ground mount racking product and A-frame tracker, TerraTrak – both designed to pair perfectly with its ground screw and driven pile foundation. See how each accommodate high slopes, undulating terrain, and fewer parts that allow for ease of field install. View how Terrasmart's canopy and rooftop structures present the ability for full customization in C&I sectors, as well as its eBOS wiring solutions that perform a quick plug-and-play in the field.
---
Energy Toolbase | Booth #1231
Model, Control, and Monitor Your Solar + Storage Projects.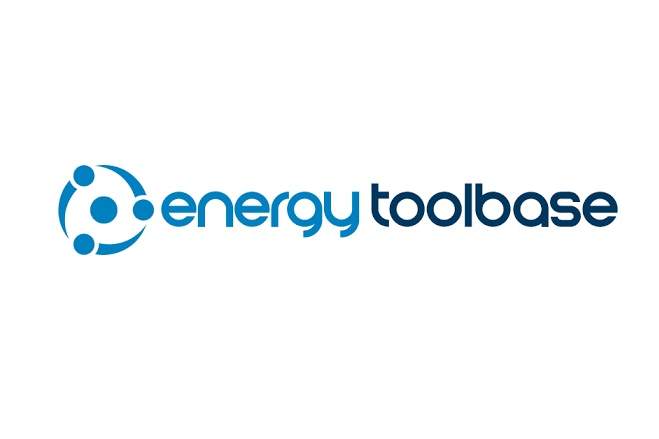 Energy Toolbase is an industry-leading software platform that provides a cohesive suite of project modeling, storage control, and asset monitoring products that enable solar and storage developers to deploy projects more efficiently. ETB Developer is the gold standard for utility rate and financial analysis of solar + storage projects allowing you to streamline your sales process. Energy Toolbase's Acumen EMS controls software utilizes AI and machine learning to forecast and optimally discharge energy storage systems operating in the field. ETB Monitor is a trusted monitoring platform providing complete transparency into the real-time operation, performance, and savings of your solar + storage projects. ETB's monitoring platform is directly connected to your modeling and control software creating an end-to-end software experience. Head here for more info.
---
Sol-Ark | Booth # Booth #1337
Sol-Ark 15K and more at Intersolar 2023

The Sol-Ark 15K inverter brings a new level of power and capability boasting 15,000W of continuous AC power, robust surge power (up to 24,000W (10 sec.)) as well as having three on-board MPPT controllers and two 200A battery breakers. The SA-Limitless-15K is also scalable in both 120V/240V split phase and 120V/208V 3 phase service voltages and can stack up to twelve (12) units in parallel. The existing Sol-Ark product family of hybrid inverters, the SA-5K, SA-8K, and SA-12K, have become the go-to industry workhorses for solar-plus-energy storage, and the newest model, the Limitless SA-15K has a special new feature; a 200A main switch. The majority of homes in the U.S. have a 200A main distribution panel for their electrical service to enter the home. When combining solar PV with a powerful inverter such as the Sol-Ark 15K, home owners can achieve new levels of control and resiliency. For more info, head here.
---
EcoFasten Solar | Booth #1560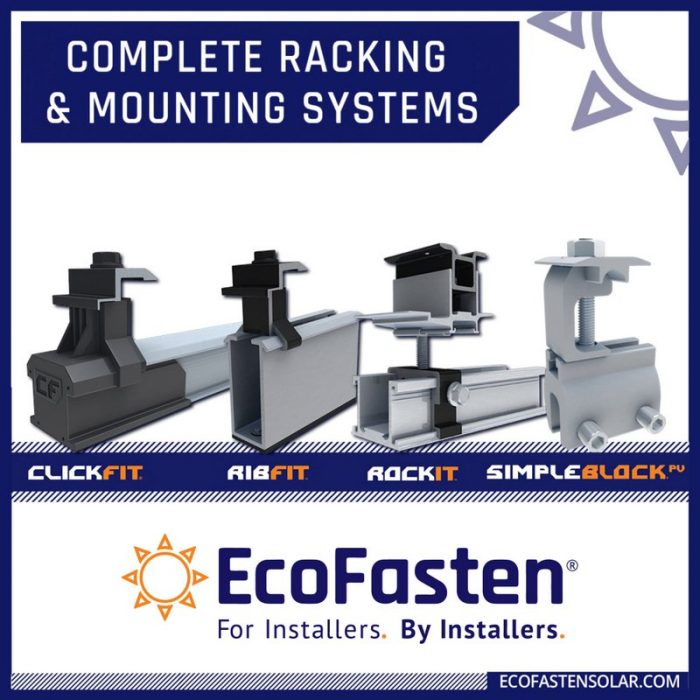 EcoFasten invites you to talk with the experts and see what's new for 2023! See our solar racking systems including RockIt and ClickFit, as well as our product portfolio of roof attachment and eBoS options. For more info: www.ecofastensolar.com.
---
SolaDeck | Booth #1845
SolaDeck, the best junction box for solar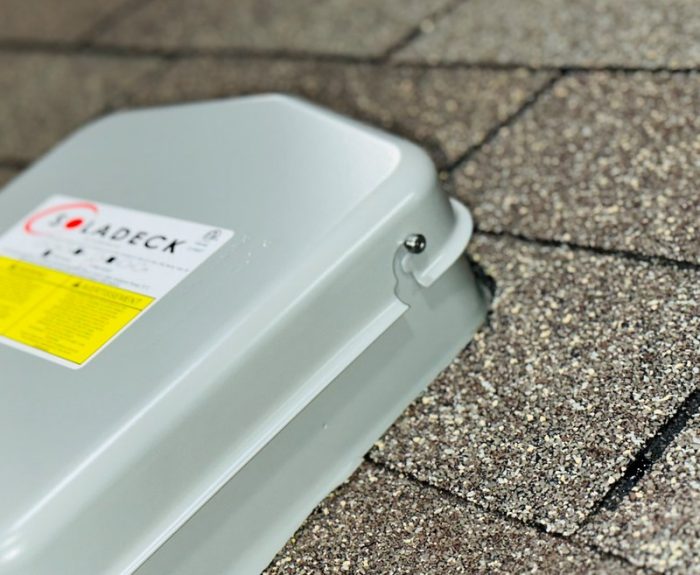 Join the SolaDeck team at booth #1845 near the Solar Games competition floor. The SolaDeck was introduced to the solar market 20 years ago as the most dependable junction box, giving you a quick, streamlined process for installing your PV equipment. After listening to your thoughts over the years, the SolaDeck team is ready debut the newest version of the SolaDeck at Intersolar. They have added a hinged cover to eliminate loose cover screws, a din rail that can be rotated for horizontal or vertical use and two, ¾" pre-drilled holes to allow the easiest install of your conduit and fittings. It's faster, easier, more reliable and it looks great. For more info: www.soladeck.com.
---
EZ Solar | Booth #1946
Tile Roofs have met their Match with EZ Solar, the ultimate rooftop junction box
Solar installers have long awaited a high functioning rooftop junction box designed specifically for tile roofs. The wait is over. The JB-2 integrates with most Flat, Spanish and W-Shaped tiles. The innovative box design allows the box to securely fasten to the roof deck. Made from advanced durable polycarbonate, EZ Solar's JB-2 are designed to last for life, with no leaking. Finally, a cost-effective, high functioning rooftop junction box for tile. Fast and simple to install with a 25 yr. warranty. For more info: ezsolarproducts.com.
---
APsystems | Booth #2051
APsystems QT2 microinverter – why the game has changed for commercial solar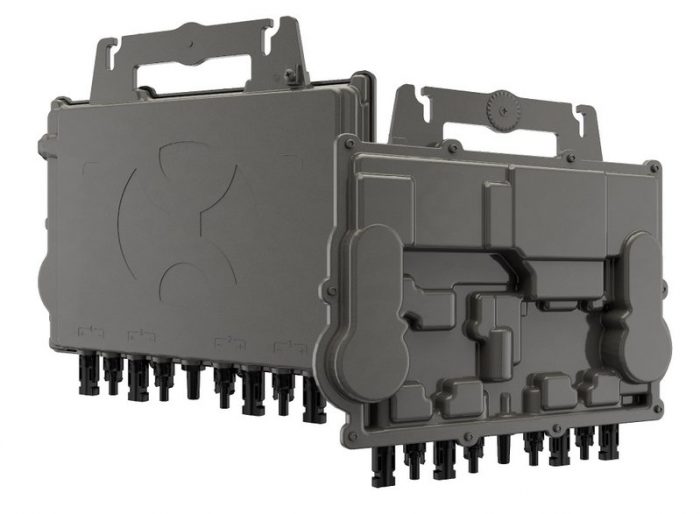 APsystems is showcasing its new 3-Phase microinverter for C&I applications at this year's Intersolar. The QT2 connects to up to 4 PV modules, is rapid shutdown and UL 1741 SA (CA Rule 21) compliant and comes in 1728W (208V) and 1800W (480V) output models.
Why microinverters in commercial solar? As featured in the recent Solar Builder article "Making the case for microinverters in C&I solar," the QT2 offers built-in rapid shutdown, pairing with higher capacity PV modules, improved performance over string inverters under a variety of conditions, fewer potential points of failure, plug-and-play three-phase wiring, and are far more cost-effective than ever.
A new cooling topology allows the QT2 to reach unprecedented levels of high efficiency power conversion, while embedded 2.4GHz ZigBee wireless communication provides high speed data transfer of production data. Solar installers can now offer their C&I customers all the benefits of MLPE in an easy-to-install, plug-and-play, native 3-Phase microinverter package. For more info: usa.apsystems.com/qt2
---
S-5! | Booth #2124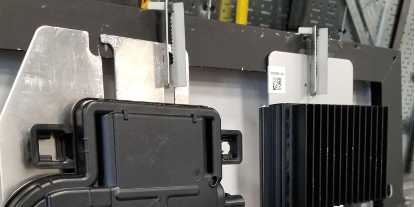 S-5! will introduce its new wire management solution at Intersolar North America, the Module-Level Power Electronics (MLPE) clip, and one of S-5!'s solar experts will participate as a featured guest speaker and panel moderator. The MLPE clip provides a cost-effective attachment method for various MLPE devices directly to the PV module frame. Featuring a single clip that mates with the MLPE and module frame, it is a simple and easy way to attach with no fasteners required and works with most module frames.
On Wednesday, February 15 beginning at 10.30 a.m., Director of Product Management, Mark Gies will moderate a panel on the Impact of Solar-Ready Mandates on New Building Design & Construction in 2023 together with industry experts Paul Zacher, president of PZSE Structural Engineers; Steve Jones, lead engineer at UL Solutions and former building inspector for Oceanside California; and Duncan Cleminshaw, senior manager at GAF Energy.
---
Seaward | Booth #2140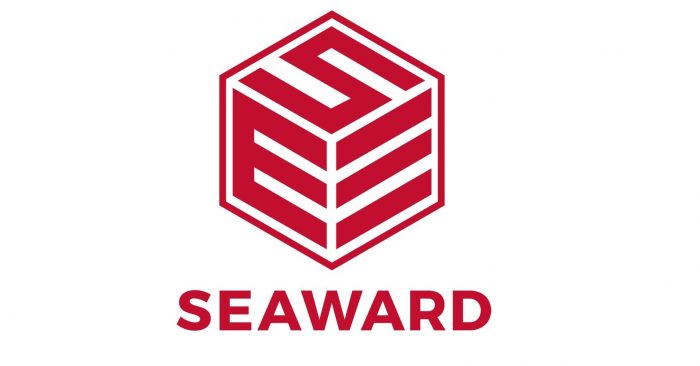 Established in 1982, Seaward is the market-leading manufacturer and innovator of electrical safety, test, measurement, and performance equipment with instruments proudly and expertly designed and built at a state-of-the-art facility in the United Kingdom. Seaward's solar PV product range provides an array of solutions specific to domestic, commercial, and residential sectors. For more info: www.seaward.com.
---
Gripple | Booth #2231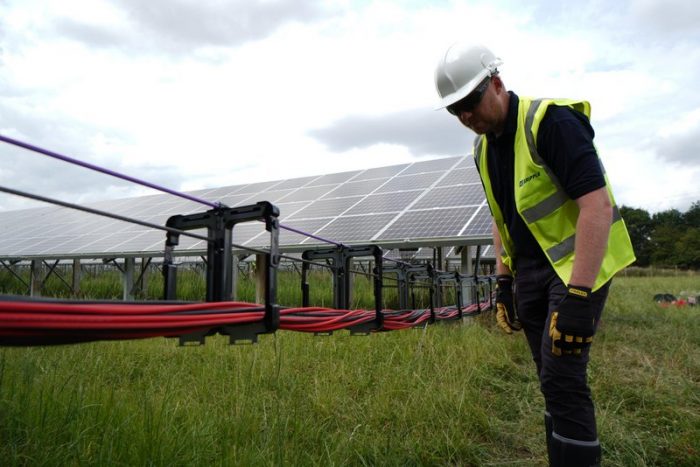 Gripple Inc. is demonstrating its range of above ground cable management systems at Intersolar USA 2023. Alongside the demonstrations, Gripple will be discussing how suspending data and power cables is a more effective way of managing cables on-site, making them easier to install and maintain and avoiding any geotechnical issues that could cause delays. Gripple also produces PV racking bracing kits and a range of ground anchors, which will be on display. The bracing kits are made of wire rope to help prevent structural damage, and are a great alternative to heavy welded steel, resulting in major cost and labor saving benefits. The ground anchors support and complement existing foundations, or can be used as main foundations on smaller projects. Head here for more info.
---
Heyco Products Corp. | Booth #2241
Heyco Products Corp. supports Residential, Commercial & Utility-Scale Solar with a variety of wire routing & wire management solutions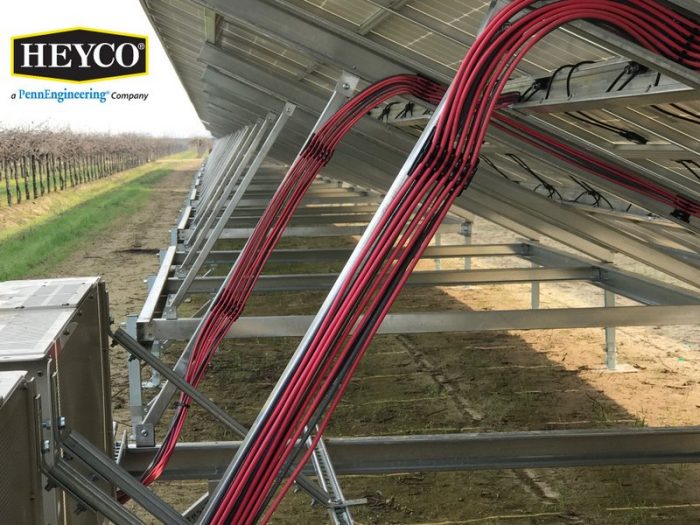 Heyco Products Corp. supports the residential, commercial, and utility-scale solar markets with a variety of products including: PV module clips, top rail clips, SunBundlers, cable ties, pest management, liquid tight cordgrips, and so much more. Expectations from end customers are high these days, and Heyco Products Corp. makes every effort to exceed those expectations. From project kickoffs and job site walks with its sales & engineering groups to post-sales support, Heyco has you covered every step of the way.
Not sure if a solution will work for your specific installation? Request a FREE sample or speak with Heyco's experienced sales team today at renewables@heyco.com or head here for more info.
---
PXiSE Energy Solutions | Booth #5015
Experience next generation grid control software from PXiSE Energy Solutions
PXiSE Energy Solutions enables utilities, campuses, and communities to reach their clean energy goals by giving grid operators the control they need to manage growing renewables and distributed energy resources – while providing safe and reliable power. Visitors to the PXiSE booth can speak to clean energy experts on the company's three core products: Microgrid Controller, DERMS, and Renewable Power Plant Controller. Interested in learning more about PXiSE's current openings? Grab a "Slice of PXiSE" and get to know the diverse and innovative team creating technology solutions that solve the toughest electric grid challenges of the 21st century. For more info: pxise.com/
Listen to more in-depth conversations on Solar Builder's YouTube channel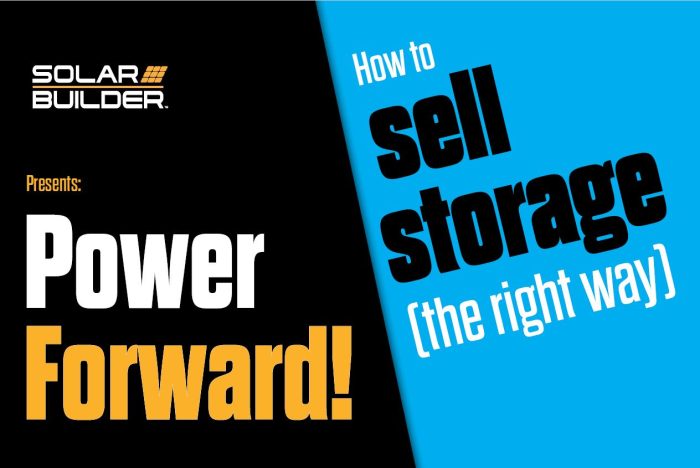 Our most popular series include:

Power Forward! | A collaboration with BayWa r.e. to discuss higher level industry topics.
The Buzz | Where we give our 2 cents per kWh on the residential solar market.
The Pitch | Discussions with solar manufacturers about their new technology and ideas.