Washington Gas Energy Systems Inc., a subsidiary of WGL, announced the completion of a 40-kW solar array that will produce renewable energy for Waconia High School in Minnesota. A ribbon cutting ceremony was held on Monday to celebrate the completion of the project, one of 13 solar arrays being completed in partnership with New Energy Equity, Innovative Power Systems, tenKsolar and ICS Consulting.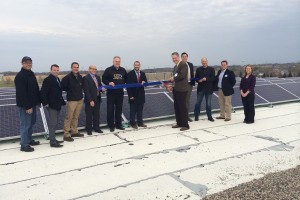 "This strategic expansion into the state of Minnesota further diversifies our footprint of renewable energy projects throughout the country, and we are thrilled to celebrate these 13 projects throughout Minnesota at Waconia High School," said Sanjiv Mahan, chief operating officer of Washington Gas Energy Systems. "Working with schools to make solar power a reality is especially rewarding as it serves an educational purpose for future generations, and we look forward to future projects in the Midwest."
The roof-mounted system will be owned and operated by Washington Gas Energy Systems under a 15-year power purchase agreement (PPA) with Waconia Public Schools. ICS Consulting managed early stage development, while New Energy Equity completed late stage development and organized financing for the project, and Innovative Power Systems developed, engineered, and managed construction for the project. The solar installation, including modules, inverters and racking was manufactured by tenKsolar.
"Showcasing the importance of sustainable energy is an amazing opportunity for our school and our students," said Mark Fredericksen, principal, Waconia High School. "This project will ensure reliable energy costs for our school district over the next 15 years, allowing us to direct funds to other important projects."
The installation is composed of 96 solar panels, and is expected to produce over 54,000 kilowatt hours of electricity per year, enough electricity to offset the CO2 emissions from over 4,190 gallons of gasoline per year.
"This team is helping to make solar power a reality throughout Minnesota, working with schools and other organizations that will save money on electricity while reducing their environmental impacts," said Matthew Hankey, chief operating officer, New Energy Equity. "Our innovative approach to financing renewable energy projects makes solar power a viable, affordable option for school systems, municipalities and businesses in the Midwest and throughout the country."
Other projects under construction by this team in Minnesota include 39-kilowatt projects at Annandale Elementary School, Annandale High School, Annandale Middle School, Becker High School, Holdingford Elementary School, Holdingford High School, Lester Prairie Water Treatment Center, People of Praise Minnesota, Rockford Elementary School, and two projects at Riverton Community Housing, as well as a 13-kilowatt project at Latino Economic Development Center. All projects are expected to be completed by April, 2015, and together they are expected to produce almost 700,000-kilowatt hours of solar energy each year.
"We congratulate Waconia High School for the leadership team's dedication to bringing this project to fruition," said Jamie Borell, sales/operations manager, Innovative Power Systems. "Our team is proud to complete these 13 solar systems as we work together to reduce greenhouse gas emissions in Minnesota."