Walmart announced today that it will install solar panels to generate electricity at 27 of its stores in Massachusetts by 2014, becoming the largest user of solar power in the state and generating more than 10 megawatts of power – enough energy for more than 1,344 homes.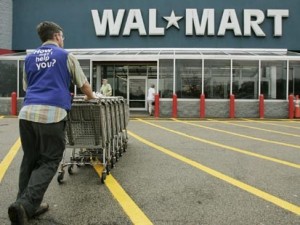 "Solar power makes sense for Walmart, and it makes sense for Massachusetts," said David Ozment, Walmart director of energy.
"Walmart's solar installation commitment is a game-changer for renewable energy in Massachusetts," said George Bachrach, president of the Environmental League of Massachusetts. "This is the largest business customer to see the economic and environmental benefits of solar power, and I hope others follow in Walmart's footsteps."
At a press conference in Boston, sustainability executives outlined the economic and environmental benefits of solar power.
"We are committed to increasing the use of renewable energy resources, including solar panels, at our stores in Massachusetts and, over time, throughout the country," said Ozment. "In a state like Massachusetts, we expect the solar systems to produce enough power to provide 10-15 percent of each store's energy needs. This will also reduce our use of Greenhouse Gases and help to provide energy expense savings and long term price certainty."
Massachusetts currently has almost 100 MW of solar power, up from less than 4 MW in 2007. The Walmart solar installations will bring the state closer to the Commonwealth's goal of generating 250 MW of solar power by 2017.
Walmart's goal is to be powered 100 percent by renewable energy. The United States' EPA Green Power Partnership program ranks Walmart as the second-largest onsite green power generator in the U.S. Renewable projects provide 1.1 billion kilowatt hours annually, or about 4 percent of electricity for Walmart buildings globally. The grid supplies another 18 percent, for a total of 22 percent renewable electricity as of 2010. Walmart has 180 renewable energy projects in operation or under development, and continues to test solar, fuel cells, microwind, offsite wind projects, green power purchases and more.
In Massachusetts, Walmart is partnering with Greenskies of Connecticut to install the thin-film panels. "Walmart's commitment to solar power deployment plants a stake in the ground for other large energy users," said Andrew Chester of Greenskies.