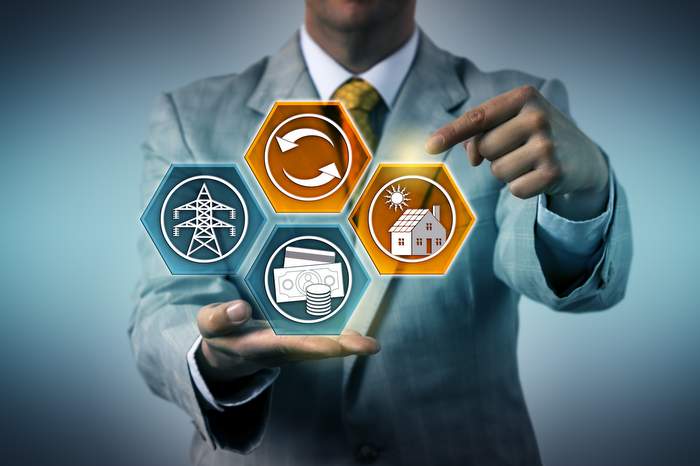 As has been the case with many good science fiction inventions of the last century, we are finally getting around to building virtual power plants (VPPs), or a software-and-wire linked network of small residential and commercial electricity generators, that together resemble a multimillion-dollar utility power plant.
While the wires linking these distributed energy resources (DER) are mostly from the monopolistic utilities' old grid infrastructure and designed for one-way deliveries, two-way control software has become much more sophisticated — to the point that public utility commissions (PUCs) are now formulating the ground rules for the VPP / utility relationship.
Example: An imminent new rule by the pace-setting California PUC will force the three largest utilities in the state to reward solar homes for electricity and other grid support in specific local areas where the utility needs the power. This new rule is expected to accelerate homeowners without outage protection to rapidly adopt solar-plus-storage systems. The Pilot Partnership program — within Rulemaking 14-10-003 — is expected to be rolled out by the PUC in a matter of months and will affect Pacific Gas & Electric, Southern California Edison, and San Diego Gas & Electric, which serve the San Francisco, Los Angeles and San Diego regions.
It's not clear yet which areas of the utility territories will be included in the pilot, but the location targets will be the most constrained points in the grid. By tapping residentially generated electricity, the utilities will be able to avoid spending billions of dollars on new generating capacity and other grid improvements.
[button link="http://bit.ly/37Y4HEa"]SMA's ShadeFix optimization produces more energy than traditional optimizers. ShadeFix also provides greater reliability and less service risk than alternatives. Watch the video to see for yourself! [/button]
Who is down with VPP?
The usual big name players are inking VPP deals left and right, but the market is also opening to some new names with great technology.
–Sunrun has been leading the way, signing VPP deals on both coasts – from a 300-system deal with Orange and Rockland Utilities, Inc. in New York, to several deals with Southern California Edison (SCE), the most recent of which will participate in the California Independent System Operator's (CAISO) Resource Adequacy (RA) program, providing 5 MW of energy capacity to help support the overall energy system in high demand events. Sunrun also won a bid to provide 20-MW of energy capacity to ISO New England beginning in 2022, about 5,000 New England customers.
–Sunnova recently secured 85-MW in the recent ISO-New England Forward Capacity Auction (FCA15). Sunnova's aggregated residential solar portfolio will offer competitive renewable energy capacity to help meet the region's future energy needs. The company expects the complete portfolio to begin participating with the FCA15 commitment year beginning June 2024.
– A collection of networks in California is being developed as a VPP by Wasatch Energy Group and Sonnen. The VPPs collectively will link 3,000 residential apartments with a total of 60 MW-hours of storage and over 24 MW of solar power upon completion.
– Swell Energy won approval from the Hawaii PUC in January for a $25 million contract with Hawaiian Electric to deliver grid services through an aggregated VPP on three islands. The company will deploy behind-the-meter solar-powered home batteries to roughly 6,000 residential customers to create a VPP on Oahu, Maui, and Hawaii islands, delivering over 25 MW of solar power, paired with more than 80 MW of batteries and 100 MWh of stored energy. Although residential solar customers cannot export electricity directly to the grid, the VPP will deliver capacity and frequency response to the three island grids.
VPP value for homeowners
The bottom line benefit for homeowners with solar + storage could be hundreds of dollars per year or even thousands of dollars per year, depending on the utility needs, says Bud Vos, the CEO of Enbala, a company specialized in the software that aggregates and links local renewable resources to utilities. Generac signed an agreement to acquire Enbala Power Networks Inc., to expand its capabilities as a grid services provider. The Enbala Concerto software platform enables the connection of DERs to register and participate in distributed energy aggregation and control programs.
"Our customers agree to participate in VPPs as part of a contract with Sunrun," notes Wyatt Semanek, PR manager with Sunrun. "There are many ways customers can be compensated for their participation, including annual gift cards, lower cost for their system, credits, etc. It depends on the specific VPP and what makes the most sense for the customers in each market."
How does VPP revenue compare to the value of net metering? Well, it doesn't really. VPP revenue is right now more of a value-add to a customer's ROI. But what VPP deals lack in financial incentives vs. net metering, they can make up for in equitability. At least 10% of the RA capacity in Sunrun's deal with SCE will be provided from Brightbox systems installed on low-to-moderate income households, and its deal with East Bay Community Energy says they will develop several MWs of solar + storage systems on over 500 low-income housing units by 2022.
Plus, even those homeowners who don't install a system will stand to benefit from VPPs as they proliferate and gain more utility acceptance. That latter part being the big key, versus net metering, which utilities have historically fought to get rid of as soon as possible.
"Utilities are increasingly looking to distributed energy resources as valuable 'grid edge' assets," said Suleman Khan, CEO of Swell Energy. "By networking these individual homes and businesses into virtual power plants, Swell is able to bring down the cost of ownership for its customers and help utilities manage demand across their electric grids."
It allows for some financial creativity. Swell Energy is in the process of financing the construction VPPs representing over 200 MWh of distributed energy storage paired with 100 MW of solar photovoltaic capacity in three states — approximately 14,000 solar energy generation and storage systems. To support the deployment of these and other distributed energy projects, and in partnership with a fund managed by the Infrastructure and Power strategy of Ares Management Corporation and Aligned Climate Capital, Swell has created a VPP Financing Vehicle to support up to $450 million of capital investment for its nationwide VPP portfolio.
The financing vehicle has been structured with Swell's utility contracts in mind, and with the VPP capacity payments serve as a distinctive feature. By receiving GridRevenue from Swell, customers participating in the VPP programs pay less for their solar energy generation and storage systems, while potentially reducing the risk of a local power outage, and keeping their homes and businesses securely powered through any outages.
[button link="http://bit.ly/37Y4HEa"]SMA's ShadeFix optimization produces more energy than traditional optimizers. ShadeFix also provides greater reliability and less service risk than alternatives. Watch the video to see for yourself! [/button]
VPP value for EV charging
The adoption drive for integrated home solar + battery systems should accelerate in California, followed by accelerated adoption in other states, as the trend for similar DER rules goes nationwide in one form or another, Enbala's Vos suggests. Adding to this motivation to adopt solar + storage is a second trend to foster the integration of electric vehicle (EV) charging equipment with home energy management systems. This trend will favor integrated solar + storage providers that can offer systems powerful enough to permit fast-charging or Level 2 charging of EVs.
Level 2 charging can add about 25 miles of Range Per Hour (RPH), while Level 1 charging only adds about 4 miles of RPH. Level 2 charging requires a 240-volt electricity source that can deliver 40 to 50 amps of current. Level 1 charging requires only a 110-volt source with as little as 15 amps of current. As a result, Level 1 charging can take four hours to fully charge an EV, while Level 2 charging may only require an hour or so.
Since EVs need lots of amps, some hardware system manufacturers may need to retool a bit. "Greater firepower in a solar + battery system is key for EV charging," observes Jeremy Niles, the Marketing Manager for Clean Energy Solutions at Generac Power Systems. Generac's PWRcell storage system can deliver 50 amps because it delivers 9-kW of backup power from a single battery pack and up to 11 kW from a dual battery system, says Niles.
One EV-oriented VPP software provider, AutoGrid, in February announced that it was awarded $2.25 million in funding from the U.S. Department of Energy's Advanced Research Projects Agency-Energy (ARPA-E). The funding will be used to increase the scalability and EV management capabilities of AutoGrid's artificial intelligence-powered Flex VPP platform.
"Asset owners and power providers today face a greater number and diversity of distributed energy resources than ever before, and optimizing them requires flexible solutions that can handle increasingly complex networks," said Rahul Kar, General Manager and VP at New Energy for AutoGrid, in a company statement.
Listen to more in-depth conversations on Solar Builder's YouTube channel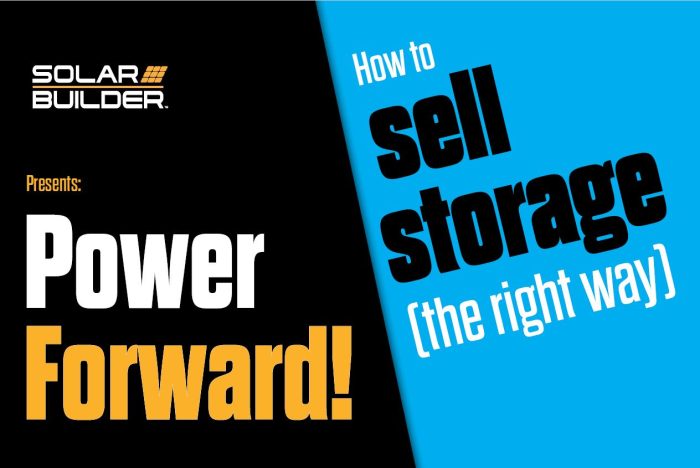 Our most popular series include:

Power Forward! | A collaboration with BayWa r.e. to discuss higher level industry topics.
The Buzz | Where we give our 2 cents per kWh on the residential solar market.
The Pitch | Discussions with solar manufacturers about their new technology and ideas.
Tags:
Enbala
,
Generac
,
Sunnova
,
Sunrun
,
Swell Energy