The North American Development Bank (NADB) and SunEdison, a leading worldwide solar energy services provider and subsidiary of MEMC Electronic Materials, Inc., have signed a US$65 million loan agreement for the construction of a 20-MW solar park in Picture Rocks, Ariz.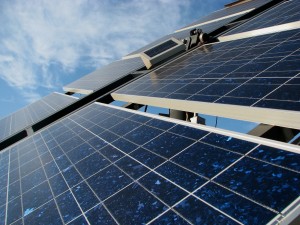 In December 2011, the Board of Directors of NADB and the Border Environment Cooperation Commission (BECC) approved certification and financing for the design, construction and operation of a PV solar energy plant, which is expected to generate sufficient electricity to supply power to approximately 3,500 homes.
The project will supply electricity to Tucson Electric Power (TEP), an Arizona corporation and principal subsidiary of UNS Energy Corporation, through a 20-year purchase power agreement. TEP provides electric service to the Tucson metropolitan area.
This project is part of TEP's plan to comply with the Arizona Corporation Commission's (ACC's) Renewable Energy Standard, which requires regulated electric utilities in Arizona to generate 15 percent of their energy from renewable resources by 2025.
"We are very pleased to sign this loan with SunEdison, a company with a well-established presence in the solar energy sector. NADB works to provide affordable long-term financing for projects in the U.S.-Mexico border region that yield environmental and economic benefits for the citizens of the region. This is a great project that does just this" stated NADB Managing Director Geronimo Gutierrez.
The project will be implemented under an engineering procurement and construction (EPC) contract, using MEMC crystalline silicon photovoltaic modules mounted on a single-axis tracker system that automatically follows the path of the sun during the day to maximize the solar radiation that the solar panels receive. The solar park will occupy 200-250 acres of a 305-acre lot owned by local utility Tucson Water, a department of the City of Tucson.
"As a leading worldwide provider of solar energy services, SunEdison continues to develop projects with the highest level of quality and structures financing with the type of predictable returns that our project finance partners have come to trust," stated Chris Bailey, VP of Project Finance for SunEdison. "SunEdison is proud of the work we are accomplishing together with NADB and we look forward to exploring future opportunities together."
Environmental benefits related to this project include the estimated displacement of over 35,000 metric tons of carbon dioxide (CO2), 125 metric tons of nitrogen oxides (NOx) and 200 metric tons of sulfur dioxide (SO2) per year. The estimated aggregate environmental impact over the next 20 years is equivalent to a total CO2 reduction of nearly 630,000 metric tons.
To date, NADB has provided approximately US$1.35 billion in loans and grants to support the implementation of 154 environmental infrastructure projects in communities along both sides of the U.S.-Mexico border. These projects represent a total investment of $3.33 billion and are benefiting more than 13.5 million residents.