Energy leaders from around the world descended upon Dallas for Solar Power International '11, October 17 – 20. For the first time in its eight year history, SPI was staged outside California proving that the solar industry is vibrant and growing across the country. A total of 21,000 industry attendees from more than 100 countries were on hand to participate in the most comprehensive annual solar event featuring cutting edge conference programs, discussion groups, general sessions, continuing education certificate programs, proprietary business meetings and acres of innovative exhibitor manufacturers.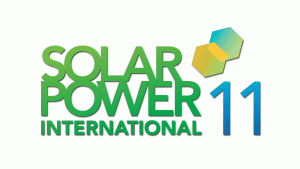 A record 1,200 exhibitors, occupying more than 1.1 million gross square feet of space, demonstrated the latest innovation in solar technology, making SPI the largest, most effective and therefore, the most valuable solar trade event in North America. Solar Power International travels to Orlando, Fla., in 2012 to continue the growth of U.S. solar markets.
"SPI 2011 was a tremendous success, and we are thrilled with the response to our move to Dallas," said Julia Hamm, President and CEO of SEPA. "It affirms that the solar industry is vibrant outside of California and reflects the fact that solar development continues to spread throughout the United States. Bringing SPI to Texas – the heart of the oil and gas industry – demonstrates the growing role of solar energy in the overall national energy picture."
"Despite challenging economic times, solar continues to be one of the fastest growing industries in America," said Rhone Resch, President and CEO of SEIA. "That dynamic growth was out in full force in downtown Dallas in SPI's first year out of California. The excitement and optimism about the U.S. solar market could not be missed for anyone in attendance, whether it was on the show floor, during the general sessions, or in one of the many breakout sessions. I'm looking forward to seeing the energy in Dallas taken back to all 50 states as solar continues to work for America."
Six executives from investor-owned and municipal utilities engaged in lively discussion during the Utility Executive Roundtable. They debated the unique opportunities and technical, regulatory, and business challenges that they face in their efforts to increase the percentage of solar energy in their portfolios. The speakers stressed the need for a national energy policy, putting a price on carbon emissions from fossil fuels and reducing the cost of solar.
Panelists included: Doyle Beneby, President and Chief Executive Officer, CPS Energy; Randy Mehrberg, President and Chief Operating Officer, PSEG Energy Holdings LLC and Executive Vice President Strategy and Development, PSEG Services Corporation; Armando Olivera, President and Chief Executive Officer, Florida Power and Light Company; Robert Powers, President, AEP; James Rogers, Chairman, President and Chief Executive Officer, Duke Energy; Larry Weis, General Manager, Austin Energy. The panel was moderated by Matt Daily with Reuters.
Other highlights include:
Rhone Resch discussed how solar energy is working for America with more than 100,000 Americans employed by over 5,000 companies. He emphasized the need to extend the Section 1603 Treasury Program to maintain the industry's momentum. He said the industry is on track to meet its 10 gigawatts annually by 2015 goal.
Julia Hamm took the audience 20 years into the future with a visionary presentation about the role of solar energy within an electric utility in the year 2031. Hamm stressed the importance of collaboration between the solar industry and utilities to make her vision for 2031 a reality.
In quick response to the trade petitions filed with the U.S. International Trade Commission and the Department of Commerce by seven U.S. solar manufacturers, the Solar Energy Industries Association conducted a briefing for SPI attendees to explain the filing and the review process. John Smirnow, V.P. Trade and Competitiveness with SEIA, and Jeffrey M. Telep, Partner with King & Spalding, Washington, D.C., provided a thorough overview of the timetable and explained what the case entails.
NBA Hall of Fame legend, David Robinson and his former teammate Steve Kerr shared their experiences as players. Robinson, an inspiration both on and off the court, stressed the importance of a strong value system, dedication and hard work to be successful in an ever changing world.
Marcus Buckingham shared his philosophy on management and leadership. He advised that to win as a leader, people need to leverage their strengths and minimize weaknesses. He theorized that optimizing individual strengths are the greatest opportunity for growth.
To view the webcasts of the Utility panel, Resch and Hamm presentations, visit: http://www.visualwebcaster.com/event.asp?id=82220
SPI 2011 Sponsors include: Terawatt sponsor Sharp and Gigawatt sponsors Hanwha SolarOne & LDK.
Upcoming Solar Power International Shows
2012 – September 10 – 13 – Orlando (co-located with PV America Southeast)
2013 – October 22-24 – Chicago
2014 – October 7-9 – Las Vegas
2015 – October 27-29 – Chicago