Today's eco-friendly industry is infested with companies that boast of green products that are in actuality not green at all. This is true of the rubber mulch industry, where companies vie for consumer attention with aggressive advertising campaigns that sometimes bend the truth. Rubberecycle is a major rubber mulch manufacturer that customers can rely on to provide entirely eco-friendly products, and it has reinforced this trust by now installing solar panels at its warehouse in Lakewood, N.J.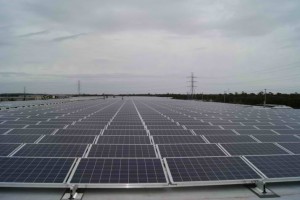 Rubber mulch is known to be an extremely eco-friendly playground flooring material, made out of recycled rubber tires. It is also the gold standard in playground safety, and has been endorsed by Michelle Obama, as Playsafer rubber mulch is the flooring that is featured in the White House playground. To uphold its high standards of responsibility and environmental awareness, Rubberecycle products are manufactured in the greenest way possible, from start to finish.
Playsafer rubber mulch is made entirely from recycled tires, and factories are located near the location of the tires so that less fuel is used during transportation. The Rubberecycle company has now taken the initiative and installed solar panels in their plant so that while working, eco-friendly solar power is used to generate power for the multitudes of machinery that is needed. The 1.1-MW solar energy system covers 200,000 sq ft of the roof, and cost Rubberecycle an estimated $3.8 million. With this move, thousands of gallons of fuel are saved, and pollution prevented.
Rubberecycle is constantly on the prowl for innovative ways to make the entire process of manufacturing rubber mulch more environmentally sound, from grinding tires, to dyeing the mulch in different colors, right up to delivery of the finished product. With this move by Rubberecycle, consumers can rest assured that their children are playing on 100 percent eco-friendly Playsafer rubber mulch playground surfacing. It is now also easier than ever for consumers to obtain the mulch at a reasonable price with Rubberecycle's limited time offer. With the code 'RubberecyclePlaysafer' consumers will receive 10 percent off any purchase of Playsafer mulch. There are no restrictions, but this is a limited time offer as Rubberecycle celebrates its new solar panels.
Playsafer rubber mulch protects children as they play in the present, but it also helps to guarantee them a future. With each step that is taken toward a greener world, our children, our future, are guaranteed a clean, healthy world that will continue to function for them. Rubberecyle is working to guarantee a future for today's children. It is now up to consumers to help.