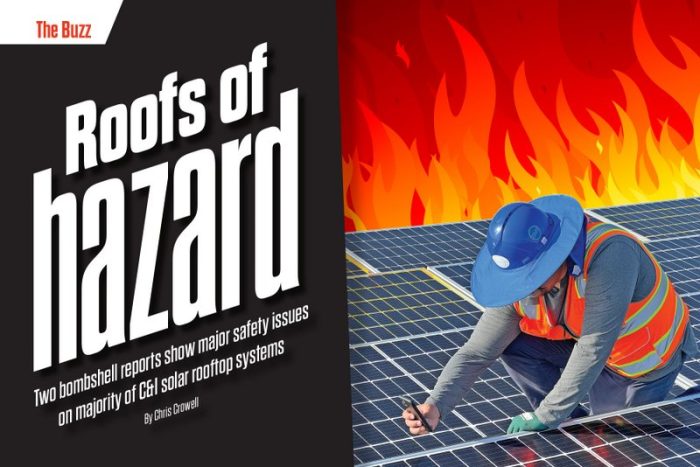 The following article appears in the Q3 2023 issue of Solar Builder magazine. Subscribe for free (print, digital, or both) right here.
---
The "What's Going Wrong?" section in our Q1 2023 issue called out the hazards often seen in commercial and industrial (C&I) rooftop solar systems. Since then, two third-party solar auditors published bombshell reports detailing how often they find "major safety issues" in their solar site audits. Let's take a look.
The first report was published by HelioVolta, the software developer and independent technical advisor that authored the aforementioned Q1 cover feature. In this inaugural SolarGrade PV Health Report, HelioVolta reports finding major safety issues on 62% of the solar systems they've inspected.
The SolarGrade PV Health Report analyzed more than 60,000 PV system health data points from hundreds of independent project assessments conducted from 2021 to 2023 with SolarGrade, HelioVolta's cloud-based fieldwork management platform. Seventy-five percent of the projects inspected are installed on commercial rooftops. System sizes range from 100 kW to 350 MW in the U.S. and Puerto Rico.
"We use standardized classifications for severity levels across every inspection conducted, and the SolarGrade app makes it simple for field inspectors to tag the appropriate severity level when documenting issues," says James Nagel, PE and co-founder of HelioVolta. "Because all inspections analyzed for the PV Health Report were conducted by HelioVolta, the severity of each issue was cross-checked by a teammate before HelioVolta's clients received their inspection reports."
Key findings:
62% of inspections found safety issues such as overheating components or improperly installed equipment.
59% of all issues are related to wire management and field-made solar connectors.
91% of critical/major issues are in dc distribution (74% of all issues)
A mere two days later, Clean Energy Associates (CEA) sounded its alarm to report major safety issues in 97% of 600 solar rooftops it has audited. These 600 rooftops are scattered around 12 countries, spanning North America, Europe, the Middle East, Asia and Australia. The top safety concerns include: …
Grounding issues (49%)
Damaged modules (47%)
Cross-mated connectors (41%)
Poor terminations (40%)
Connector assembly issues (40%)
Major issues
The percentage of major safety issues differs in the reports mostly due to categorization.
"We only classify an issue as major or critical when it poses an imminent risk — i.e., it is possible that the issue will trigger a thermal event, fire or other safety incident within days," Nagel says. "Critical issues are so severe that the system must be de-energized. Major issues should be addressed as soon as possible, certainly before the next preventive maintenance visit, and the system can continue operating."
For example, the No. 1 issue reported by CEA is grounding issues, which are not classified as major or critical in the HelioVolta report. But, "that said, grounding is a significant consideration for system design and installation and should not be overlooked," Nagel states.
See sidebar below for HelioVolta's reporting categories.
Negligible issue: Does not present a risk to personnel or site safety and may be corrected during scheduled O&M. PV module delamination and snailtrails are negligible, unlikely to create near-term safety issues when hotspots are not present.
Minor issue: Does not present an immediate risk to personnel or site safety and should be corrected during scheduled O&M visits. Example: The bend radius on a connector's leads is too high. This is a minor issue. It can cause damage over time but does not present an immediate risk.
Major issue: Presents an immediate risk to personnel or site safety and must be corrected as soon as possible. Overheating connectors are major issues at minimum because they can cause fires. Severe overheating is categorized as a critical issue.
Critical issue: Presents an urgent risk to personnel or site safety. The system must be de-energized and corrective action is immediately required. Melted equipment and signs of thermal events are critical issues: A severe failure has occurred in a module and others in the array may be vulnerable.
When taking all four issue categories into account, HelioVolta notes that "every inspection identified at least one issue" — similar to what CEA reports. Conversely, we asked CEA to provide the total percentage of rooftops that had connector issues, but we were unable to obtain that at press time. But considering cross-mated and connector assembly issues were both separately found on 40% of project, I feel safe in assuming the total percentage of rooftops with connector-related issues would be similar to what HelioVolta reports.
"Damage to dc connectors may lead to water ingress, thereby increasing resistivity between contacts and can lead to electrical arcs," said Chris Chappell, senior director, global engineering services with CEA on a webinar discussing their findings. "I believe this is one of the biggest issues we see right now."
Bottom line, no matter the report: C&I solar rooftops have a major safety problem.
Workmanship wreck
A key point made by Chappell during CEA's webinar: "These are not equipment related per se. They all have to do with workmanship; it's the little things of the integrated system."
This is echoed in the HelioVolta report: "Inverters often appear to cause PV system problems: They are usually the primary source of energy yield data and error messages when PV systems trip and shut down," the SolarGrade report states. "Yet, on-the-ground data reveals that inverters are rarely the root cause of downtime. In most cases, inverters trip because they detect underlying issues located within the dc distribution section."
System designs that require more connectors on a roof deserve more scrutiny because connectors inherently increase the probability for workmanship errors — two of the top five major issues CEA sees involve connectors. But then again, the entire PV system is rife with spots for potential workmanship errors. Negligible issues will only stay that way if they are found and corrected. Otherwise, all of these hold the potential to be major issues. That is what CEA wanted to convey with its report.
"What we're all trying to minimize is these thermal events on the roof. The little things can create the big issue," Chappell said. "What could have we done before this event to minimize these events on the roof?"
Another interesting tidbit that highlights the point: HelioVolta observed the most issues in systems commissioned during the year 2020 vs. any other year. Why? "2020 was marked by pandemic lockdowns and profound disruptions in the PV module and balance-of-systems supply chains. Workers were likely rushed to commence construction: The Investment Tax Credit (ITC) was scheduled to step down at the end of 2020. It was ultimately extended in December 2020."
CEA highlighted a few examples of issues that need to be added to installation and post-installation inspection routines to avoid eventual major issues.
Scratched backsheets and damaged modules (47%). Damage to the PV module backsheet allows moisture in, which can lead to a thermal event. PV backsheets can be almost unnoticeably harmed in many ways — it can happen during shipping or casual mishandling. These scratches are under the module after it is installed, so an inspection is the only way to catch them. The risk is thousands of dollars in damage.
Don't step on modules. Yes, this is something the CEA team has seen way too much. This can cause microcracks that are not visible to the naked eye.
Positive cable leads not secure. CEA inspectors have all too easily unplugged a positive cable lead from a PV module, which can be the cause of a major thermal event.
Inner row shading and hotspots (31% of sites). Maximizing PV can lead to one rack shading the rack behind it, which can lead to hotspots overtime. This would likely be a design flaw across the whole site. This is an example of a performance issue that could grow into a safety issue.
Cables on sharp edges of racking or conduit (27% of sites). "With a sub[contractor] of a sub[contractor] putting the work in, you've got to look at these things. A tiny nick could be the next big event," Chappell reminds.
Poor terminations (40% of sites). Loose strands, missed strands, cut wire strands and loose cables. Some not torqued at all. All of this can result in an arc hazard or underperformance. "Think of how many terminations you have on site and how many potential failure spots you have," Chappell says. "These cables are not designed to operate with loose strands."
In the absence of an error-proof PV system, the broader message in all of this is the necessity for third-party QA/QC.
"What we're trying to say is fires do not suddenly happen," said Ankil Sanghvi, engineering manager at CEA. "We as owners have the time and chance to look at the sites and prevent thermal events."
---
Chris Crowell is the Editor-in-Chief of Solar Builder.
---
Digital Edition Instant Access
Read the whole Q3 issue and subscribe right here.
Listen to more in-depth conversations on Solar Builder's YouTube channel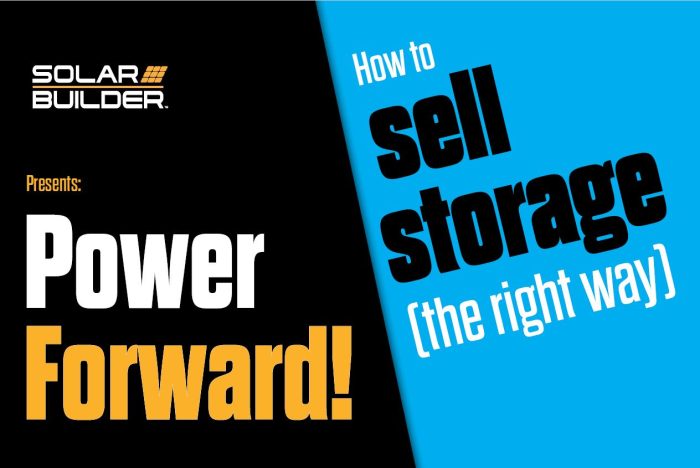 Our most popular series include:

Power Forward! | A collaboration with BayWa r.e. to discuss higher level industry topics.
The Buzz | Where we give our 2 cents per kWh on the residential solar market.
The Pitch | Discussions with solar manufacturers about their new technology and ideas.
Tags:
Clean Energy Associates
,
commercial and industrial
,
HelioVolta
,
safety