Watsonville Coast Produce is excited to announce the completion of a 739.2-kW solar power system on its agricultural distribution facility in Watsonville, Calif. The Solar Company is proud to have assisted Watsonville Coast Produce in achieving a more sustainable business through renewable energy.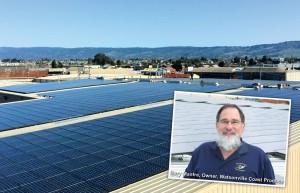 Located in one of the most fertile areas of California, Watsonville Coast Produce has been in business for more than 35 years as a recognized full-line distributor of conventionally grown and certified organically grown produce. Its 44,000-square-foot warehouse boasts nearly 450,000 cubic feet of refrigerated space, ensuring that the nearly 700 pallets of fresh produce generally stored is kept at its freshest for customers.
With so much needed refrigeration, owner Gary Manfre was looking to reduce his energy costs in a big way. Solar seemed like the perfect way to reduce his overhead costs and use the savings to invest back into his business.
The 739.2-kW system consists of 2,400 SunPower panels and will generate enough electricity to cover 100 percent of Watsonville Coast Produce's usage.
"We anticipate saving nearly $120,000 within the first year of production," says Mr. Manfre.
A ribbon cutting ceremony will be held on Tuesday, August 28th at Watsonville Coast Produce to celebrate this positive step toward energy independence.