How can solar companies continue to grow, reduce their risk and achieve their goals, all while navigating our current uncertainty? In episode two of our Power Forward! series, a collaboration with BayWa r.e., we're chatting with Preston Booker, Head of Key Accounts. Booker explains how solar businesses can team with a partner to navigate these challenging times and maintain (or exceed!) their growth trajectories in the coming year.
Watch the full 12-minute chat above. Here's a snippet of the conversation below:
What is a Key Account, exactly? A Key Account at BayWa r.e. would be either a multi-regional account that could span a couple of states or have a national footprint, or it could be a commercial account that has a well-developed pipeline and is in production in a facet of that pipeline. The perfect key account is going to be one that has more complexity in their business, and they are looking for better solutions than they currently.
What does a business at that level of complexity typically need help with? One of the biggest complexities when I talk to all developers and installers is labor. It is a major issue, just retaining it, number one, but really before that you have to accrue the labor.
I would say generally, sales funnels are full, and it's a matter of executing. So, component constraints are holding up product or holding up manufacturing, so there's product shortages and supply bumps. … That container that cost you X eight months ago is 5X now.
We're really looking at a lot of complexity, so having the right business partner to help navigate through that, and the proper planning and procedures in place is really more imperative now than it ever has been, especially if you're on a strong growth trajectory.
Why is lack of communication such an issue? More Key Account prospects are making their way to us because they're not getting the information they need at the right cadence, at the right timing they need to react. If companies know about changes early enough, and there are open and quick communication, generally an installer or a contractor is going to have enough time to make some corrective action. This is really part of our ethos.
Are there certain things you have in place — platforms or tools — that you're using to do that? Over the last year we've modified our structure to run on an agile approach. The key accounts team is one agile team, and it's not siloed work. It's autonomous, and it's not hierarchical, and it allows us to have pretty quick reaction time to market needs.
We have a Digi-Works that that is solely responsible for creating push reporting that, for a national footprint installer, is very important. It's kind of hard to roll a lot of what's happened in the previous month or what the next 90 days is going to look like from a data perspective, and that Digi-Works team, their sole responsibility is to make sure that is quickly accessible for our Key Account customers.
We're even now working more and more on the API side, so we're integrating with these Key Accounts, and we see the future as that.
Is this what you mean by 'lack of transparency' being a pain point? In the relationship between a solar contractor and their supplier, everybody has the best intentions … but there's a lot of complexity. For example, you're running a distribution company that has multiple profit centers or multiple branches that aren't tied with one unique enterprise-wide system. Whereas, we're built on a platform of NetSuite that allows us, in all locations, to be very seamless and bring some transparency tools to the table. One of which is our web store. It's dynamically linked to NetSuite, so any change that happens, it real-time changes on the web store.
Let's say a customer has a huge allocation of product that is visible to them on the web store, or their design team is in the middle of designing and there's been a road map change — because there's been a lot of road map changes this year — where's the data sheet? That's available at the click of a button right on our web store.
When companies hit a certain stature, is it better to just go the buy-direct route instead of going through distribution? There is a time and place where companies achieve such as mass and volume that the direct route should be part of their procurement strategy, no question about it. At that point we continue to work either as a buffer with the manufacturer – because, if they're in that growth mode, they're outstripping forecasts or they're over or underperforming, likely something's happening that's really requiring the need for a BayWa to solve a problem.
Plenty of customers have those direct relationship accounts, but it's generally not their full portfolio products, and there is a definite value of having somebody that understands your business model, who understands your mission, I think there's a strong argument that having a buying relationship, even when direct is majority of your strategy.
Episode 1 of Power Forward! if you missed it:
Listen to more in-depth conversations on Solar Builder's YouTube channel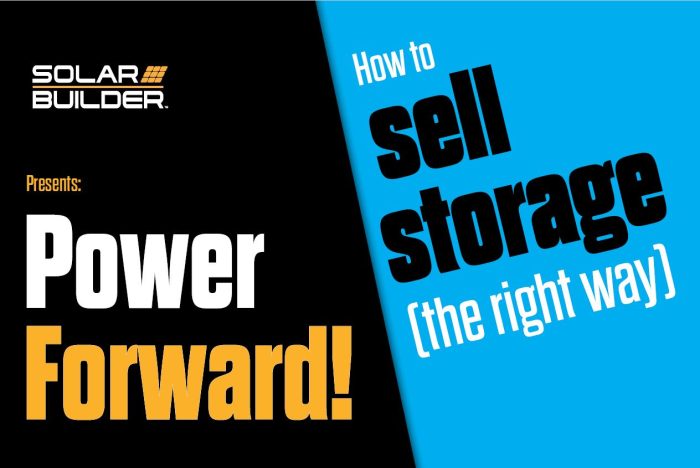 Our most popular series include:

Power Forward! | A collaboration with BayWa r.e. to discuss higher level industry topics.
The Buzz | Where we give our 2 cents per kWh on the residential solar market.
The Pitch | Discussions with solar manufacturers about their new technology and ideas.
Tags:
BayWa r.e.
,
Power Forward!
,
supply chain