Varsity Produce, one of California's premier grower-shipper-processors of yellow, red, white and sweet onions, will not shed a tear about its decision to go solar with Cenergy Power on its processing/cold storage and packing facilities. The 428.40-kW solar system will pay for itself in less than four years, offset approximately 97 percent of Varsity's utility bills and reduce the plant's carbon footprint by over 1,000,000 lbs. of CO2 per year.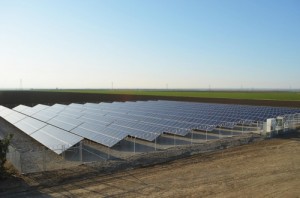 "We evaluated several solar developers and we decided to move forward with Cenergy Power due to their superior solar value and established track record," stated Brent Rhodes, Operations Manager for Varsity Produce. "After looking at solar for several years, we finally saw numbers that made a lot of economic sense and we can now feel really good about decreasing our carbon footprint."
Established in 1983, Varsity Produce is a year-round grower, shipper and processor of fresh yellow, red, white and sweet onions varieties, including whole peeled onions. The onions are processed and packed at their 40,000 square foot Bakersfield facility. The majority of Varsity Produce's onions are grown near Bakersfield and New Cuyama, California.