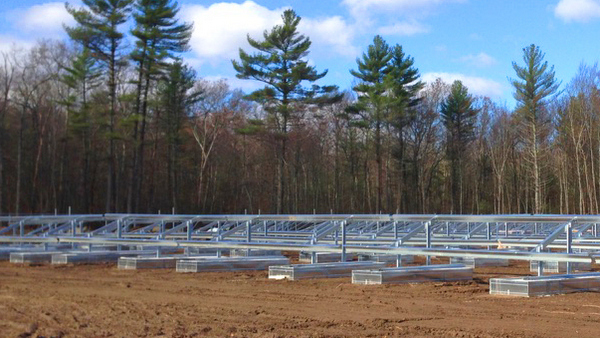 Solar FlexRack, a division of Northern States Metals, debuted its newest FlexRack Series B3P-X racking system in a 650-kW DC PV project located in Dighton, Mass., completed by Turning Mill Energy. The B3P-X racking system, together with Solar FlexRack's Cast in Place (CIP) ballasted system, provides a robust solution for challenging terrain and reduces installation costs.
The FlexRack Series B Cast in Place ballasted system easily adapts to uneven terrain allowing for a simple and efficient installation process that requires no added material to secure the form. Economically shipped as a two-piece, pre-assembled form, the system can be operational in less than three minutes with two people. The Series B-CIP streamlines installation by decreasing labor time and reduces expensive shipping costs resulting in a superior solution for a more advantageous price.
"Every project is different, which is why we pride ourselves on providing custom options to fit each project's unique needs," said Steve Daniel, EVP of sales and marketing. "The Series B-CIP allows companies the flexibility in choosing which ballasted option will work best with their project site."
RELATED: Mounting Challenges: Landfills, Brownfields, Water-Saturated Sites 
The Turning Mill Energy project is comprised of 120 FlexRack Series B3P-X portrait racks. The energy generated from this solar project will benefit the town of Mendon, Mass.
"Solar FlexRack's Series B-CIP is the complete CIP racking solution. It allowed us to build a pour-in-place system as fast as a precast ballasted system and at a lower cost," said Tony Johnson, managing partner, Turning Mill Energy.
The FlexRack Series B-CIP is Solar FlexRack's newest ground-mount system for installing ballasted PV solar on landfills, brownfields, and water-saturated terrain where little or no soil penetration is allowed. The simple design characteristics, the ability to level posts after forms are set, the customizable block sizing, the roll-formed light weight forms, and the limited components needed for installation, make Series B-CIP a completely user-friendly, innovative system.
To learn more about Solar FlexRack's two ballasted options, Series B-CIP and Series B Pre-Cast, visit this link.