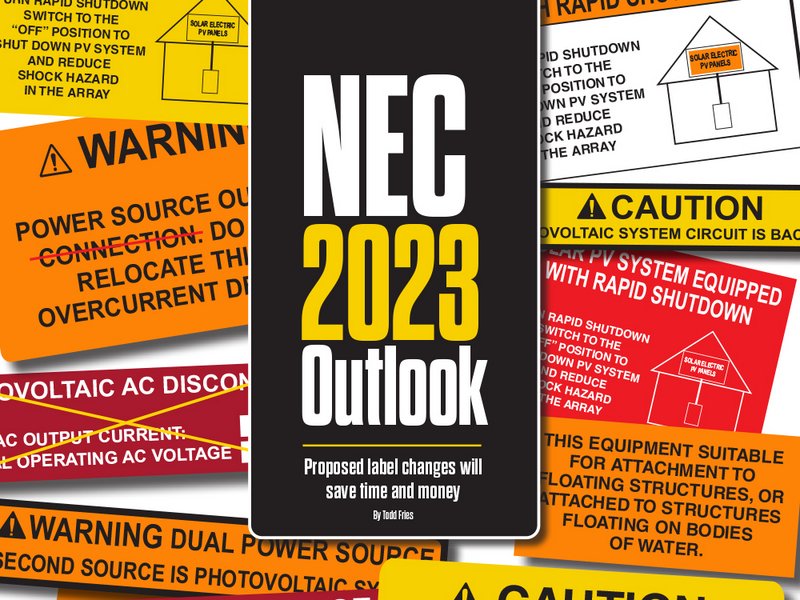 Like any cycle of the National Electrical Code (NEC), there's nothing new … in expectations, that is. There will be changes to the NEC 2023 labeling requirements. However, you'll be happy to know that these changes will be relatively minor compared to past editions, and the panel even eliminated a label.
I like the way that sounds, as those of us on the code-making panel always want to make things easier for the installer. But like any good governing body, we then added one new label to balance the whole thing out.
This new label identifies PV equipment floating on or attached to structures floating on bodies of water. New Article 690.4(G) is entitled: PV Equipment Floating on Bodies of Water. Per the code revision, this equipment must be identified as being suitable for the purpose and shall utilize wiring methods that allow for any expected movement of the equipment.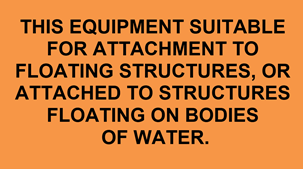 But let's be honest, this new label will be seldom used by the typical installer, so I'm going to stick with my previous assertion that there will be one less label to worry about.
Deleted label requirement
The rating label formally defined in Article 694.54 (see above) has been deleted because it was redundant and potentially conflicted with requirements for product listings as well as other power source articles.
To further explain: The markings previously associated with 690.54 would have to be on the power source equipment, not a disconnect. These markings are already part of the listing requirements of the source equipment, so it was decided that no additional field label is needed on the disconnect.

Rapid shutdown
With that said, the code panel also simplified one critical label, which will no doubt save both time and money. If you've been installing to NEC 2014 or NEC 2017, you already know to use the reflective rapid shutdown labels.
Since having three colors on reflective label stock is no longer required, these can be printed using a standard thermal transfer printer, provided you use a contrasting background color such as white on red or black on yellow (see examples below).

If you aren't the "on-demand" self-printing type, purchasing these pre-printed should be far less costly now that the more expensive reflective label stock is no longer required. The panel also moved this requirement from 690.56(C) to 690.12.
This change was one of the more notable and important revisions. First, the marking requirements were moved to the more relevant section 690.12(D). Second, and even more importantly, the requirements for the "Buildings with Rapid Shutdown" label were radically changed for the better. The label no longer needs to be reflective, and no specific color is required. The code simply states that whatever color is used, the printed text must contrast the background.
Finally, the marking language requirements in the Fire Code, NFPA 1 11.12.2.1.1.2, and the NEC were different, making it unnecessarily difficult for enforcement and inspections agencies to align. Removing specific color requirements now allows local enforcement agencies more latitude. This now makes it possible to field print these labels as opposed be being forced to purchase an expensive pre-printed design. Under these new rules, the labels can take on a variety of colors as long as they maintain the building image and that the title retains characters that are a minimum of 3/8 in. (9.5 mm) in height.
Site maps or directories
As long as we are on the subject of making things easier and less expensive for the installer, the site map has always been an issue because the inspector typically requires this to be an engraved placard or other non-label material. Those can be quite costly and must be special ordered.
Due to the new changes in 705.10, the term "label" was added to the list of options for signage as some believed placards were too restrictive of good sign options. Also, this second revision refined the identification of the power sources requirement by consolidating some of the wording and adding language about including off-site emergency contact information.
Where multiple sources supply the building, the label shall be marked with the wording:
CAUTION: MULTIPLE SOURCES OF POWER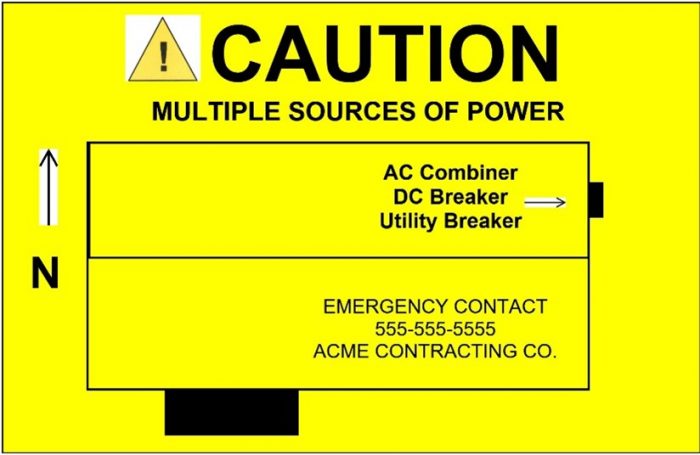 Most everything in the code will now point to Article 705.10 when describing requirements for labels, plaques or directories. Example: Article 692.4 will now point to 705.10 as will Articles 690.56(A) or 712.10. Article 705.10 will be the single location explaining format and design.
The word "label" was also added to the directory requirements of Article 710.10 which is entitled: Identification of Power Sources.
This differs from 705.10 in that this article deals with buildings using stand-alone systems. The major difference is that an emergency contact number is not required. The language was simplified with a reference to 705.10 for buildings with multiple power sources. Also, the reference to service equipment was removed because some stand-alone systems won't have service equipment since they're often installed where there is no utility service. Again, the term "label" was added to the list of options for signage as some may believe that plaques are too restrictive of good sign options.
Editorial changes
Another change was more of an editorial change where the panel eliminated unnecessary words from two label requirements in 705.12(B)(3)(2) and 705.12(B)(3)(3).
In addition, two label requirements were moved. The label requirements for 705.12(C) and 705.12(D) are now 705.30(C) and 705.30(D). The reason being is that the requirements in subdivisions (C) and (D) are general requirements for all interconnections, not just the load side. These were moved to new subdivisions within section 705.30 as they apply to the overcurrent protection device installation, which is a more suitable location. The fastening requirement (E) is also moved to 705.30(E).


Finally, the dc voltage label formally in Article 690.53 was moved to 690.7(D) to correlate the label requirement with the relevant section of code to increase usability. The requirement remains the same: A permanent readily visible label indicating the highest maximum dc voltage in a PV system calculated in accordance with 690.7 shall be provided by the installer at one of the following locations.
(1) dc PV system disconnecting means
(2) PV system electronic power conversion equipment
(3) Distribution equipment associated with the PV system.

Summary
In summary, Code Making Panel 4 initiated the following label-related changes:
Consolidated similar labeling requirements found in many sections into one single section.
Simplified label language when possible.
Moved several label requirements to relevant sections for clarity.
Added the term "labels" to requirements for "placards and directories."
The field-marking requirement of 690.54 was eliminated. To further explain, the markings previously associated with 690.54 would have to be on the power source equipment, not a disconnect. These markings would be part of the listing requirements of the source equipment, so no field label is needed on the disconnect.
Consolidated all placard requirements found in 690.56 or 712.10 into Article 705.10. Other sections will reference 705.10 unless the placards are mentioned or required for stand-alone systems. In that case, they will reference 710.10.
The reflective "Buildings with Rapid-Shutdown" label is no longer reflective and required colors have been simplified so labels can be field printed by the installer.
Added one new label for PV systems floating on bodies of water.
The NEC2023 second draft meeting was concluded in October 2021. As PV and wind systems evolve, required labeling will continue to evolve with them. Always check local codes before defining labeling formats.
---
Todd Fries is a product category manager of identification systems with HellermannTyton in Milwaukee, Wisc., and also serves on Code Making Panel 4 of the NEC 2023. He is involved with the updates discussed in this article.
Listen to more in-depth conversations on Solar Builder's YouTube channel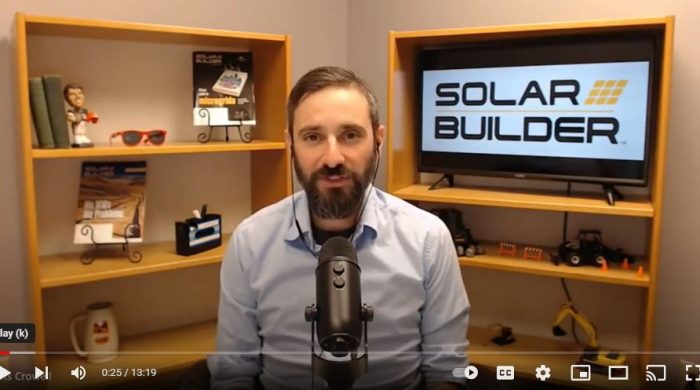 Our most popular series include:

Power Forward! | A collaboration with BayWa r.e. to discuss higher level industry topics.

The Pitch | Discussions with solar manufacturers about their new technology and ideas.
Tags:
code
,
HellermannTyton
,
NEC
,
rapid shutdown