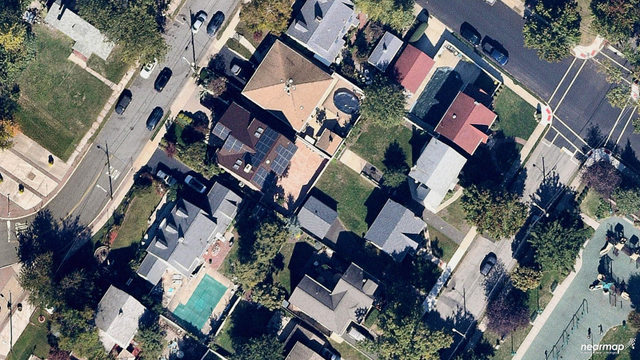 Hi-res aerial maps provide a lot of value to the solar industry when it comes to streamlining that initial proposal creation and design process. Nearmap, a location content provider specializing in high-resolution aerial maps, released two new forms of aerial geospatial data services – Nearmap Panorama and Nearmap Oblique imagery.
Nearmap Panorama enables users to view perspective maps in all cardinal directions for small or large areas in uninterrupted fashion. Users do not need to jump from one image to another and, in the process, lose context. They can easily navigate, pan and zoom across any size geography, quickly analyze perspective maps and make faster decisions that impact government and commercial operations – all within an instantly accessible 100 percent cloud-based environment.
"Nearmap Panorama is delivered via our new, highly intuitive MapBrowser interface, enabling users to effortlessly visualize and navigate across regions or local areas in an uninterrupted way," said Patrick Quigley, SVP and GM for Nearmap North America. "Our users can inspect aerial location content faster than ever before using Nearmap Panorama. Consistent with past location content, Nearmap Panorama is delivered in high-resolution, 3-inch GSD."
Eye in the Sky: How Momentum Solar doubled its business with aerial imaging software
Nearmap Obliques enable users to interactively inspect and measure the height of features, such as buildings and terrain, from all cardinal directions. Nearmap Oblique images are also accessed through the new MapBrowser.
"Our customers need location content aligned with their requirements," said Natasha Ridley, product manager for MapBrowser. For example, with Nearmap Oblique images, government organizations conducting property appraisal can accurately value property using measurement and detailed, tilt-angled perspectives. At the same time, commercial organizations interested in engineering and construction can quickly select a north, south, east or west orientation, measure heights of buildings and better plan changes."
Users working within MapBrowser can switch from Nearmap Vertical to Nearmap Panorama or Nearmap Oblique location content. "We've added new features that our customers are going to be very excited about," said Ridley. "For example, now users can export our imagery with measurements added. The saved image provides the whole picture, which is very useful in proposal development and communicating specific aspects of the aerial maps essential in planning and operations."
"These enhancements represent a major step forward in both our location content and delivery capabilities. There's also more on the way," said Robert Carroll, VP of 3-D commercial and government for Nearmap. "This imagery is produced by our patented HyperCamera2 technology, enabling us to continue to proactively survey the U.S. urban areas including 50 percent of the population with obliques while also producing high-resolution 3-D content. Our plan is to extend our leadership position by introducing Nearmap 3-D combining 'off-the-shelf' digital surface models (DSM), textured 3-D mesh and 3-D point clouds in the near future."