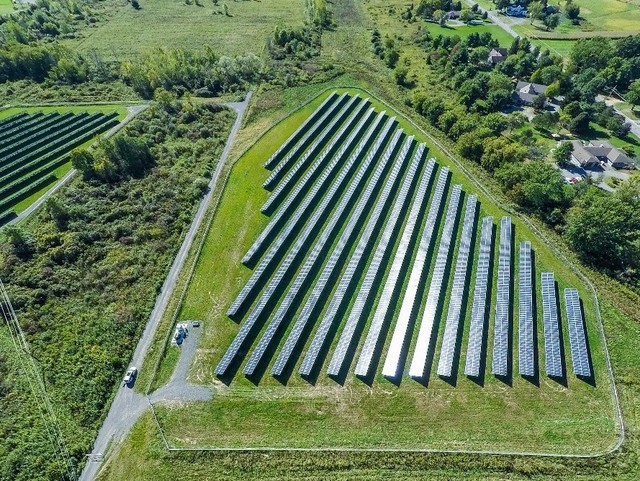 EDF Renewable Energy Company groSolar completed a solar project at New York's Mohawk Valley Community College. The MVCC Solar Project is another successful application of a net-metered project supported by a grant from New York State Energy Research and Development Authority (NYSERDA). Electricity generated by the project will directly offset MVCC electricity costs.
"We are excited about this new venture that is good for our environment, good for our bottom line, and through this partnership, it will benefit our students as well," said Dr. Randy VanWagoner, MVCC College President.
The project is expected to generate approximately 3,450,000 kilowatt-hours of clean renewable energy in its first full year of operations or enough electricity to power nearly 300 homes and offset more than 2,500 metric tons of carbon dioxide produced by more traditional energy generation sources.
The project was made possible thanks to collaboration among groSolar, MVCC, the Rome Industries Development Corporation (RIDC), and funding through Governor Cuomo's NY-SUN initiative which is building a self-sustaining solar industry in New York.
"Congratulations to Mohawk Valley Community College for supporting renewable energy projects that improve the environment for the benefit of everyone in the community," Alicia Barton, President and CEO, NYSERDA said. "Projects like this demonstrate that solar is a clean, affordable energy choice for communities across New York who are advancing Governor Cuomo's Reforming the Energy Vision strategy."
Solar Builder Project of the Year Winner: Roadrunner Food Bank