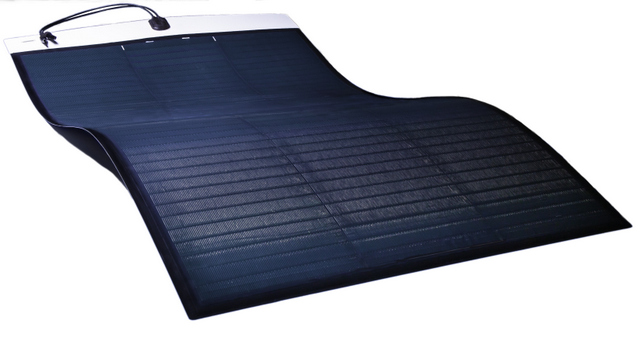 Timed with the Solar Power International, MiaSolé is making its Next Generation Flexible Ulta-Light Solar Technology Products available, which the company says delivers significantly higher levels of efficiency (up to 17 percent) in a flexible, thin, ultra-lightweight form factor (4x lighter than traditional rigid solar panels).
MiaSolé's Next Generation Flexible solar technology product can be installed in any location, anywhere the sun shines, on and off the grid with an energy payback of less than half a year. The company has achieved high-volume scale production and started to ship volume orders in 2016.
MiaSolé's new products are part of a broader trend in the solar power industry toward more versatile integrations of solar panels into roofing and other products; for example, Elon Musk recently announced that SolarCity intends to start offering a new "solar roof" product with integrated solar technology, and Musk was quoted as saying that "instead of just selling solar panels that can be placed on someone's existing roof, SolarCity can sell the entire roof itself with the solar power capabilities built into it, potentially opening up a whole new market."
MiaSolé is already developing partnerships to create new types of roofing and other Building Integrated Photovoltaic (BIPV) products with solar power integrated into them. McElroy Metal, a leading supplier of advanced roofing solutions, is partnering with MiaSolé to create innovative solar roofing solutions.
"We are very excited about our partnership with MiaSolé. Their thin-film solar modules are aesthetically pleasing and attach very easily to our roofing systems, because they have a factory-applied adhesive that works well with our metal panel roofing," said Ken Gieseke, Vice President of Marketing for McElroy Metal. "MiaSolé's next generation flexible solar panels have significantly improved in performance compared to previous flexible solar cells. MiaSolé has truly innovated – their flexible solar panel performance is now on-par with rigid glass panels."
The company also said the new high-efficiency flexible solar panels are more cost-effective than previous generations of flexible solar technology.
MiaSolé's new flexible solar product is ushering in the "solar anywhere" movement, as it can be installed in such a wide array of locations and applications, such as:
• Curved and unreinforced roofs
• Concrete roofs (MiaSolé recently announced a strategic partnership to sell solar solutions in Japan, where many roofs are made of concrete)
• Unusual structures and vehicles such as carports, trucks, buses, shipping containers, trains and boats
• New off-grid products and materials such as awnings, tents, or jackets
• Infrastructure such as street lamps, reservoirs and landfills
• Off the grid installations in the developing world and remote places where there is a need for lightweight, easy to install solar solutions
• Integration with manufactured products – roofing manufacturers can use flexible solar cells to create their own customized solar solutions to sell to their customers, similar to the concept that Elon Musk has discussed of a "solar roof" product from SolarCity
MiaSolé runs production of its solar solutions from a 100-megawatt factory in China and pilot line in Santa Clara, CA. To learn more about MiaSolé's new line of flexible ultra-light solar solutions and see the potential for new solar applications, come visit the MiaSolé booth at Solar Power International in Las Vegas:
Tags:
Miasole