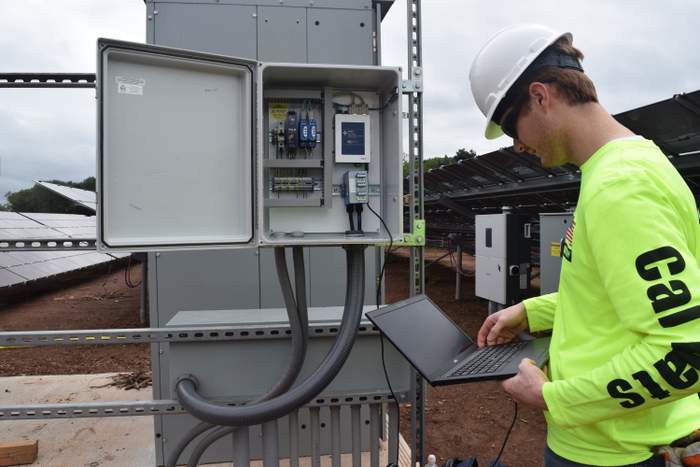 Merit Controls, a provider of power control systems and grid integration solutions for utility-scale applications, has significantly enlarged its commercial and industrial project portfolio. In addition to the recently announced 284 megawatts Azure Sky solar and storage project with partner Enel Green Power, Merit Controls continues to expand into wind, electric vehicles and microgrid, with a growing footprint internationally.
Founded in 2016 as a division of Merit SI, Merit Controls offers turnkey control systems, power plant modeling services, and retrofit solutions for renewable energy and battery storage installations. Merit Controls' secure, reliable solutions have resulted in a solid pipeline in 2020 – including the largest solar plant in Texas with Enel Green Power – with more opportunities emerging as existing technologies and components reach their end-of-life state.
"Our advanced integration tools are critical to managing the complexity and increased penetration of renewables on the grid. Not only does this provide for grid resilience and sustainability, it also serves to mitigate grid disturbances and cybersecurity risks," remarked Tom Kuster, CEO, Merit Controls and Merit SI."As we continue on our current growth trajectory, we are well positioned to become the standard in power generation control systems. Our clients benefit from our diligence in keeping them compliant with the latest grid standards and abreast of market opportunities."
As market conditions align, Merit Controls is confident that its ability to increase plant efficiency, reduce risk and help customers comply with current and future grid requirements will continue to appeal to prospects.
"We are pleased to have cultivated a partnership with Merit Controls to bring best-in-class cybersecurity technology solutions to our renewable energy and storage clients," remarked Naveed Mikhail Hasan, Director of Strategic Initiatives for Sungrow Americas. "Sungrow is always in pursuit of technical innovations and in establishing itself as a comprehensive service platform to pave the way for growing decarbonized economics. Partnerships with solution providers such as Merit Controls assists us in accomplishing that."
Merit Controls has delivered power flow modeling capacities that have become fully embedded in the interconnection review and analysis for several customers.
"With capabilities to do in-house power plant modeling at the start of a project through installation and performance validation, we offer a one stop solution for customers, whereas they otherwise would have to coordinate with at least three separate parties," said Scott Rand, Managing Director, Merit Controls. "This streamlines the integration and commissioning process, and sets a standard that hasn't been seen before. From a management perspective, Merit Controls is the clear choice."
Merit's products and services include:
Power plant controllers (PPC)
Energy management systems
SCADA systems
Plant network & communications
Met stations & field devices
Power plant modeling
NOC as a Service
Tags:
Azure Sky solar and storage project
,
commercial
,
Enel Green Power
,
First Solar
,
Merit Controls
,
Sungrow Americas
,
utility-scale