Empower Micro Systems Inc. (Empower), a power electronics technology provider for smart home energy systems, launched its next-generation Genesys 8K modular smart home energy platform designed specifically for residential solar, energy storage, and unified solar + energy storage installations. Empower is licensing this patented technology and turn key product designs to inverter, photovoltaic module, and lithium-ion battery module manufacturers around the world looking to gain traction in the rapidly converging residential smart energy sector.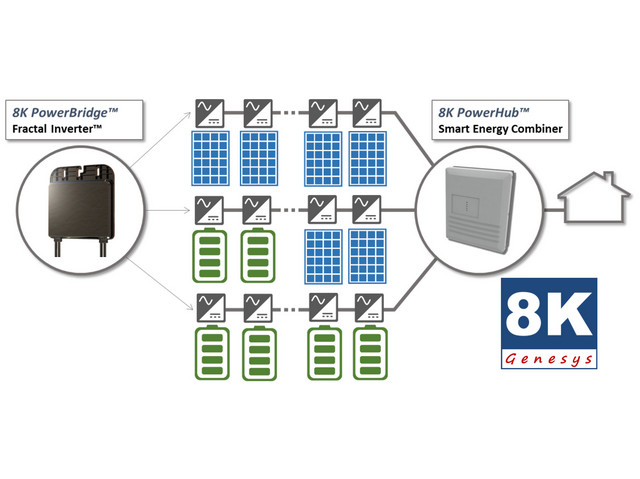 Empower's Genesys 8K modular technology platform requires only two components for residential installations: the 8K PowerBridge, a module-level Fractal Inverter; and the 8K PowerHub, a Smart Energy Combiner. This is a 4X SKU reduction from its nearest competitor. This flexible and streamlined architecture radically lowers distributor inventory and logistics costs and speeds installers' transactional velocity.
The U.S. residential solar PV market has pivoted away from large and highly concentrated solar equipment purchasers to a more distributor-focused and hyper-regional customer base for solar equipment manufacturers. This change allows for new players to more easily enter the solar installation business from adjacent businesses that touch the residence such as roofers, home security, electricians, and HVAC service providers.
http://staging1.solarbuildermag.com/featured/future-home-energy-solar-storage-generation-usage/
Empower's Genesys 8K is distinctively built to take advantage of this trend. Designed for standard household AC wiring, Genesys 8K delivers a unified solar + energy storage system that can be installed by a broader base of green-collar workers and eliminates specialty high voltage DC balance of system (BOS) costs while significantly improving speed of installation.
"The next era of smart home energy convergence is here and it's ready for primetime," said Mika Nuotio, CEO of Empower Micro Systems. "We are confident that our reputation for state-of-the-art power electronics technology is well reflected in our Genesys 8K modular smart home energy platform and we're excited to enable our customers to deliver a better solar + storage experience to homeowners. Working with major global manufacturing customers, we are accelerating smart energy deployment and truly democratizing energy."
Tags:
Empower Micro Systems
,
Microinverters