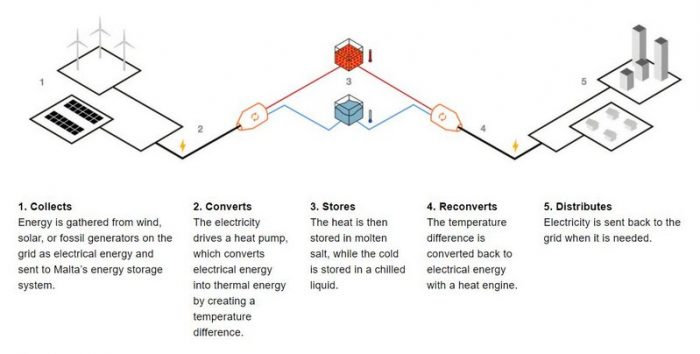 The rapid increase in demand for data centers, and the 'electrification of everything', combined with coal-fired power plants and nuclear sites going offline have led to increased global demand for long-duration energy storage at grid scale. As noted by several EPCs in our chat about large-scale storage, longer duration technology isn't quite ready for wider deployment, but we are getting closer. Malta Inc. is another entrant in this space to watch.
Malta Inc., which was spun out of X, the Moonshot Factory (formerly Google [X]), has developed a Pumped Heat Energy Storage (PHES) system. This new approach leverages thermodynamic systems to provide long-duration, large-scale, cost-effective, and safe energy storage. It converts electricity from any source, either directly from a generation facility or from the grid, to be stored as thermal energy. The company's technology is able to satisfy a daily or weekly load cycle by efficiently storing up to 200 hours of energy.In addition to dispatchable renewable energy, Malta's PHES technology can generate heat for industrial and district heat applications.
The company is gaining steam. Malta announced that Chevron Technology Ventures and Piva Capital have joined Proman, Alfa Laval, Breakthrough Energy Ventures, and Dustin Moskovitz in its oversubscribed Series B financing, increasing the round to over $60 million. The new capital will be used to advance the company's commercialization strategy.
Malta also recently announced a partnership with Siemens Energy to develop heat pump and heat engine components to support a utility-scale 100 MW system for 10-200 hours of storage and further scaling to GW power range. In addition, the company plans to develop its first 100MW long-duration storage project in the 2024-2025 timeframe and has a pipeline of projects in North America, Europe, and the Middle East.
"We are thrilled to have Chevron Technology Ventures and Piva Capital investing in Malta. Our mission is to make renewables dispatchable. The Malta system can achieve this by storing days of electricity that is available whenever needed," said Ramya Swaminathan, CEO at Malta Inc.
Tags:
Malta
,
utility-scale