KI has completed the installation of Northeast Wisconsin's largest solar photovoltaic (PV) system at its Green Bay, Wis., design and development facility. The new 115-kW array — comprised of 480 PV solar panels, covering approximately 22,820 square feet of rooftop space — converts sunlight into electricity, producing approximately 152,640 kWh of clean energy annually while displacing 108 metric tons carbon dioxide emissions. The energy produced is the equivalent of sequestering carbon from 88 acres of forest or providing electricity to 13 U.S. households.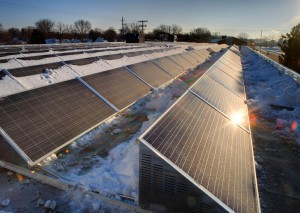 "KI remains steadfast in its commitment to sustainability and renewable energy," said Dick Resch, chief executive officer, KI. "This expansive solar PV system will help KI reduce its energy use and carbon footprint, all while educating visitors, employees and our customers about the benefits and importance of renewable energy."
The solar PV system is the largest in the Wisconsin Public Service service territory (24 Wisconsin counties and adjacent upper Michigan peninsula). The solar PV system was installed by Eland Electric Corporation and utilizes patented, solar-panel mounting systems from SolarDock–a Delaware corporation that specializes in designing and building solar electric systems.
"Renewable energy is extremely important to our customers and prospective clients who are increasingly more interested in our sustainability initiatives," said Norman Nance, vice president of A&D, environmental initiatives, KI. "Solar energy is another step in the right direction in furthering KI's ongoing commitment to sustainability."
The solar PV system was funded in part by a Focus on Energy grant. Additional funding was made available for the project from a WPS Bonus Bid Program grant awarded to Eland Electric to promote renewable energy.
Wisconsin Public Service Corporation, a wholly owned subsidiary of Integrys Energy Group, Inc., is an investor-owned electric and natural gas utility headquartered in Green Bay, Wisconsin. It serves approximately 441,000 electric customers and 319,000 natural gas customers in residential, agricultural, industrial, and commercial markets. It also provides electric power to wholesale customers. The company's service area includes northeastern Wisconsin and an adjacent portion of Upper Michigan.
Eland Electric Corporation is a fully licensed, insured and bonded electrical contractor, located in Northeastern Wisconsin that employs NABCEP certified PV installers and designers with 50 years of experience.
Headquartered in the Wilmington, Delaware, SolarDock holds the patent on flat-roof mounting frames that offer a high-performance, light-weight, non- penetrating roof installation method that will not cause leaks and is recognized as the most "roof- friendly" racking system by top roofing manufacturers. A flexible, modular structure also facilitates expansion/transfer of solar systems, while UL and TUV Rheinland approved integrated grounding method saves time and material.