KDC Solar LLC, headquartered in Bedminster, N.J., through a wholly owned subsidiary, has completed construction of a 3.25 MW rooftop mounted solar installation at the United Stationers Supply Co. warehouse in Cranbury, N.J.  A ribbon cutting ceremony marking the occasion was held at the site on Nov. 14.  The event was attended by representatives from United Stationers, KDC Solar, The Sudler Companies as well as a number of New Jersey state officials, including BPU Commissioner Joseph Fiordaliso, Senator Linda Greenstein, (14th District), Assemblyman Jon Bramnick, Republican Conference Leader (21st District), Assemblyman Upendra Chivakula, Chairman of the Telecommunications and Utility Committee and Deputy Speaker (17th District) and Assemblyman Dan Benson (14th District).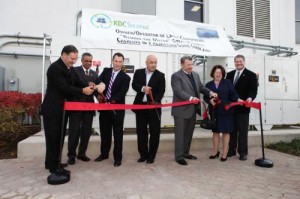 The solar facility will generate approximately 3,920,000 kWh of solar electricity per year and is designed to supply 100 percent of the electric power needs for the United Stationers' warehouse site.
KDC Solar engaged SunDurance Energy, a leader in infrastructure development, engineering and construction, power, water, environmental remediation, homeland security and renewable energy to install the solar facility. The project used over 21,000 panels manufactured by Trina Solar.
"United Stationers is excited to see this rooftop solar installation come on line. This provides us with a great opportunity to reduce our carbon footprint through the production of clean electricity, increasing our environmental stewardship in the local community and the State of New Jersey," said Bill Stark, United Stationers' VP of Engineering.
"We are thrilled to complete the project for United Stationers and The Sudler Companies to provide clean, low cost, long-term solar energy that will satisfy 100 percent of United Stationers' current needs," said Hal Kamine, KDC Solar's CEO.  "This solar facility represents our largest completed rooftop mounted project to date.  We intend to replicate this successful model as we pursue our commitment to "behind-the-meter" solar electric systems for business/government and institutions in New Jersey, which in turn creates or preserves long-term jobs for New Jersey."
"With the inclusion of this rooftop solar facility, from an electrical consumption perspective this building has no measurable adverse impact on our environment — from an energy conservation perspective, I can't think of a greater endeavor — a tremendous social benefit, responsible building practice and it's just plain good business," said Peter D. Sudler, President/CEO.  "We were pleased to work with KDC Solar and United Stationers to bring this solar project to fruition and we are proud that 100 Liberty Way plays a small part in lessening our Country's reliance on foreign oil."