On January 18, the partners of the planned Kalaeloa Renewable Energy Park participated in a traditional Hawaiian site blessing to prepare for the start of construction. Kahu William Kaina conducted the blessing of the site, located on 20 acres of leased U.S. Navy land near 'Ewa Field. Kahu Kaina encouraged the observance of three guiding principles as construction proceeds: lokahi, or unity; laulima, or cooperation and pulling together; and kuleana, or ownership with responsibility.
The concept of the solar part was first developed in 2009 by Hunt Companies and Scatec Solar North America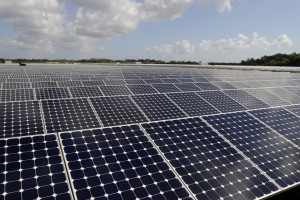 Inc. Hanwha SolarEnergy America joined the project in 2012 to provide financing and modules, and Swinerton Renewable Energy will serve as contractor for the project.
The 5MW, utility-scale solar park will comprise 21,000 photovoltaic (PV) panels and will generate enough energy to power 1,000 homes over one year. Based on U.S. Environmental Protection Agency estimates, it will produce enough renewable power to prevent nearly 11,000 tons of carbon dioxide emissions annually. This is equivalent to removing nearly 38,000 cars from Hawaii's roads over the 20-year term of the agreement.
"In Hawaii, utility-scale projects like the Kalaeloa Renewable Energy Park provide direct benefits to all ratepayers through clean and low-cost energy," explained Luigi Resta, CEO of Scatec Solar. "The blessing reminds all community members of the rich and abundant renewable energy resources that the great state of Hawaii is fortunate to have."
"We are elated to see the Kalaeloa Renewable Energy Park project mark this monumental occasion," said Steve Colon, president of Hunt's Hawaii development division. "We are firmly committed to environmental stewardship and reduction of our state's dependency on imported fossil fuels for the future of our community."
"Hanwha SolarEnergy America is pleased to work together with its partners to develop one of Hawaii's largest solar energy generation facilities," stated Laurence Greene, Director of Public Policy for Hanwha SolarEnergy America. "The facility benefits the community and advances the state in obtaining its aggressive renewable energy goals."
Swinerton, currently celebrating its 125th anniversary, has a long history as one of the oldest general contractors in Hawaii. "We pride ourselves on our strong reputation with our customers and look forward to contributing our solar installation and operations expertise to benefit this project," said Swinerton's Division Manager and Vice President George Ehara.
Environmental assessment approval for the project was received from the Commander, Navy Region Hawaii, in January. Kalaeloa Renewable Energy Park is scheduled for completion in mid-2013. Hanwha will operate the facility for a 20-year period.