Today, the City of Gonzales (Calif.)  joined with Chevron Energy Solutions to ceremonially "flip the switch" on a transformative public-private program that is expected to support the city's carbon reduction, climate action, and resource conservation goals, and significantly reduce the city's energy and maintenance costs.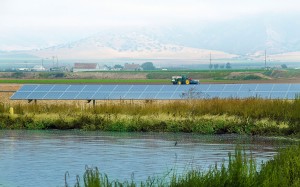 The program consists of public infrastructure improvements, including upgrades to all city-owned streetlights, construction of two solar installations expected to produce 462 kW of solar power, and upgrades to the city's water pumping stations to help conserve water and electricity and enable the city to pump water at times when energy costs are lower. The program is expected to significantly reduce the city's carbon footprint and create a model that can be replicated by other communities.
"We initially set out to create a partnership that would not only advance our Gonzales Grows Green (G3) initiative, but do so in a way that would maximize savings to the City's general fund and save taxpayers money," said René Mendez, City Manager of Gonzales. "I am proud to report that over the lifetime of the project, we expect to generate $4.7 million in savings, allowing the City to maintain and enhance services to its more than 8,000 residents."
This project demonstrates the value of the right alignment of partners.
Chevron Energy Solutions, a leader in providing public agencies energy cost savings and sustainability programs, developed, designed and constructed the project. "We are proud to help cities balance their budgets by reducing energy and operating costs," said Chevron Energy Solutions President Jim Davis. "The innovative partnership created in Gonzales is a model for public agencies throughout Monterey County, and the rest of California, who are looking for opportunities to grow their local economies and save taxpayers money."
A Gonzales winery owned by Constellation Brands, Inc., serves as one of two solar installation sites, enabling the city to substantially meet the electricity needs of its adjacent water pumping station. The second solar installation is located at the city's own wastewater treatment facility.  "Constellation Brands is delighted to work with the city on this model public-private partnership," said Erik Martella, Constellation's Vice President of Central Coast Operations.
Rabobank, N.A., arranged financing for the solar project by a municipal lease booked through its affiliate De Lage Landen Financial Services. The lease includes construction financing for the project and a customized payment structure that matches the public incentives for solar and the avoided utility energy costs associated with the solar energy system, which should allow the project to pay for itself. "This project underscores Rabobank's commitment to community banking, renewable energy, and water – all in the service of a valued client," said Greg Aguilar, Vice President of Renewable Energy Finance & Leasing at Rabobank, N.A. As the only bank located in Gonzales, Rabobank's partnership paves the way for future collaboration with local partners.
Today's ceremony was attended by local dignitaries including City of Gonzales Mayor Pro-Tem Scott Funk, California State Assemblyman Luis Alejo, and members of the City of Gonzales' City Council.