Owners of The Shootist in historic Murrieta, California, grew frustrated with their ever-rising electric bill from Southern California Edison and engaged Ambassador Energy to install a solar photovoltaic system on the roof of their ranch.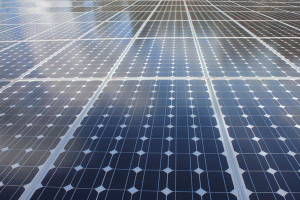 The system was mounted on an unusual "7V" metal roof and was comprised of 42 panels equating to a 13.7-kW solar system.  The homeowners, Randy and Sue Archbold, were eager to offset the bulk of their Edison bill, so the system was designed accordingly and in compliance with the available shade-free space on their roof.
"Most installations are fairly straight-forward, whether on the roof or ground," said Kelly Smith, president of Ambassador Energy.  "We are accustomed to and welcome complex installations, as we cut our construction teeth years ago as General Contractors.   We love a challenge and had a great time engaging our military veteran crew to tackle the task.  The Archbold's were terrific to work with and their ranch was a joy to work on.  Our military-veteran crew members know of The Shootist store in Murrieta and loved the ability to work through the challenge of a hot metal roof during a blisteringly hot week in SoCal.  Only a crew who has experienced the heat of Afghanistan could work in those conditions without complaining.  Our veteran installers are amazing!
Ambassador Energy successfully completed the installation and the Archbold's have gained permission to operate from their utility company.  They are now enjoying the stability of remaining connected to 'the grid', but buying only about fifteen percent of their energy from SoCal Edison.  They report that they are enjoying the savings and energy independence provided by generating the other eighty five percent from their own solar system.
"I love this American story," continued Smith.  "We have a patriotic client, a military-veteran crew, cost savings, and energy independence, resulting in a reduction of dependence on foreign resources.  What's not to love?"
project