XIOLINK LLC, St. Louis' largest managed datacenter services and colocation provider, today announced the installation of an advanced solar electricity system to provide sustainable energy to its downtown St. Louis headquarters. XIOLINK's building at 1111 Olive St. becomes one of the first in the city's central business district to install solar panels.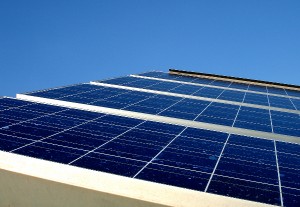 "We're committed to using innovative, sustainable solutions that benefit the environment as well as our business operations, and the addition of solar energy not only helps us reduce our carbon footprint but positively impacts our bottom line," said Brad Pittenger, co-founder and chief executive officer at XIOLINK. "It will also enable us to invest the green energy savings into better serving our clients and continuing to develop our outstanding IT professionals at XIOLINK."
XIOLINK is working with two Missouri-based companies on the project. St. Peters, Mo.-based SunEdison Inc., a global leader in semiconductor and solar technology, manufactured the Silvantis Solar Photovoltaic modules that provide long-lasting, reliable and efficient renewable energy. Kansas City-based Brightergy, which specializes in solar power integration, is managing the design and installation, with an anticipated completion by Labor Day.
"This is an industry-leading step for XIOLINK: using solar energy to power their support operations. Generating enough solar electricity to provide meaningful scale – even if it doesn't yet support the entire operation – is a smart way to incorporate solar power into daily operations, and reduce energy costs," said Cindy Bambini, Brightergy Business Development Director. "Brightergy is proud to partner with XIOLINK as they further their local leadership in sustainability by adding solar power to their already advanced green building practices."
The solar panels will supply power for XIOLINK's offices and network operations center. The datacenter operations will remain powered by an advanced electrical system including diverse Ameren power feeds and redundant backup generators. This ensures that XIOLINK continues to maintain its industry leading 100 percent datacenter uptime which clients have come to expect.
With the addition of solar energy, XIOLINK remains committed to using smart technologies to reduce environmental impact, as well as maximizing resources and efficiency. Last year, XIOLINK was named one of St. Louis Business Journal's "Heroes of the Planet" for incorporating many green technology processes without compromising reliability, security or technical capabilities.
XIOLINK's state-of-the-art datacenter includes a cooling system that has 50 percent greater efficiency than conventional systems. Because of its unique design, the cooling system utilizes outside air when conditions are favorable. The datacenter is also equipped with LED and lower-energy florescent lighting that requires less power than traditional models and creates cooler operating conditions.
The first phase of the system installation, affixing rooftop solar panels, can be viewed in a time-lapse video at: http://xiolink.com/xiolink_goes_solar.