Sollega supplied its FastRack ballasted mounting system to H&H Solar for the installation of a 51.8 kW Allianz Energy Madison headquarters rooftop project, WI.
H&H Solar has supported Alliant Energy on a research project at its Madison headquarters. The purpose of the project is to ev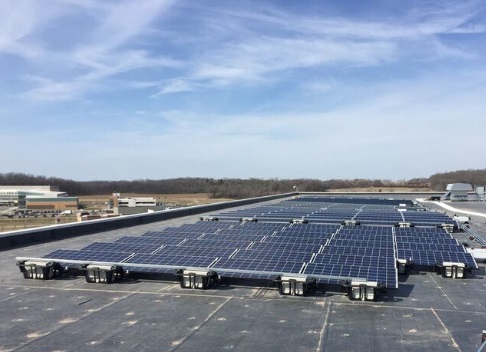 aluate performance and compare different solar technologies on the roof.
In addition to the roof top PV, H&H installed solar trees, solar picnic tables and solar parking lot canopies. The utility's $5 million project is in partnership with the Electric Power Research Institute of Palo Alto, Calif.
The FastRack510 (FR510) was selected to mount a total of 244 modules: 33 Trina Solar modules, 36 Panasonic modules, 52 Solar Frontier modules, 60 Stion modules, 30 Qcell 305 modules and 33 Qcell 255 modules.
RELATED: Sollega Launches New FastRack510 Solar Racking System 
The one-piece FR510 requires no assembly, and it's universal design allowed H&H Solar to install seven different PV modules, with the same simple and intuitive installation procedure. The high array density of the FR510 enabled the client to reach their production goals.
The non-corrosive Ultramid® material, and Sollega's proven engineering made this competitively priced mounting solution even more attractive for this project.