A long-term, problem-free commercial flat roof solar installation starts with knowing about the roof systems themselves and how to keep them protected. This isn't easy. For one, there is an alphabet soup of acronyms: PVC, TPO, EPDM, SBS, APP, BUR, PUF, PIB, CSPE, EPS and XPS. The roof industry lingo doesn't seem to make much sense either, such as the difference between mechanically attached (MA) and fully adhered (FA), even though both are essentially screwed down mechanically.
In order to mitigate roof damage during construction, there are a few things we need to know. PVC, TPO, EPDM, PIB and CPSE are all single ply membranes, typically between 3/32 and 1/8-in. thick. They are either fully glued down (FA) to an insulation substrate that is glued or screwed to the structural deck or laid loose over the insulation and "stitched" along the seams with screws to the structural deck (MA).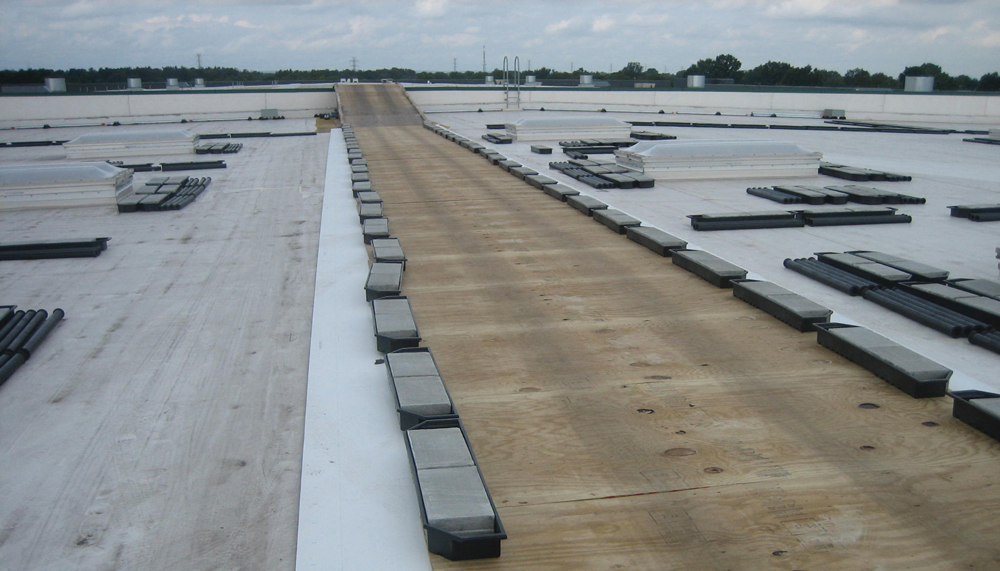 However, an issue with all single ply roofs is that repeated rolling or foot traffic over the screws and stress plates (used to secure the insulation and/or the in-seam screws and plates) can cause abrasion of the membrane, crushing of the insulation and/or tenting of the screws — all of which has the potential to puncture the membrane.
A concern with FA installations is that the plastic or rubber membrane is glued to the skin or facer of the insulation. Repeated rolling or foot traffic can cause the insulation foam to crush and cause cells of the foam insulation to break directly under the facer, causing a de-facto delamination of the roof. Any of this type of damage could end up causing leaks, roof damage or even blow-off — and ultimately, costly call backs.
In general, roof protection falls into two categories:
Temporary protection is the roof safeguard deployed during construction to avoid damaging the roof and is subsequently removed upon completion of construction. Some of these protections are universal among roof types and some are membrane specific.
Permanent protection will include slip sheets, separator sheets, walk pads and walkways. These items stay on the roof for the life of the PV system.
Guidelines for temporary protection
Inspect the roof prior to starting work. Ensure there is no damage to the roofing membrane, including punctures and scratches to the surface. Any such damage should be circled and reported immediately so that it may be repaired quickly. Panels must not be placed over damaged areas until the damage is repaired.
Treads on wheeled equipment should be covered or other precautions taken to ensure that gravel embedded in the treads does not create a membrane puncture hazard. Motorized equipment should be limited to those that can start and stop gradually to minimize horizontal pulls on the membrane.
RELATED: Tips for planning your next retail PV project
Avoid damage to the foam board insulation layer below the membrane by:
Place all pallet loads on foam board sheets or similar materials that can spread the load without damaging the membrane or insulation below.
Protect areas that are frequently traveled with plywood or OSB boards (weighted down whenever necessary to prevent uplift by wind). Also, wherever possible, frequently change the travel path location.
Avoid separation of the membrane from the insulation by placing a layer of spaghetti matting (or similar approved matting material) on areas that will be rolled over more than two or three times. Any damage to the roof must be identified with a clear mark on the roof immediately after it occurs, and it should be promptly reported to the construction manager.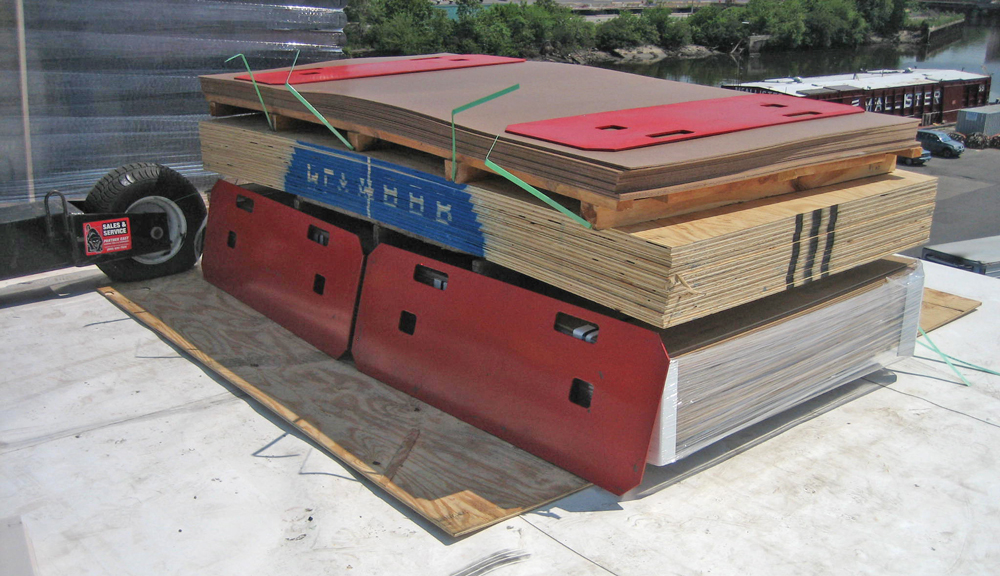 Protection procedures
For hoist landing areas and rooftop storage of any material in excess of 15 lbs/sf, use a rigid temporary protection system consisting of sheets of plywood or OSB, applied unadhered on the roof. Fully cover scheduled work areas with loosely abutting plywood sections, and apply dunnage insulation pieces between plywood sections and the roof membrane for heavy access or traffic conditions. Protect the plywood sections from wind displacement. Remove temporary rigid protection promptly upon completion of hoisting, loading or heavy traffic work.
When constructing ramps and work platforms, protect the roofing by arranging pieces of dunnage insulation between the ramp leading edges and all ramp/platform sleeper and support contact points.
Utilize temporary flexible protection consisting of rolls of walk mat material at all traffic lanes, which are essentially any areas subject to repeat or routine movement of personnel or carted materials. Loose walk mat material should be picked up and secured at the end of each day or whenever inclement or windy weather is predicted.
Ensure that the wheel load for rolling equipment does not exceed 15 psi. For example, wheeled equipment capable of carrying 1,200 lbs (combined self weight plus load) should have at least 80 sq in. of wheel contact area. If the equipment distributes the load on four wheels evenly, each wheel should have at least 20 sq in. of contact area. If the contact width is 4 in., the contact length must be at least 5 in. If the area is insufficient, either the load must be reduced or additional wheels must be added. For minor inadequacies, small amounts of air may be released from the tires to increase the contact areas.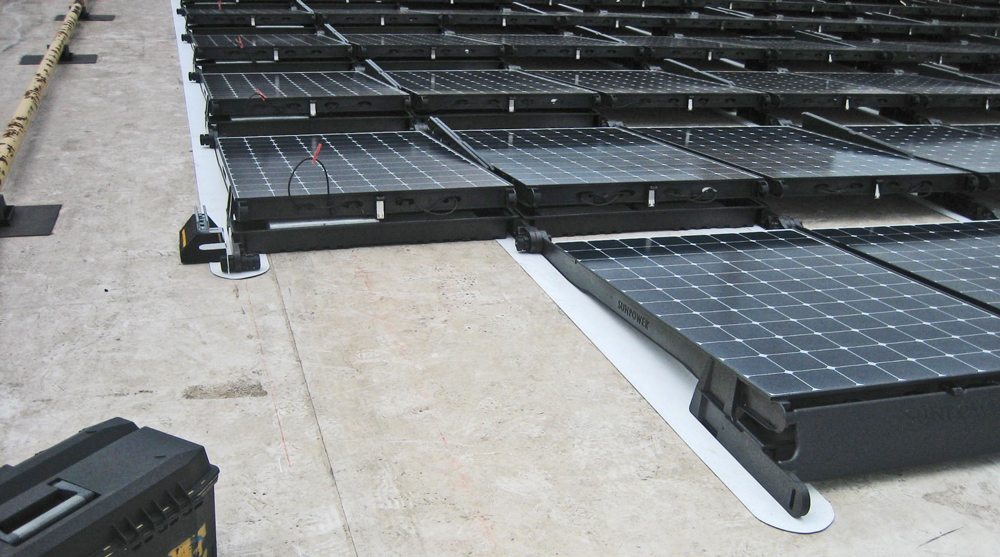 Guidelines for permanent protection
Rigid conduit supports, metal ballast trays or rigid racking that sits directly on the roof, or other equipment subject to thermally driven oscillation movement, will require appropriately sized roof material matching slip sheets.
Soft durometer PV racking support pads that are not subject to thermally driven oscillation and have been proven to be compatible with the roof membrane system type, may be — with the approval of the roof manufacturer — installed without slip sheets.
PV system support pads that have not been proven to be compatible in direct contact with the roof membrane (or if movement of the support pads relative to the roof are expected) will require an appropriately sized roof material matching slip or separator sheets.
If the roof is TPO, then the slip sheets are TPO — EPDM for EPDM roofs and PVC for PVC roofs. Slip sheet thickness is typically minimum .060 but material thickness matches above that. For example, .060 slip sheet for a .045 roof, .060 slip sheet for a .060 roof and .090 slip sheet for a .090 roof. The slip sheets can be tack welded, tack adhered or even loose depending on the roof manufacturer.
Upon completion of the PV installation, provide permanent walk pads at areas designated by the roof manufacturer as a location requiring protection. Typical locations include: a minimum 30-in. x 30-in. walk pad installed at all door or ladder access points and all work station locations on rooftop mounted mechanical equipment. Work station locations pertaining to a PV installation may include rooftop mounted inverters or combiner boxes. Additionally, any PV equipment that requires more than monthly service should have a dedicated path of walkway pads from the roof access point to the service-dependent equipment. The walk pad system should consist of the roof manufacturer's roof-compatible walk pad installed utilizing the roof manufacturer's recommended method of securement.
---
Peter Corsi is a consultant for N.B.S. Consultants.
---
Adhesive Mounting Options
Not a fan of ballast or attachments? Check out some adhesive options
Green Link introduced a new adhesive/sealant designed for use with its KnuckleHead Rooftop Support System. Green Link Adhesive/Sealant bonds and seals the KnuckleHead Universal Base directly to the roof membrane and is effective on a wide range of roof surfaces. The new adhesive/sealant has been specially formulated to adhere to PVC, EPDM, TPO and Mod Bit, as well as the KnuckleHead base itself, which is composed of glass-reinforced nylon. Green Link Adhesive/Sealant is based on polyether chemistry. It cures by exposure to moisture, so it can be applied to damp surfaces and will not shrink upon curing. It will not discolor from UV exposure, can be applied at temperatures as low as 32°F and is capable of joint movement in excess of 35 percent. It is available in standard 10.1-oz cartridges.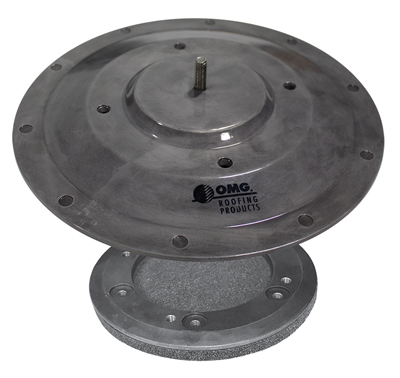 OMG Roofing Products' PowerGrip Universal is designed to reduce or eliminate ballast in solar racking systems, offering up to 3,300 lbf of tensile strength, 2,500 lbf of shear strength and 2,000 lbf of compressive strength. It's one of the strongest anchors on the market. Made of heavy-duty cast aluminum, PowerGrip Universal is easy to install, saving time and labor when compared to alternatives. The system transfers the load to the structural roof deck and does not require any membrane welding.
Listen to more in-depth conversations on Solar Builder's YouTube channel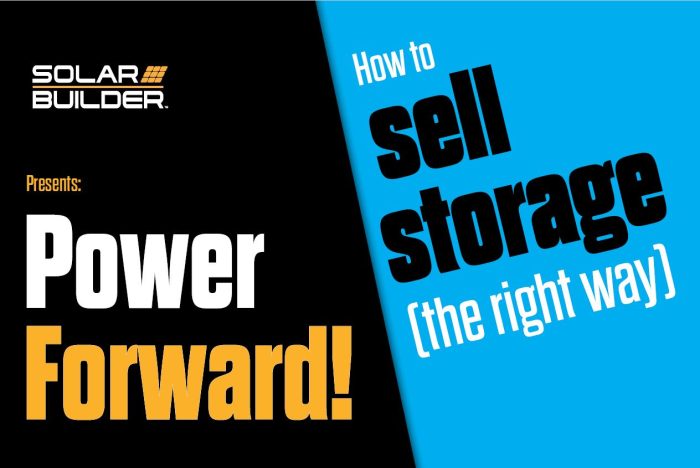 Our most popular series include:

Power Forward! | A collaboration with BayWa r.e. to discuss higher level industry topics.
The Buzz | Where we give our 2 cents per kWh on the residential solar market.
The Pitch | Discussions with solar manufacturers about their new technology and ideas.
Tags:
2018 May June Print Issue
,
Green Link
,
OMG Roofing