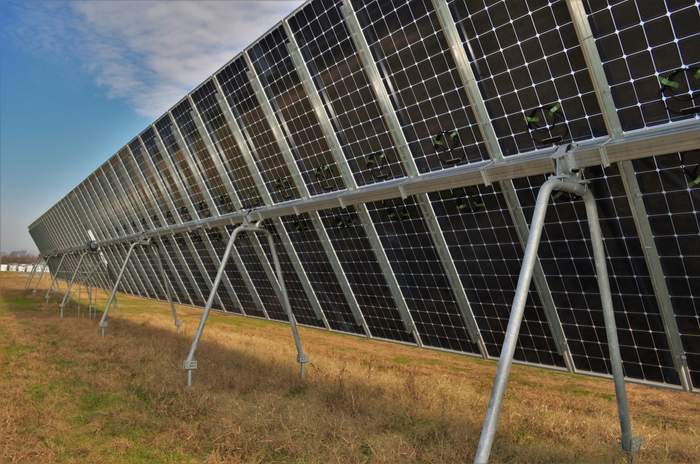 Be quick but don't hurry, as legendary UCLA basketball coach John Wooden would say. It's a sentiment that applies to TerraSmart, which is known for its ground screw foundations and for making quick work of installing solar on arduous project sites – velocity, CEO Ryan Reid calls it. But when the large-scale market turned to solar trackers, they didn't rush a product out the door. They worked for the last 4.5 years to build their own solution from the ground screw up.
"When we started on this, we had studied the issues other trackers have been exposed to throughout the industry. We prototyped various ideas and tested various conditions with a number of teams to refine the design and be sure we were prepared for anything," said Michael Faraone, Ph.D., P.E., director of engineering.
Several engineering teams worked concurrently on designs at its new Fort Myers, Fla., headquarters which has a development shop on the side to allow for all sorts of large-scale testing on full size assemblies.
"There's never been a tracker that's been top to bottom designed for the ground screw and its unique characteristics," says Chase Anderson, senior design engineer. " I've seen others that have attempted to use other foundation types in the same soil conditions but usually they require some sort of additional bracketry or mechanical components to achieve the slopes or handle the uneven terrain that we typically can handle with just our standard offering."
The result of this methodical R&D is TerraTrak– the first solar tracker built specifically for ground screw foundations. TerraSmart not only redesigned the typical tracker structure to specifically account for ground screw foundations, they also engineered all of the tracking, control, communications and monitoring technology in-house. The end result is a total tracker package that addresses all of the obstacles they typically face on remote, rocky sites. Let's dig into it.
Structural foundation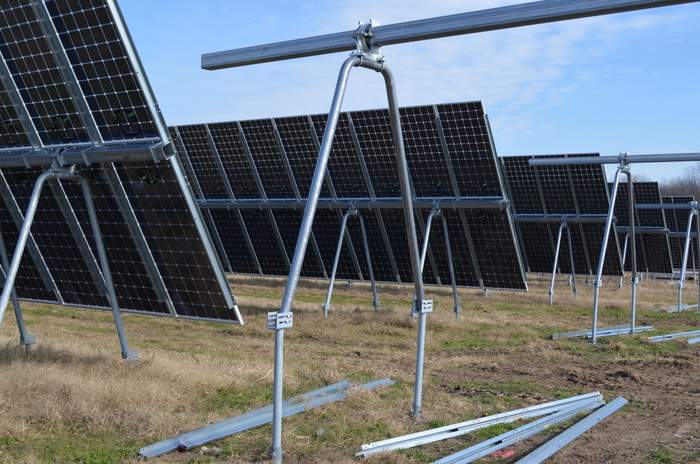 The TerraTrak system's design starts with the unique "A Frame," (seen above) which achieves two key functions:
1. Evenly distributing the tracker load through the ground screws,
2. Being flexible to account for site adjustments when driving ground screws.
"We have 10 years of experience in undulating and difficult terrain with difficult subsurface conditions, and we've been out there installing and picking up efficiencies in the field and noted it in our design methodology around the tracker – where we'd need that adjustability based on when the screw goes through a rock and maybe it moves and what those tolerance levels are," says Anderson.
That field experience also drove them to reduce part and hardware count, lessening the amount of obstacles on the site and also slimming down the torque tube with a proprietary shape that significantly reduces pounds per foot and yielding a lower material cost while increasing strength. The components are all standardized, but the sizes of certain components can be changed if needed. Screw extensions provide that max tracker slope tolerance and allows for E/W adjustment and vertical adjustment. Many trackers max out at a 15 percent slope, but TerraTrak can be built on up to 20 percent slope. This also reduces the required grading costs.
The bushings went through the most critical design process.
"We had many versions that we tested and ultimately took the best value of each design from each team and combined into one bushing that's the strongest in the industry," Anderson said.
The other thing about arduous solar sites is they can require weird layouts, like shorter rows shoved into nooks and crannies. That consideration led them to a two-high module design, thinking they could cram more modules into those awkward areas for a better production gain.
"With a shorter row you still have the same number of modules as a single high but half the length" Anderson said. "It helps reduce civil work too because vertical adjustability limits are reduced as the tracker length is decreased. If grade changes 2 or 3 feet within the length of a two-high tracker, it might have been 5 or 6 feet in single high tracker depending on the job site."
Software strength
Because of TerraSmart's rep on tough sites, I expected most of the tracker conversation to be about the rugged structure, but the engineering team was definitely more hyped about their advances in tracking algorithms and controller communications. And rightfully so: these too were engineered in house – from the firmware for the row controllers, to the backend cloud system — and it all has undulating landscapes and remote locations in mind. Among all of the other tracking data you'd expect:
"With our algorithm, we have a process that captures the leg height after it's built, so when the apron gets set we capture where it is," says Brent Franks, VP of information technology. That data point heads into the cloud, which spits out a model for the optimal position to maximize energy production at that height and position for the year, accounting for rows that are vertically higher than one's beside them. "That allows us to perform back tracking and then can feed into our row controllers what the intended angle is for each part of the day and not cause shading for a row that might be lower because of the undulating terrain."
For the onsite communications, knowing they will be installing on hills, in valleys, etc., they built a mesh network with an in-house team that has previous experience building mesh networks in home security and automation.
"We learned early on the difficulties that mesh networking presented," Franks says. "From the tracker perspective, we heard stories that as the row moves, one would lose communication with the network controller and things like that so we spent a lot of time beefing up that mesh communication process and how it all worked. We heard from some customers that they were only able to get to 100 rows per network controller, and so far, all of the sites we've built are able to double that density to about 200. The issues that our customers had seen on other solutions, with panels causing interface issues or electronic interference, we haven't run into any of that based on how we have optimized the networking and security encryption around that."
Got it. When should I use it?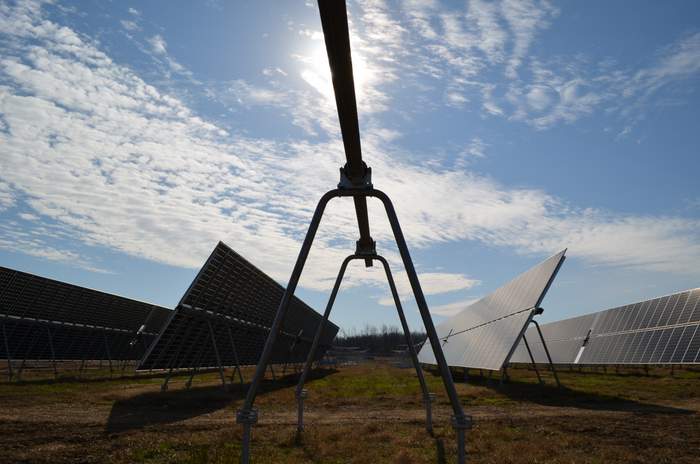 So where does the TerraTrak work best? How arduous does the site have to be to require the TerraTrak?
"It all starts with the ground and the ground screws," Faraone says. "If you're dealing with rocky soils or frost susceptible soils, the ground screw is cost efficient in those locations. We're saving you money there. And also maintaining the velocity of the installs – don't have to deal with refusals or fix a pile that's too far out of the ground or needs replaced. Then on the legs and with the A Frame, we save money on the civil side of things. Quite a bit of adjustability in the system to match the terrain we're building on. And then the hardware count is low. The simplicity of the design makes install cost lower too."
A lot of it depends on how much of the job you want to offload to one source versus various subcontractors. The team of engineers that built the TerraSmart system are obviously also available to help with layout and slope analysis and advise on where you can avoid that civil work. And if the site does need civil work, the TerraCivil division can be called in.
"The ground screw in certain places is more expensive than a driven pile in upfront costs, but then they start and hit refusals and didn't factor in cost to remediate those refusals, or when a pile gets thrown out of plumb by hitting a different subsurface," Faraone says. "Even though we might look incrementally more expensive upfront when the project is actually done, you know the price we quoted is the price you're going to pay."
Listen to more in-depth conversations on Solar Builder's YouTube channel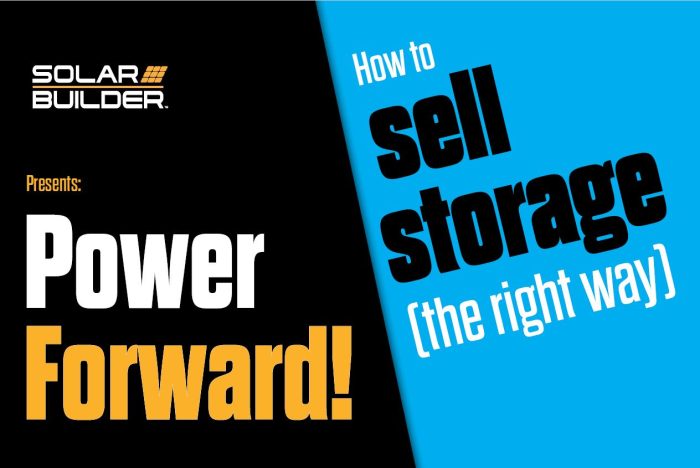 Our most popular series include:

Power Forward! | A collaboration with BayWa r.e. to discuss higher level industry topics.
The Buzz | Where we give our 2 cents per kWh on the residential solar market.
The Pitch | Discussions with solar manufacturers about their new technology and ideas.
Tags:
Terrasmart
,
TerraTrak
,
the Tracker Tracker