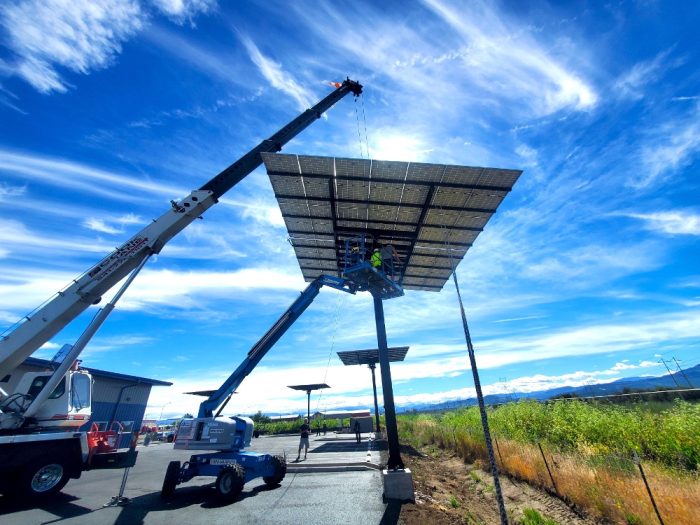 The roots of Stracker Solar were formed in the mid-1970s when founder and COO Jeff Sharpe began designing and installing "bread box" solar water heaters with his father in Southern California's San Joaquin Valley.
Founded in 2017 and headquartered in Ashland, Oregon, Stracker Solar grew out of the community-based energy engineering business Sharpe founded a decade earlier, Sharpe Energy Solutions Inc. (SES). Since then, Stracker Solar has become the premier provider of dual-axis trackers in the solar industry. These pole-mounted trackers maximize both the energy production from PV panels and the usable space where the project is located, making them ideal solutions for mixed-use and urban sites where space is a commodity.
"Our pole-mounted, elevated dual-axis trackers are optimal for distributed generation at multi-use sites in the commercial and industrial (C&I) and community solar market segments," Sharpe says. "We are currently targeting 200 kW to 2 MW project sizes. Ideal sites include parking lots, industrial and agricultural operations, campuses, open fields and any open space where continued use of ground below has value."
A passion for solar
Sharpe's experience in the solar industry dates back 47 years, starting with those small, passive solar-powered water heaters he built with his dad. After earning degrees in physics and mechanical engineering at UC Santa Barbara, he moved to Steamboat Springs, Colorado, where he design-built houses and earned his professional structural engineering license. Sharpe also founded and sold a few small design, engineering and consulting businesses.
Ten years later, after Sharpe met his wife and started a family, they moved to the Bitterroot Valley, Montana, and raised their children while operating a certified organic 50-acre farm, goat dairy and cheese production facility that they designed and built, as well as founding and growing Bitterroot Engineering, which Sharpe's brother-in-law continues to operate today. Sharpe and his family next moved to Oregon, where Stracker Solar was born.
"I moved to Ashland in 2004, impressed with the riding trails, skiing, backpacking and cultural opportunities the area offered," Sharpe says. "Seeing the opportunity for a community-based energy engineering business, I founded Sharpe Energy Solutions Inc. (SES), which quickly became a consultant for Pacific Power, Technical Analyst for the Energy Trust of Oregon, prime contractor for the Oregon Department of Energy SB1149 schools program and design-builder for efficiency and renewable energy projects for Northern California schools under their Proposition 39 program."
A project for SES would lead Sharpe toward developing an elevated solar tracker solution that ultimately became the genesis for his new company, Stracker Solar.
"SES was quite successful working with those [Prop. 39] programs, and while installing three high-efficiency, dual-axis solar trackers at Grenada Elementary near Yreka, California, it hit me that if we could lift the articulating solar array high enough off the ground, we wouldn't have to fence off valuable school grounds for these solar energy systems," Sharpe says. "That's where my idea of elevated solar tracking was born. And we began pursuing it with a passion."
Sharpe and his team went through the process of developing structural design prototypes for his idea, performing destructive testing and making improvements until they had a system that could "economically and safely provide dual-axis tracking from 20 feet in the air while meeting building codes and gaining structural engineering certification for 120 mph winds."
"Within a couple of years, we had developed a large and robust solar tracker sized for larger commercial and community solar installations," Sharpe says. "I incorporated Stracker Inc. (dba Stracker Solar) in January 2017, brought together a great team of young engineers and continued product development with our partner fabrication shop, Oak Street Tank and Steel, a company that had been manufacturing metal products for over 100 years in Ashland. Within four months, we had the first Stracker Model S1 built, permitted, installed and producing clean solar power for the shop."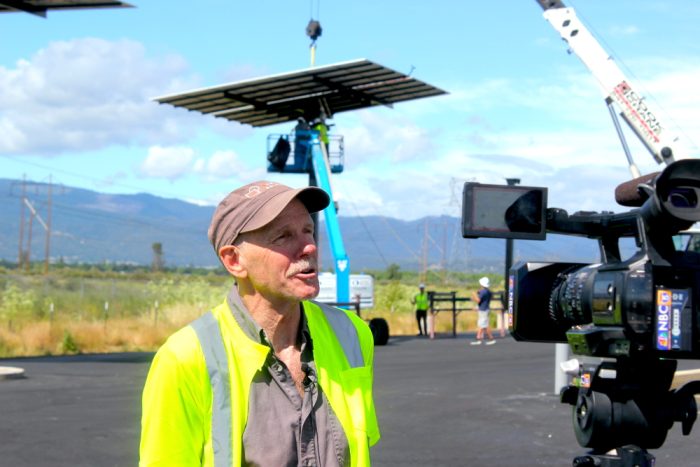 Focusing on dual-axis
Sharpe has been a proponent of dual-axis technology since the 1970s when Steve Bair and Zomeworks started producing trackers.
"It wasn't until the 2010s that tooling tolerances, material strengths and control technologies finally reached a point that we could produce trackers with the robustness and reliability needed to develop commercially viable systems like the Strackers," he says. "And the timing could not be better as the country and the world are needing to accelerate our transition to renewable energy that includes increased distributed generation options."
The primary benefit of dual-axis tracking technology, according to Sharpe, is how it maximizes solar energy production by keeping the PV panel array always pointed perpendicular to the sun.
"Properly controlled dual-axis trackers realize a full 50-70% higher energy harvest than fixed solar power systems with the same number and type of panels," he says. "Maximizing the power extracted from each solar panel means fewer panels and a significantly lower greenhouse gas footprint per unit of energy (kWh) produced."
By adding an elevation component to the product, Sharpe says Stracker Solar has "opened a whole new world of opportunities for distributed generation in the urban environment."
Despite the benefits dual-axis trackers can provide, achieving acceptance in the market has not been without challenges.
"Probably the biggest hurdle has been the stigma dual-axis trackers had from the early installations when they were trying to compete with fixed and single-axis ground-mounted technologies by cutting corners to lower costs a couple of decades ago," Sharpe says. "Again, in my opinion, it's the advances in materials, tolerances and control systems that have only recently opened the opportunities for this unique approach, allowing manufacturers to engineer products that offer reliable performance for decades."
Sharpe says he looks forward to the dual-axis concept gaining a level of "normalization" in the market.
"Sort of like the power poles and high-voltage power lines over our properties, roads and sidewalks we don't even notice anymore," he adds.
In addition to overcoming challenges in the market, Stracker Solar has learned many lessons over the years in terms of product development. Sharpe says the company had to learn where stiffeners are structurally most effective, what foundation auger and reinforcing systems make the most sense, which paint finishes offer a 50-year life, module mounting options, as well as meeting industry standards.
"Modifying and improving manufacturing and product systems to gain the UL3703 listing for the Stracker Model S1 series was a bit of a task," Sharpe says, "but it only helped improve the product and its fabrication."
Growing with the market
Fueled by increased demand and federal legislation, solar energy is on the rise in the United States, and companies like Stracker Solar are growing along with the market. The company has focused on expanding manufacturing capabilities and partnering with engineering, procurement and construction (EPC) companies to become distributors of its products.
"We have contracted with five steel fabrication facilities in four states, Oregon, California, Texas and North Carolina, to facilitate the national roll-out of our elevated dual-axis solar trackers," Sharpe says. "Commencing with Texas-based AFC Solar, we are in the process of enlisting solar EPC partners as distributors across the country. Focused on the commercial and community solar markets, our EPC distributors will design, sell and install Stracker projects."
To accelerate its EPC distributor sales, Stracker Solar has initiated "pre-sale qualification discussions" with C-level contacts of national (big box) retailers, auto dealership chains, medical and assisted living facilities, and sports stadiums and arenas.
"All of these groups have large parking lot that could be economically enhanced with solar generation from the installation of Strackers," Sharpe says. "The feedback we have received has been extremely positive, confirming that the industry is ready for an innovative and versatile high-efficiency technology that facilitates rapid solar deployment."
Working with customers
Stracker Solar developed its EPC distributor program to help provide innovative solutions for projects.
"A primary goal is to provide EPCs with a novel solar technology to be more competitive and win more projects," Sharpe says. "Ongoing challenges for EPCs have included site limitations, permitting problems and roof issues such as penetration and ballasted load restrictions, or not having enough roof area to meet the energy goals of projects."
AFC Solar became one of Stracker Solar's EPC distributors in February 2023, according to Zachary Ward, VP at AFC Solar, a subsidiary of steel manufacturer Americase Fabrication and Construction in Ennis, Texas. AFC Solar focuses on solar installations at carports.
"The dual-axis trackers are more suitable for our higher latitude locations where sunlight production hours are a premium and provide better utilization of foundations and structure per kW," Ward says. "We anticipate a much quicker project timeline as custom structural engineering is eliminated and units are stocked ready for installation as soon as permitting allows."
With its partnership with Stracker Solar, Ward expects AFC Solar to be able to add new opportunities to the company's portfolio where a standard fixed-axis carport may not be suitable for a specific location. Ward sees agri-solar, installations at existing wind farms and other locations that are "naturally poorly orientated or have limited space as exciting opportunities" for future growth.
"By adding pole-mounted Strackers to their portfolio, we hope EPCs can secure projects where site requirements or restrictions might make the traditional offerings not feasible," Sharpe says. "We believe our product creates a significant new market for solar in urban, commercial, communities and tribal sites where Strackers would blend nicely with the surrounding area leaving the usable ground untouched."
Looking ahead
Like many companies in the solar industry, Stracker Solar has experienced the benefits of the Inflation Reduction Act (IRA), but Sharpe believes more is needed to ensure sustaining growth in the market.
"I view the IRA as a fantastic piece of legislation," Sharpe says, "particularly focused on preparing the next generation to do the heavy work we'll need to perform in this great transition to renewable energy with good paying (prevailing wage) jobs and the apprenticeship programs to pass on and improve the knowledge necessary to effectively perform them."
To foster long-term success, Sharpe believes there are some improvements needed in the solar industry, starting with investor-owned utilities (IOUs).
"I think we need to rapidly incentivize transformation of the IOUs away from monopolies and towards competitive service providers," he says. "Legislation to incentivize fuel switching to electric, prioritizing and simplifying planning and building department approvals and making available sophisticated grid resources and interconnection mapping will all go a long way to accelerating this great transition from fossil fuel to renewable power."
Sharpe sees a bright future ahead for solar.
"The solar industry in the U.S. will continue its steady growth," Sharpe says. "It needs, however, market growth driven by innovation as well as legislation. This ongoing innovation is our commitment to the solar marketplace."
---
Bradley Kramer is managing editor of Solar Builder.
Listen to more in-depth conversations on Solar Builder's YouTube channel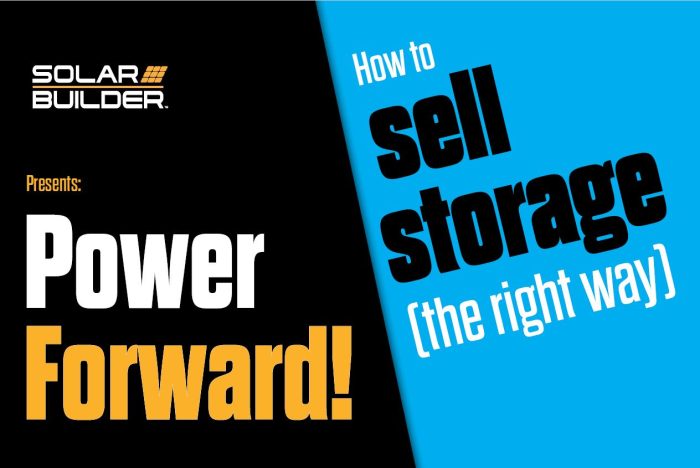 Our most popular series include:

Power Forward! | A collaboration with BayWa r.e. to discuss higher level industry topics.
The Buzz | Where we give our 2 cents per kWh on the residential solar market.
The Pitch | Discussions with solar manufacturers about their new technology and ideas.
Tags:
dual-axis solar tracker
,
Stracker Solar
,
trackers