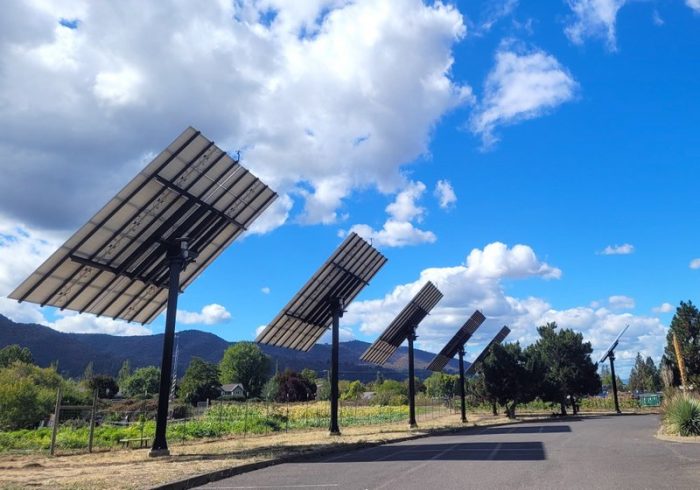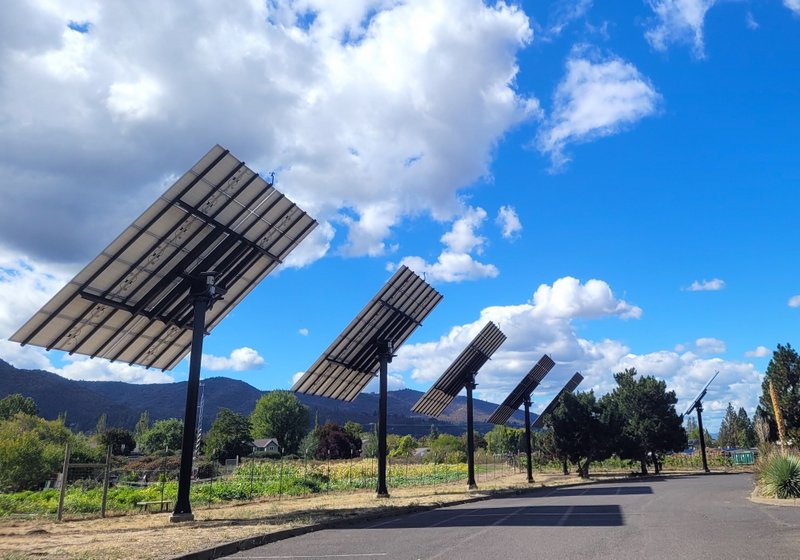 This piece was submitted by Stracker Solar.
As solar installations increase across the United States, two primary and sometimes competing concerns continue to impact developers and EPCs: finding space for larger-scale solar projects and keeping costs within budget. But with the development of innovative solar technologies, a novel space-saving concept has been gaining popularity: dual-use solar installations.
What is dual-use solar?
Dual-use solar as a term is used in two different but related contexts. One is when a solar technology has a secondary benefit alongside energy generation, such as solar carports providing shade for cars or an elevated solar system installed on a farm benefiting crops, animals, and the soil. The other context refers to the dual use of the project site itself, such as agrivoltaics (or agrisolar), where the original agricultural activities can continue unchanged with solar energy production added to the site.
Key to dual-use solar? Versatility and proximity
Distributed generation – installing solar at or close to sites where the generated electricity will be used – with dual-use solar creates new opportunities for large-scale power production in both urban and rural areas. With the right technology, distributed generation can have a positive impact on both the environment and the communities where it is deployed.
Novel PV technologies that are specifically designed to work with a wide variety of sites while maintaining full use of the ground below present a unique opportunity. They allow dual-use solar to be implemented well beyond just parking lots and farmland. These locations include school and college campuses, business establishments, hotels, hospitals, auto dealerships, commercial and industrial sites, parks, fields, and other green spaces.
Dual-use solar technology
Dual-use solar is applied across various sites and project types, and a range of solar technology can be used for these projects. Every project will have its specifications and limitations impacting which types of solar can be used successfully to meet energy goals within the parameters.
Dual-use solar technologies are often compatible with only one type of application, such as solar carports with parking lots, and fixed ground-mounted systems with agrivoltaics. Elevated solar trackers are one option that is suitable for a broad range of applications. Their versatility and increased power production per panel allow EPCs to bid and win projects where traditional PV solutions are not feasible or financially viable.
Dual-use PV systems in action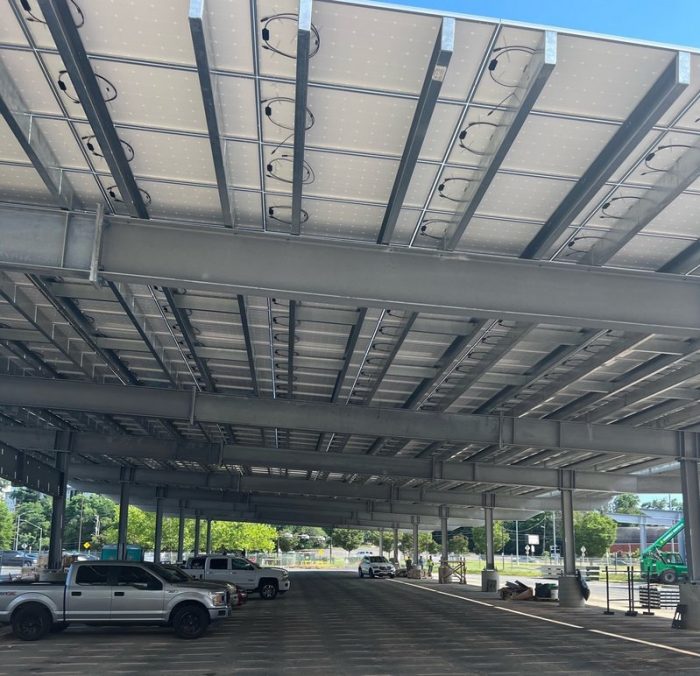 Solar carports can make a good investment for parking lots with ideal south/south-west exposure and enough space to generate all the energy the client needs. With parking areas taking up an astonishing amount of space in the United States across urban and rural communities, co-locating solar with parking just makes sense.
While solar carports are designed specifically for parking lots and provide continued use of the space below, developers and EPCs increasingly face challenges like site restrictions (property setbacks, orientation, available space). They make it difficult to meet the energy goals of some projects within their budgets. Solar carports require large robust structures and a lot of steel, which, together with their custom engineering, make a fairly high price tag. These large fixed solar systems also need regular panel cleaning to remove dirt, grime, and debris.
Low ground-mounted PV systems provide 1-3 feet of ground clearance, which often means the terrain needs to be even (or made even with costly site preparation). The main agricultural activity that can be paired with this solution is running small livestock, such as sheep and goats. This branch of agrivoltaics — solar grazing — is gaining popularity for its mutual advantages. It benefits the solar project by providing grass control so the need for regular mowing is eliminated or greatly reduced, together with the associated costs. In return, the solar site provides shade under the panels and food for the animals.
Similarly, solar farms designed and installed with the environment in mind can help the local ecosystem by providing a pollinator habitat with wildflowers. With this approach, not just beekeepers but the surrounding farms can also benefit from the solar project that contributes to increased pollination for the whole area. There are some crops being explored, too, such as wild blueberries. The results are mixed so far.
Regular panel cleaning is essential for optimal energy generation since the panels on a low ground-mounted solar structure are prone to get dirty in their agricultural setting.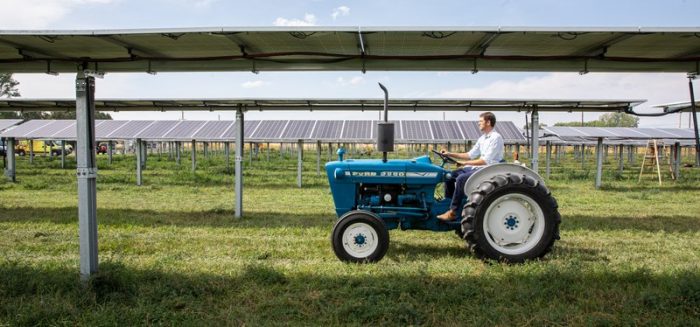 Elevated ground-mounted solar systems have been developed specifically for agrivoltaic applications, opening more opportunities for farmers than their low counterparts. Thanks to their increased ground clearance of 4-6 feet, this solution can co-exist with a variety of crops, such as leafy greens, peppers, and tomatoes, that are cultivated and harvested by hand, and even with small-scale vineyards.
Here, it is not the height, but the support structure that creates the limitations. Farm equipment could only access the site between rows of panels (if designed accordingly), not underneath where the crops are, so this option is not compatible with mechanized soil management and harvesting. For ranchers, this type of elevated solar system could be a good choice even with large livestock like cattle, provided that the structure is adequately reinforced.
In terms of terrain, the connected design of the continuous racking used for this type of solar presents constraints for site selection. An elevated fixed ground-mounted solar system cannot work with rolling hills or uneven grounds. It also needs regular panel cleaning, which can be more involved with higher structures.
Yet, elevated fixed ground-mounted solar can be a good option for small-scale agricultural operations in open, flat locations where machinery use is not needed.
Expanding dual-use with elevated dual-axis trackers
For projects where maintaining full use of the ground below while maximizing energy production is important, for installations across varied terrain, or for overcoming site constraints, elevated dual-axis solar trackers provide EPCs with easy project design and installation, as well as opportunities for finding novel solar sites or entering new markets.
Beyond agrivoltaic applications and parking lots, elevated solar trackers are compatible with campuses, hotel grounds, industrial operations, fields, parks, and other green spaces, wherever maintaining full use of the ground is a key factor. The 14-foot ground clearance of an elevated Stracker dual-axis solar trackers accommodates semi-trailers, fire engines, buses, and large farm equipment. Their pole mounting allows installation even on hilly and rocky terrain.
Elevated dual-axis solar trackers use less space and fewer panels than fixed PV systems to produce the amount of energy a project needs. By always keeping the panels perpendicular to the sun's rays, they generate up to 70% more energy than fixed solar power solutions of the same size. That is 70% more energy than flat or 5-degree tilt carport or fixed ground-mounted systems and 50% more energy than optimally tilted and oriented fixed ground-mounts.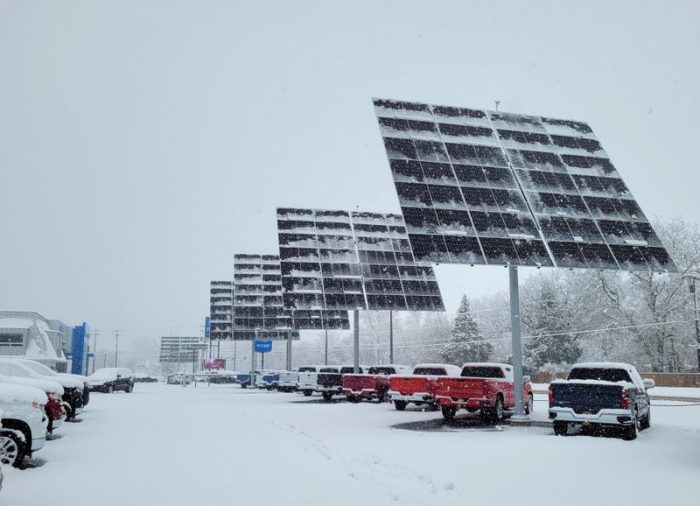 Since the arrays of these giant mechanical sunflowers are above typical dust trails, plus their tilt and sun-tracking prevent the accumulation of snow or leaves, there's no need for panel cleaning. During winter mornings they automatically shed snow that has accumulated overnight.
Annual maintenance of elevated dual-axis solar trackers is simple and low-cost: lubrication of the drive-core once a year is all they need. They are also very reliable – manufacturers report a minimum of 99% uptime.
Dual-use due diligence
Whatever technology and design you choose for your next dual-use solar project, you will have multiple manufacturers to choose from. Researching and comparing performance data, materials and components, wind and snow loads, certifications (such as UL listing), warranties, countries of manufacture will provide a good indicator of the quality of the final product. And when the expectation is decades of reliable operation and energy production, going with a premium solar solution is always the best decision.
---
If you want to explore how Stracker Solar can help EPCs and developers win more projects and stand out from the competition with a cutting-edge solar power solution, visit the website or check out this episode of The Pitch:
Listen to more in-depth conversations on Solar Builder's YouTube channel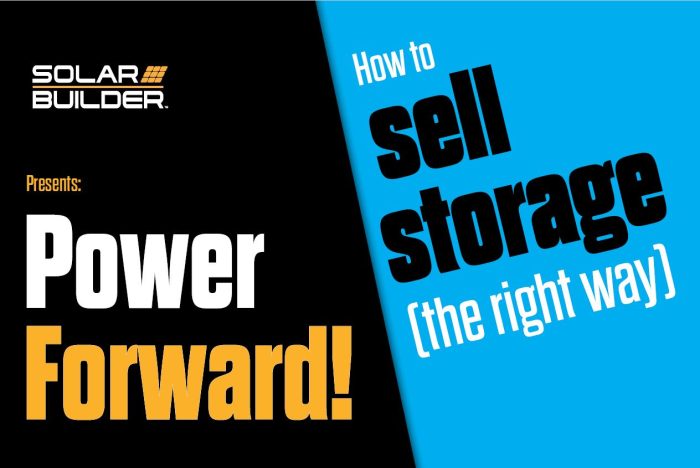 Our most popular series include:

Power Forward! | A collaboration with BayWa r.e. to discuss higher level industry topics.
The Buzz | Where we give our 2 cents per kWh on the residential solar market.
The Pitch | Discussions with solar manufacturers about their new technology and ideas.
Tags:
agrivoltaics
,
carports
,
commercial and industrial
,
Stracker Solar