A major first for South Carolina turns to trusted names for support.
South Carolina is in the heart of solar country. Its neighbor North Carolina is ranked 10th in the nation for solar jobs (3,100 total) and can power nearly 40,000 homes with solar energy. Georgia to the west has 146 solar companies. In the south, Florida (you know, the Sunshine State) powers more than 20,000 homes with installed solar power.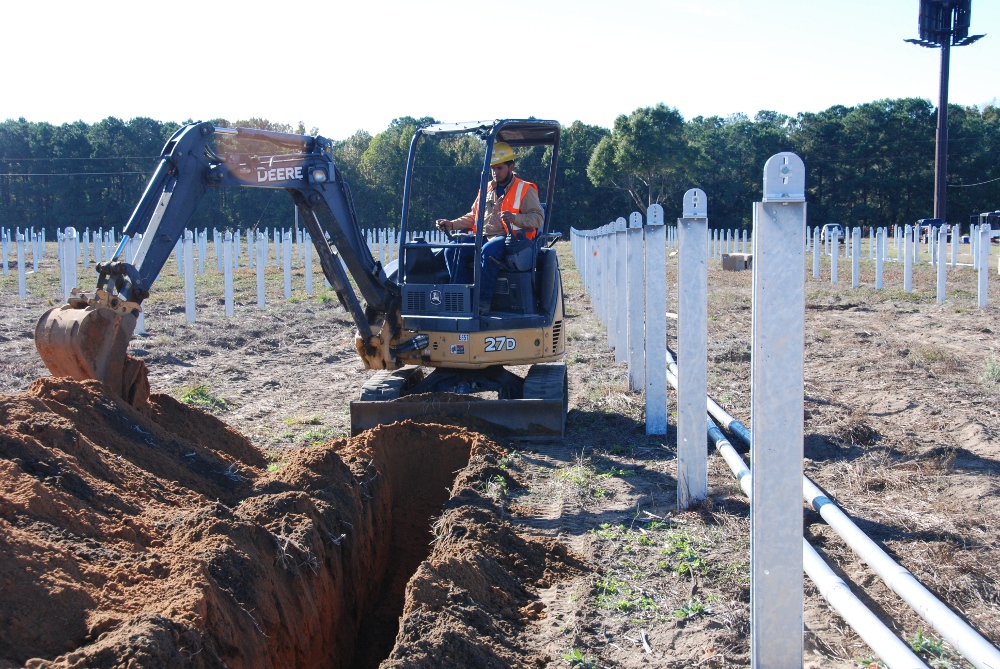 So why then does South Carolina rank 29th for solar jobs (1,000 total), can only power 400 homes with solar and has a measly 33 solar companies? Some blame the state's strong support of nuclear power. In fact, South Carolina's V.C. Summer Nuclear Station is in the midst of a multibillion-dollar expansion, receiving new reactors (two of only four new nuclear reactors being built in the United States in 30 years). Nuclear power supplied more than 57 percent of the state's electricity generation in 2013 (according to the U.S. Energy Information Administration), so solar isn't especially attractive right now.
But big players are starting to make that change in South Carolina. This January, a revolutionary solar project was commissioned in Walterboro. Santee Cooper, the state-owned electric utility, built a 3-MW solar farm on an old cotton field as a test bed for understanding how solar fits in with the grid and how to go about building more. Schletter and Array Technologies Inc. were the lucky manufacturers chosen to jump-start South Carolina's solar construction.
Colleton Solar Farm is unique not only for being the first utility-scale solar farm in the state, but it was also built in nine weeks — astounding in itself even for an experienced group of solar installers. Alder Energy Systems, based in Charleston, S.C., won the bid to develop the 3-MW solar farm, installing 1.8 MW with Schletter's FS System and 1.2 MW with Array Technologies' DuraTrack HZ single-axis tracker. Donald Zimmerman, principal/owner of Alder Energy Systems, says commercial operation began on Dec. 20, 2013, 67 days after initial construction.
"There were a number of Doubting Thomases that didn't believe we could get it done," he says. "Contracts weren't even signed until the first week of October. It took a lot of trust of all the participants that we were going to get this done. We didn't have time to validate, double check, wait for the ink to dry. That [trust] was one of the reasons we were able to get it done."
The project had to be completed quickly to ensure all appropriate tax breaks were used.
"We had to get it done by the end of the year because bonus depreciation was going away," Zimmerman says. "The economics of the project really required that tax credit."
Zimmerman says the project was able to be completed quickly because there was a well thought-out and well-planned design from the get-go. Alder Energy had procured all major equipment prior to winning the RFP from TIG Sun Energy, a subsidiary of Intertech Group, so there wasn't an equipment hold-up to get things started. Having a good group of South Carolina-based contractors — those from Alder Energy, Gregory Electric and Sunstore Solar — helped things move smoothly, especially when installing both a fixed-rack and tracking system.
"We only had something like three-and-a-half weeks between order and driving our first pile for the fixed system," Zimmerman says. "The Array Technologies tracker was another week or two behind that. [The installation schedule] was all based on availability of equipment and materials."
Since Santee Cooper was taking a chance on this project in a state where solar is in its infancy, the utility chose to do a mix of fixed and tracking for research purposes.
"This was originally set up with Santee Cooper to provide insight into what solar will do to their network and how to best plan for putting more solar into their network," Zimmerman says. "They looked at it as a research tool. We have 455 string monitors, all five inverters are identical, they're strung identically, they're all the same panels. Everything is identical except the racking systems — 40 percent is tracking, 60 percent is fixed."
Alder Energy chose to work with Schletter, Array Technologies, SMA America inverters and Canadian Solar modules because, as Zimmerman says, they're the best of the best.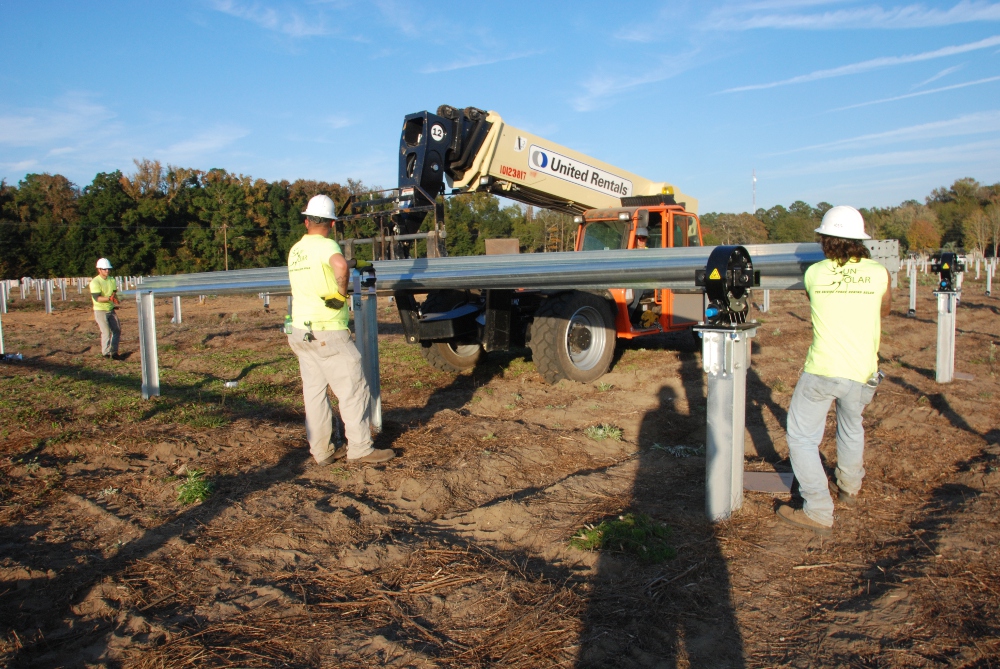 "We decided essentially right from the get-go on this project to use only Tier 1 manufacturers, guys that were leaders in the industry," he says. "Being it was our first one, it was the proven chosen to make. Let's face it, there's a reason they're leaders in the industry."
Kyle Petty, senior account manager with Schletter, says it was extremely gratifying to be considered the best for this project when the market is full of quality products. He hopes to work with Alder Energy and in South Carolina in the future.
"This project was an excellent step for solar in the state of South Carolina," Petty says. "I am already hearing rumors of similar size projects in the works. With individuals like Don pushing for more solar in the state, I am expecting to see more and more action as the years progress."
Zimmerman says he likes how Schletter handles everything and makes sure the project is the best it can be.
"They sent out a soils crew with a couple test piles. They drove them in, they pulled on them and yanked on them and got all the appropriate engineering parameters necessary to provide a fully-engineered system for that site," he says. "It was essentially one phone call, one responsible party for that whole process. That was really a key selling point. If I get these guys on the job, I know they'll get the job done, and they'll get it done right. I don't have to coordinate my soils guy with my structural engineer. It can all be done under one umbrella."
Array Technologies equally impressed Zimmerman, sending a field representative in the first couple days of construction to walk the crew through the installation process.
"This was the first time Gregory Electric and Alder Energy worked with our DuraTrack HZ single-axis tracker, but they put such a great team together and were such exceptional planners that they basically had it all figured out during the early stages of the tracker installation," says Edgar Pedrego, project manager with Array Technologies Inc.
"It is important to us that the hard work Array Technologies Inc. has put in over the years is validated by solar industry leaders that choose our product due to its reputation for reliability, longevity, ease of installation and the high level of customer support that comes with it."
Mostly, the project went off without a hitch. The weather was great and everything got done in record time. The only hiccup was working with the old cotton farm's loose soil conditions.
"The first 2 ft of soil was so loose it didn't have any holding power," Zimmerman says. "We ended up going with 12 ft of pile embedment which is a lot deeper than most people. We did have problems securing a pile driver with enough length/height in order to drive these piles. We didn't really have a good backup to the pile driver."
Overall, everyone — including Santee Cooper — was impressed with the project.
"We had tremendous compliments," Zimmerman says. "When the SMA tech came out to commission the inverters, he told us a little story: 'Going out to South Carolina and these guys have never done one of these before, so expect a bunch of yahoos.' But when he got here, he said this was one of the easiest commissionings he's done. There were no problems. Everything was just right. He was very impressed.
"I felt good about that," he continues. "It was our first one, and the experts said us yahoos did OK."
Hopefully it's a sign of good things to come. Santee Cooper plans to be very open about the research availability of the farm. All the collected data from the Colleton solar farm will be made available to all public utility companies. Another local utility, South Carolina Electric & Gas (SCE&G), has already made plans for a 2-MW solar farm at the Lake Murray dam outside of Columbia.
"Surrounding states are really hot with solar right now, and there is no reason why South Carolina can't catch up. The sun is not going anywhere," Pedrego says. "Once everyone is on board — meaning regulatory committees, utilities, etc. — the solar market will grow naturally on its own."
"In the state, power companies are beginning to embrace solar. I see more [projects] coming," Zimmerman says. "It's a sign of great things to come in South Carolina, and it's great to be a big part of it."