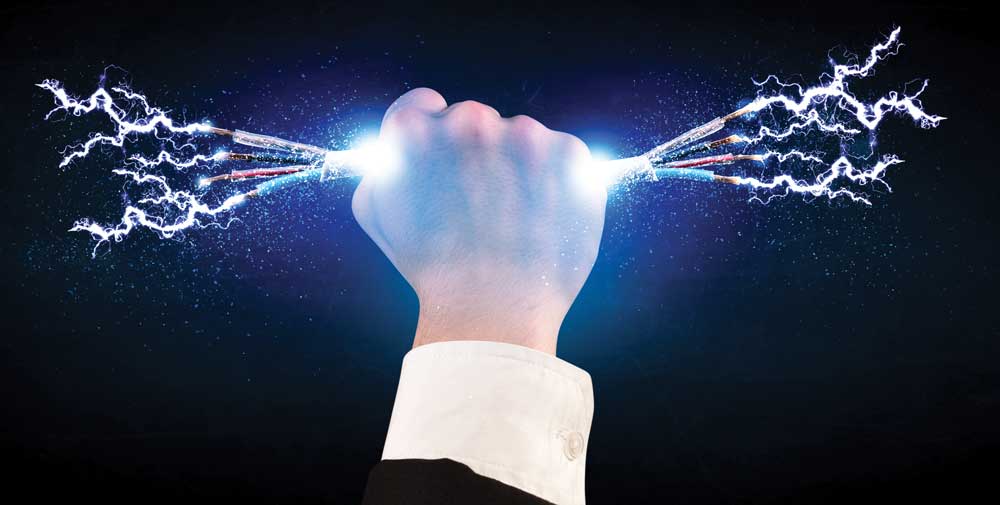 We humans have a lot in common with wires. We are vessels of energy and information that need grounding for stability. When put in situations that best suit our skillsets, we thrive. We are also prone to getting tangled up, stuck in our own way. We can be fragile. We don't like the heat! Or rodents! And yes, like it or not, our appearances do matter.
This Wire Management Buyer's Guide is here to help us humans have a better working relationship with our friend the wire. We asked every wire management expert we know for advice on avoiding common wire management issues, eBOS trends that are saving time and money and which new products solar installers should consider for certain applications.
Here's our 2019 Solar Inverter Buyer's Guide, if you missed it.
CAB Solar Cable Management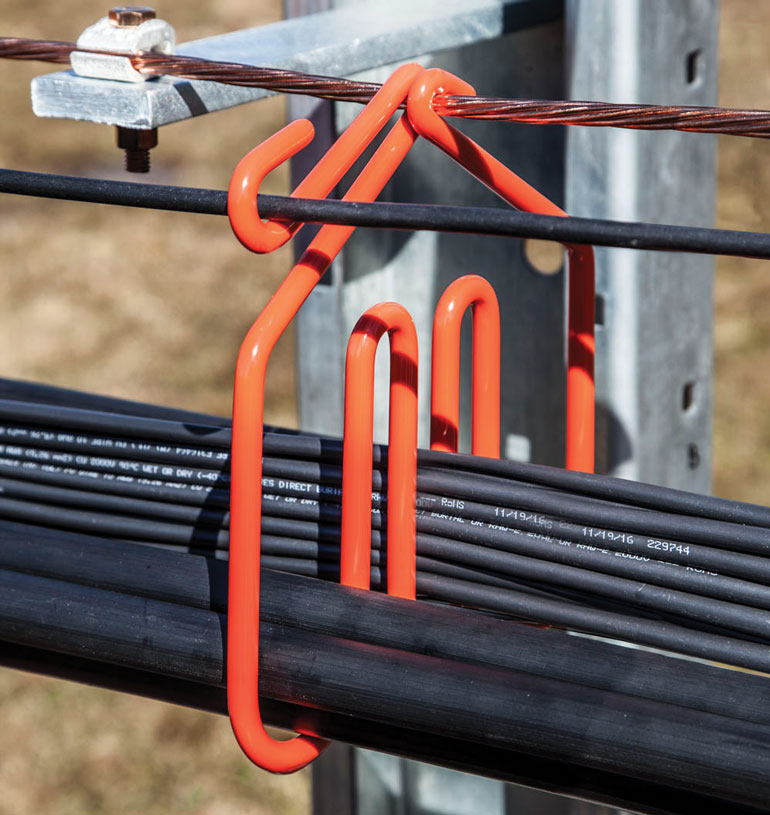 Key feature: Saves time, money by simplifying large-scale installs
CAB Solar Cable Management has a new, patented Integrated Grounding system. It utilizes copper composite messenger wire in place of the standard system's galvanized, and it can act as the EGC and GEC. The new system uses grounding hardware on the L-brackets that allows them to bond the messenger wire to the pier and eliminate jumpers at each pier. This system saves both labor time and money. It has proven to be a huge benefit. It is safety listed by Intertek to UL 2703, and the L-brackets are UL 467 compliant. Engineering reports on the system and installation best practices are available.
Shoals Big Lead Assembly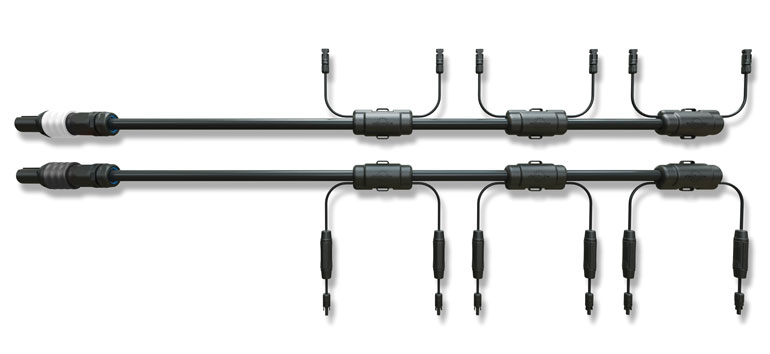 Key feature: Eliminates combiner boxes
The BLA is an above-ground wiring solution that eliminates traditional combiner boxes and issues related to blown fuses that are commonly experienced in operation. By utilizing a BLA trunk system and disconnect boxes, installers can reduce their installation costs by more than 50 percent with this pre-fabricated solution. Owners and developers also benefit from the BLA system as there are significantly fewer points of failure throughout the system, reducing lifetime O&M costs.
[button link="https://staging1.solarbuildermag.com/featured/top-four-solar-installation-wire-management-issues/"]Wire you doing that? Top four solar installation wire management issues[/button]
Heyco HEYClip
Key feature: Cables tucked inside the module frame
The Heyco HEYClip RevRunner Cable Clip is a 304 stainless steel PV module clip that holds up to 2x cables that are between 0.20 and 0.33 in. in diameter and clips onto module frames that are between 0.06 and 0.13 in. thick. When used on panels within that range, these clips survive a 15-lb pull-off test and have superior side-to-side cable retention. The main benefit of this clip is that it positions the PV cables so that they are tucked up and underneath the PV module frame — which means they are out of sight for an aesthetically pleasing installation.
Solar Snake Max
Key feature: Quick, code-compliant utility-grade cable separation
Solar Snake Max is Snake Tray's new patented cable management system for high-voltage, utility-grade installations. The easily snapped together elements allow for code-compliant cable separation that can cut construction cycle times in half. Cables install with snap together components, no tools required or field fabrication. Solar Snake Max quickly mounts to any style of vertical pilings or poles and maintains code compliant separation of power cables up to 2 KV. Snake Tray products are manufactured in the United States.
Heyco Tite Liquid Tight Cordgrips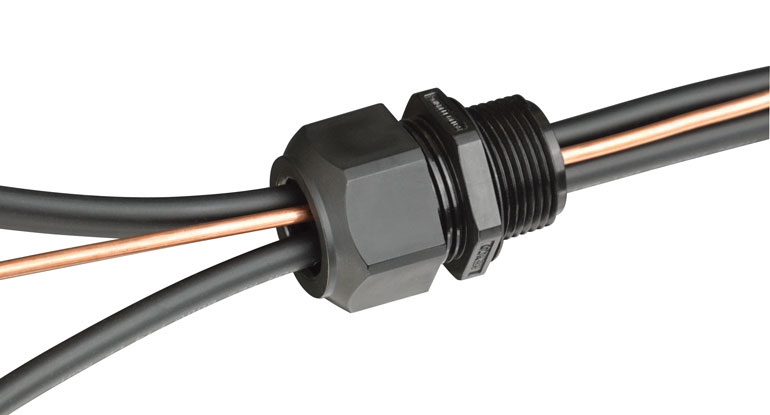 Key feature: Designed for the Enphase Q Cable
Two new cordgrips now accommodate the Enphase Q Cable — M3231GCZ (1/2 in. NPT) and M3234GDA-SM (3/4 in. NPT). The 1/2-in. version provides liquid-tight entry for one Enphase Q Cable (0.24 in. x .38 in.) The 3/4-in. version provides liquid-tight entry for up to two Enphase Q Cables and an additional .130-in. diameter hole for a No. 8 solid grounding cable. The 3/4-in. version utilizes Heyco's skinned-over technology, so any unused holes will retain a liquid-tight seal.
Stäubli Reusable Sealing Caps
Key feature: Protecting unmated connections
MC4 connectors are rated for IP68 when mated. When they are un-mated, MC4 connectors need to be protected from the environment, such as moist, dirt and even insects to ensure the long-term reliability and safety of the MC4 connectors. This reusable sealing cap by Stäubli will protect unmated MC4 connectors from moisture or dirt during installation or repair. This way, you don't have to worry about the reliability of the connector. Other situations when a sealing cap can be useful: leaving a job unfinished until the next day, unexpected rain delay and repairing an old system.
TE Connectivity's SOLARLOK PV Edge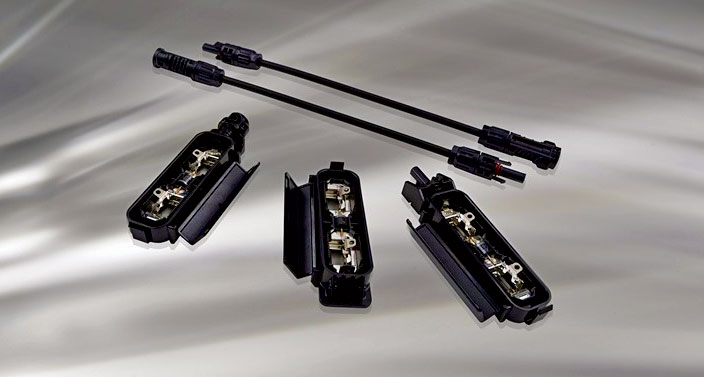 Key feature: Junction box mounted on the edge of a PV panel
Glass-to-glass photovoltaic cells continue to increase in efficiency, fall in price and grow in popularity. TE Connectivity's new SOLARLOK PV Edge, a decentralized junction box that can be attached to glass-to-glass photovoltaic panels without drilling holes, aligns to this new market. This small junction box can be positioned right on the edge of the glass to prevent shade falling on the cells on the rear side of the panel. The junction box has a flap design, which protects the foils while facilitating attachment to the PV panel. The flaps on the box are available in different shoulder heights to fit panels of diverse thicknesses. Other features of the new junction box include a lid with cooling ribs to improve heat dissipation, elimination of X-connect to facilitate layouts and shorter foil lengths and connections.
Wiley ACC-F4F Clip
Key feature: Two attachment points, perfect for trackers
The WILEY ACC-F4F wire management clip is made of corrosion resistant 304 stainless steel, which makes them durable, long lasting and reliable for all environments. The ACC-F4F is easy to install and slides 90° onto module frames and purlins of various thicknesses. Two attachment points make this clip a perfect solution for trackers and high vibration or high wind applications. The ACC-F4F accommodates 1 to 4 PV cables up to 8.0 mm in diameter. Edges on the clip are rolled up and away from the wires to give additional protection to the cables against insulation damage.
SolarBOS AC Combiner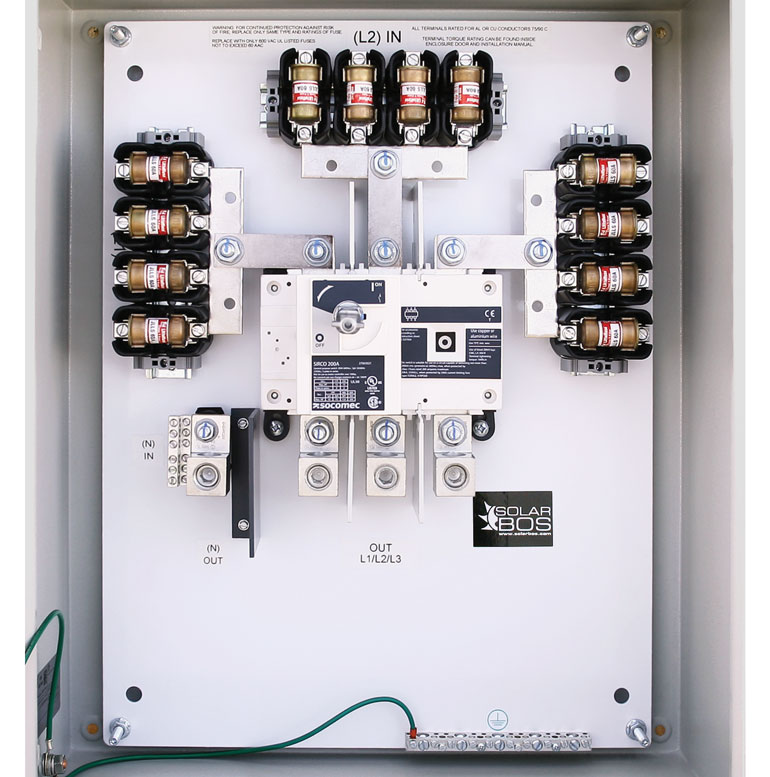 Key feature: Cost effective AC combining
SolarBOS AC Combiners provide a safe and cost effective alternative to AC breaker panels. Individual fused inputs facilitate string inverter output aggregation. Incorporating bi-directional fuses eliminates the need for expensive breakers that must be back-feed capable. Fuses also offer a high interrupt rating as standard, commonly 200kAIC, while a breaker's cost increases drastically as the interrupt rating increases. SolarBOS AC Combiners support all string inverters and are highly configurable to fit any application. They are listed to UL-508A and rated for 600VAC. Available options include integrated output or input disconnect switch(es), transient surge suppression, auxiliary mini breakers, neutral terminals, etc. Custom solutions are available upon request.
Solar Raceway
Key feature: Aesthetics plus snap-in cover
Solar Raceway is a 100 percent lay-in system that quickly snaps together and allows for testing of continuity within the system. Once the wiring is complete, simply snap the cover over the tray. The Solar Raceway increases installation speed and provides an aesthetic appeal that adds to the solar installation. Inspectors can effectively assess the system and allow for installers to move on to their next project. Solar Raceway's applications include: commercial roofs, carports, ground mounts, solar trackers and residential installs. The product is available in both aluminum and PVC.
HellermannTyton Locking Clamp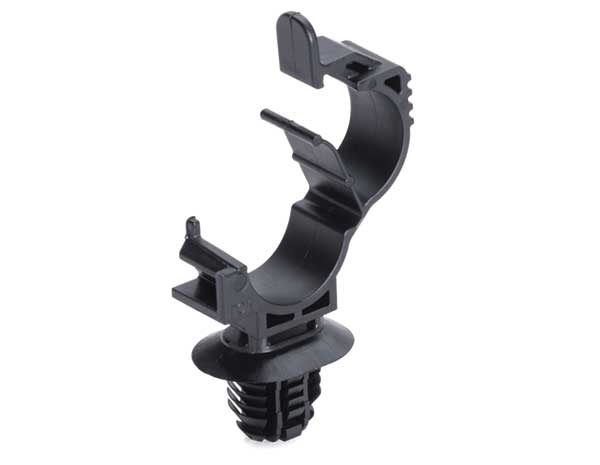 Key feature: Allows for one-handed installation
The Locking Clamp is ideal for fastening wire and cable bundles to panels. Its unique fir tree design holds tightly in pre-stamped hole sizes from 9×12 mm to 9×14 mm. The locking clamp mechanism dynamically fits various bundle sizes, while an integrated cable tie saddle allows installers to add additional cable runs. The clamp is manufactured from an impact-modified Polyamide 6.6 material for increased flexibility, heat resistance and UV stabilization to deliver years of dependable performance. It is easy to install and operate with a single hand and does not require tools, saving time and labor costs.
Nine Fasteners NFI-Hanger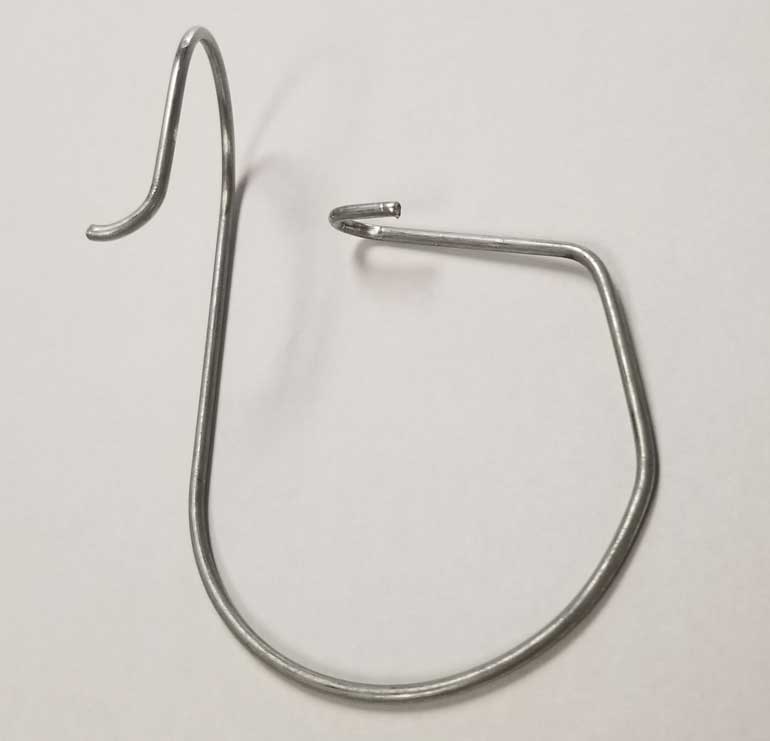 Key feature: Opening/closing metal hanger
Nine Fasteners' newest product, NFI-Hanger, was designed specifically for large-scale ground-mount solar installations. Made in the United States, this wire form simply slides into a small hole in the panel frame and is capable of holding 20+ wires at a time. Produced out of hard-drawn galvanized steel, the NFI-Hanger is able to be opened and closed. The NFI-Hanger is durable in all climates and is currently undergoing testing to be certified to UL standard 1565 for "Positioning Devices within a Solar Installation."
EcoMount Inverter Kit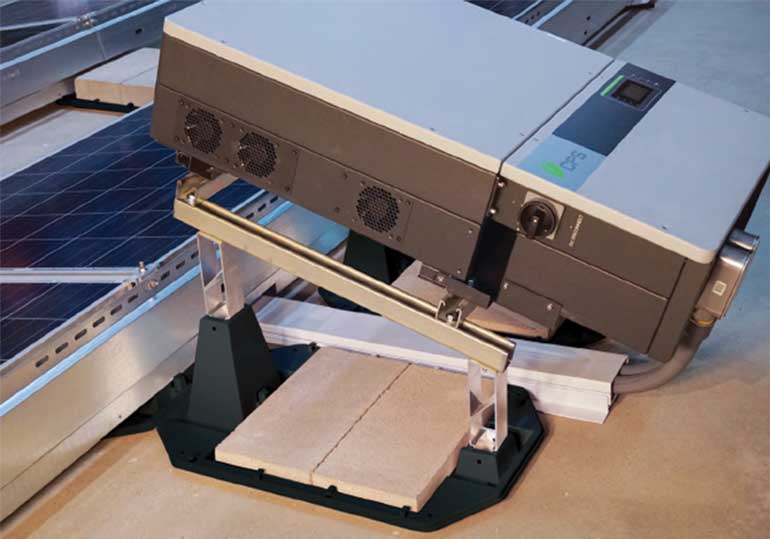 Key feature: Minimizes inverter footprint
Ecolibrium's EcoMount Inverter Kit is a ballasted rooftop inverter mounting solution that simplifies and streamlines rooftop inverter deployment. Modular design minimizes the inverter rooftop footprint, allowing installers to meet NEC 690.12 rapid shutdown requirements without decreasing module density. The 1 and 2 inverter kits can be combined to fit project configurations. EcoMount is compatible with all major inverter brands. The system provides flexibility and simplifies logistics and installation.
---
Trend Watch
Labor Savings
"eBOS is becoming the most expensive component of a system, and labor is a huge part of that. Any time EPCs can prefab work in the shop when it comes to wire harnesses or combiner box work, it saves money out in the field where mistakes are more likely, and labor is almost always more expensive. But designing wire management components that take an assembly line approach to the field helps save on labor and reduce error during installation." — Nick Korth, HellermannTyton
Longer AC Wire Runs
"Installers are running PV wire directly to the inverter location due to rapid shutdown requirements and the wiring advantage inherent in high DC voltage systems. Mounting the inverter next to the array is shortening DC wire runs and increasing AC wire runs. Installers are meeting this challenge and finding some advantages in eBOS and installation efficiency. Inverter mounting products are designed to enable the inverter to be mounted close to the array and cable tray to bring PV wire directly to the inverter." — Jonah Coles, Ecolibrium Solar
More Than Four Wires
Solar installers are gravitating toward practices that result in higher numbers of PV wires running in parallel paths. This results in the need for wire management solutions that can accommodate four or more wires for simplified installation. Increasing the number of wires running in parallel is not a problem as long as wire management solutions are used to support the wires at proper interval distances." — Sarah Parsons, Wiley.
Steel Clips are Back
"Several years ago, installers and contractors were shying away from stainless steel clips, not so much because of the cost compared to a cable tie, but because installers felt the stainless steel clips had too sharp of an edge to be used with PV cable. There were concerns these installations would experience some cable abrasion over an extended period of time, so installers simply didn't use them. Fast-forward to today, and almost every PV module clip manufacturer 'coins' or 'tumbles' the edges of the clips to mitigate any abrasion. With that issue removed, PV module clips have great panel retention and accommodate a variety of cable diameters, making them an excellent choice in wire management — most also come with a 20-year warranty, something you won't see with a standard UV rated cable tie." — Tom Marsden, Heyco.
[button link="https://staging1.solarbuildermag.com/featured/top-four-solar-installation-wire-management-issues/"]Wire you doing that? Top four solar installation wire management issues[/button]
Listen to more in-depth conversations on Solar Builder's YouTube channel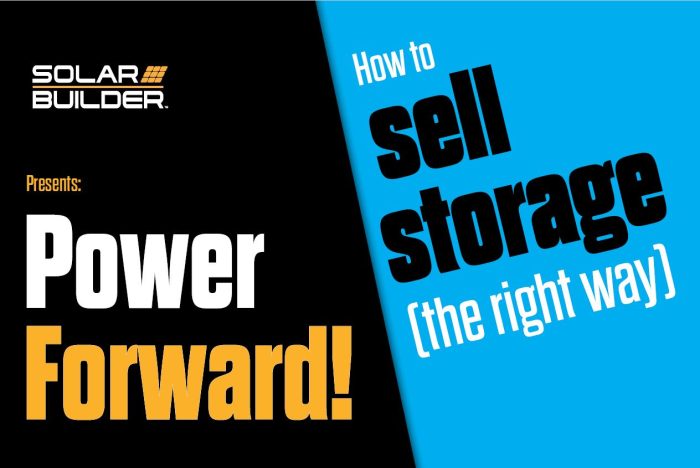 Our most popular series include:

Power Forward! | A collaboration with BayWa r.e. to discuss higher level industry topics.
The Buzz | Where we give our 2 cents per kWh on the residential solar market.
The Pitch | Discussions with solar manufacturers about their new technology and ideas.
Tags:
CAB Solar
,
Ecolibrium Solar
,
Heyco
,
Nine Fasteners
,
Shoals
,
Snake Tray
,
Solar Raceway
,
SolarBOS
,
Staubli Electrical Connectors
,
TE Connectivity
,
Wiley
,
wires