Solar inverter intelligence and monitoring has evolved mightily over the last few years, from silent rows of capacitors to today's circuit-programmable, WiFi-enabled guardians of PV arrays. These systems sense minute changes in operation and advise system managers of options, in real time, for energy management and O&M (operations and maintenance). The capabilities of internet-based monitoring platforms also offer an ever wider variety of functionalities, from data logging of production and consumption, to energy storage coordination, to time-of-use or peak rate recommendations.
There is more than enough data for every level of user. "Different roles for installers and system owners ensure that the right amount of data and the right functionalities are available to the right people," says Richard Baldinger, a spokesman for Fronius USA, which has been evolving not just its product line but its installer base to best use these new bells and whistles to their advantage.
Functionality proliferates
The sum of available monitoring functionalities are difficult to count in one breath. Lior Handelsman, vice president of marketing and product strategy for SolarEdge, attempts the feat:
"PV monitoring platforms now offer a wide variety of functionality such as granularity down to the module-level and entire PV fleet management, automatic alerts, comparative energy graphs [on a monthly, quarterly and annual basis, also including estimated energy], analysis of a module's power and voltage, performance ratio information, site-level reports on commissioning and maintenance, inverter performance comparison reports, system performance reports, remote operation of the inverter and much more."
While new functions have emerged, some older functions have been refined of late. "Greater inverter automation and alerts to installers that enable improved and more efficient O&M are now common place," suggests Stefan Grosjean, the CEO of Kortrijk, Belgium-based Smappee.
One way inverter monitoring functions have grown is with the shift to module-level power electronics. SolarEdge, a pioneer in power optimizers, offers a DC optimized solution that manages and monitors energy to maximize power generation. With such module-specific monitoring, array designers have increased flexibility with array design, including more ability to work around the problem of shading and uneven irradiance.
MPP tracking over time can also help inform O&M considerations. "Detailed data points such as voltages and current per MPP tracker help to identify potential problems in the system. With the inverter being the heart and brain of a solar system, any state or error code shown by the inverter and its monitoring platform help identify errors throughout the entire system," Baldinger says.
The wealth of module-specific data has brought a substantial shift in the commercial and utility market for inverter monitoring. For example, the increase in information granularity permits more string inverters to be used in place of a central inverter, notes Cedric Brehaut, the executive consultant at San Francisco-based Solichamba Consulting.
"Going one step further in innovation, Huawei is now offering three-phase string inverters with built-in IV curve tracing functions," Brehaut says. IV curve tracing, which identifies the maximum power point for captured irradiance, is the best way to measure the performance of a panel or an array. Traditionally, IV curve tracing requires on-site work that now is being built into the inverter and accessible remotely via the monitoring software.
RELATED: Strength in numbers: How solar installers can build business through third-party programs
More data more frequently
Beyond module- and chain-specific data, the frequency of data in monitoring has risen to time units of minutes in place of hours or days. This avalanche of data enables monitoring systems to consider utility peak rate or time-of-use rates to curtail the consumption of energy from the grid during higher cost periods.
"By simply visualizing the consumption in real time, the so-called Prius effect can occur, meaning that the raised awareness for energy consumption can lead to changes in behavior and, with that, a decrease of consumption," Baldinger says. "Consumption monitoring makes energy more visible, and visualized real-time data is more tangible than the numbers on the utility bill." Fronius recently re-designed its monitoring platform Solar.web, with improved usability and new analysis features for this very reason.
Encompassing data feeds also provide the ability to drive advanced analytics to predict component failure so that O&M can be strategically planned. Advanced analytics involve benchmarking performance against similar plants, normalized for capacity and weather, as well as against a modeled plant that is based on historical operating data and weather conditions. However, such a capability is far from mainstream adoption yet, Brehaut suggests.
"Monitoring software provider QOS Energy reports that only 10 to 20 percent of its clients currently use the benchmarking and digital twin functions built into the platform," he says.
Customer, supplier relations
As such rich functionality developments add more value to monitoring, the relationship between the customer and the monitoring system provider changes substantially. This new possibility of customer service and interaction is the next big opportunity for the solar industry to evolve.
"Upselling strategies throughout the lifetime of a system make a solar system sale less transactional and more based on long-term relationships, creating win-win situations for both installers and system owners," Baldinger says.
A solar monitoring platform is the key in this new frontier of customer relationship, lead management and upselling, including opportunities in solar system expansions, storage and energy efficiency.
As Handelsman puts it: "For instance, some EPCs can now offer different levels of O&M services without incurring a significant amount of increased costs."
That transition requires preparation, though. "Clearly there is an opportunity for installers to sell monitoring and O&M services if they are up to the task," Brehaut says. "They have to be ready to deliver, despite limited resources; the way that service calls weigh against new installs can be an issue. The ability to view status codes remotely helps a service provider to determine whether a truck roll is necessary or not.
"If we fast forward, when there is a strong economic utility incentive to manage an entire home or business, then monitoring and energy management services become very compelling, so third party operators may find ways to compete with the inverter and monitoring equipment manufacturers to provide service," Brehaut says. He recently explored the concept in a white paper, "Solar PV Asset Management 2017-2022," produced with GTM Research. "The advantage is that by monitoring solar, storage and total consumption, some level of automation can be done, though still limited."
RELATED: Ask a Distributor: We ask distributors for their purchasing advice, products to watch in 2018
Smart home monitoring provider Smappee cautions that basic inverter monitoring and basic smart home management are, at least for now, largely different functions. "Internet-based inverter monitoring is not a substitute for smart energy monitoring. Likewise, today's smart home energy monitoring systems like Smappee Plus may measure solar PV consumption, but they are also not a substitute for the manufacturer's inverter monitoring systems. Rather, the two products should be seen as complementary," the company explains.
Smappee's latest innovation, Smappee Plus, acts like an energy traffic controller that can automatically steer excess solar energy production to home appliances in order of preference, further increasing a homeowner's energy efficiency and cost savings. For example, if a consumer is simultaneously charging their EV and cooking on an electric stove, Smappee Plus can control and reduce the power that goes toward the EV until the homeowners finish cooking to avoid fuses from blowing. Afterwards, the car will receive more power again.
"By having an understanding of energy consumption at the appliance level, in tandem with solar generation and storage status, smart energy monitors can further optimize the energy flow locally at the home level, providing great value for use cases such as demand charging and load management maximizing savings," Grosjean says. "These use cases will be very important in the future as utilities across the United States are implementing demand charging and time-of-use pricing."
Listen to more in-depth conversations on Solar Builder's YouTube channel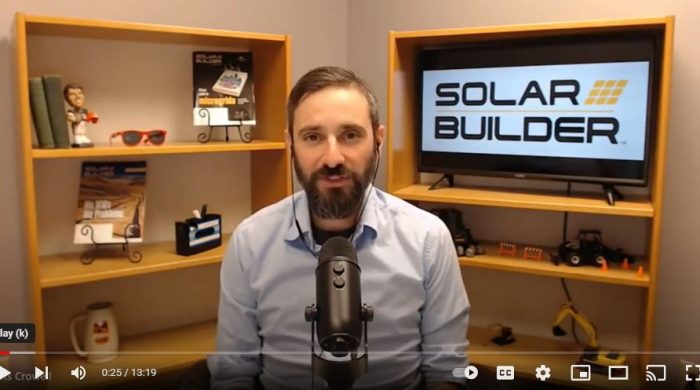 Our most popular series include:

Power Forward! | A collaboration with BayWa r.e. to discuss higher level industry topics.

The Pitch | Discussions with solar manufacturers about their new technology and ideas.
Tags:
2018 March April Print Issue
,
Fronius USA
,
Smappee
,
SolarEdge