The feed-in-tariff program in Gainesville, Fla., has provided many leasing and building opportunities for local installer Solar Impact.
In January, the Los Angeles Department of Water and Power (LADWP) voted to implement a feed-in tariff (FIT) program for 100 MW of solar PV generation. The announcement was significant because Los Angeles is now the largest municipality in the United States to pass an FIT program, something that is more common in Europe. But Los Angeles was not the first to transform a community with an FIT program; that award goes to Gainesville, Fla. Gainesville Regional Utilities (GRU) instituted a 7-MW FIT in 2009 in attempts to make a small section of the Sunshine State actually live up to its name.
A feed-in tariff is a long-term guarantee that owners can "feed" the electricity they generate (in this case by their solar power systems) into the grid and get paid by the utility at a set rate for an extended period of time. This guarantee helps to offset the initial up-front investment and makes projects less risky.
The GRU FIT was capped at 7 MW and was quickly met. The utility has developed a new 4-MW program for 2013 to continue to encourage the building of more solar projects. Nearly one-third of the 7 MW already produced has come from small installations. Solar installers in the Gainesville-area have been kept busy as excitement for the program has grown. One installer, Solar Impact, has been in the middle of the intensified development throughout the region and sees even bigger plans in its future.
AFFORDABLE SOLAR
Solar Impact started out as a "weekend project that got out of hand." Company founders Barry and Elaine Jacobson were considering purchasing a solar power system for their home in 2006 and were quoted at a price that the payback didn't make sense. They chose to install a system themselves and saved almost $20,000 in the process. This experience led to the formation of Solar Impact in 2007, and the two have been assisting those in the Gainesville-area with solar power decisions ever since.
The name "Solar Impact" came from the company's aim to provide a way for homeowners to make environmentally-conscious decisions.
"People wanted to impact," says Don Ryan, director of sales and marketing. "They felt powerless. They said, 'What can I do to try and do my part to make the world a little better place?'"
The company's mission statement is to "make solar affordable." Knowing that if solar wasn't affordable, it would continue to be a niche product, the Jacobsons entered the market at $6.50 per Watt while their competitors were at $10 per Watt. Solar Impact didn't need to live on fat margins. Six years after forming, the company only has seven employees and runs a lean, mean business.
"Barry knew that if you have a quality product at a good price and continue to drive that price down, that would lead to wide-scale use of solar," Ryan says. "He just came up with a different business model and worked on lower margins and showed people it could be affordable."
In the early days, Solar Impact was heavily involved in residential installations. Today, the large majority of installs are commercial. Ryan says this is because small businesses are easier to convince of the benefits of installing solar.
"Here in Gainesville, a small business is paying some of the highest electricity rates in Florida, and the higher the electricity rate, the more solar makes sense," he says. "Most good business owners know that owning something is always better than renting. It costs more money up front to own something, but over the long term, the cost of ownership is always less than renting. And yet they continue to rent their electricity from a utility. What we try to show them is that they own everything else, why not your electricity? If you own it, over time it's going to cost you less."
But still, most businesses just don't have the money to support the building of a solar power system. When the FIT program was introduced in Gainesville, things started to change.
SUPPORTIVE LEASING
One day, as Barry Jacobson drove down the same streets of Gainesville he covers every day, he looked at the vast amount of roof space schools and libraries have just sitting unused. Wouldn't it be great to install solar on top of these buildings?
The FIT program opened up many more doors for situations like this. Solar Impact developed a roof lease option for non-profits and public agencies that allowed them to reap the benefits of having solar installed on their rooftops.
For businesses that cannot receive tax benefits from installing solar (such as schools and libraries), the FIT program allows private investors (who can use tax benefits) to come in, rent the rooftops, make a profit for themselves and give building owners some much needed cash for unused roof space. The Alachua County Public Schools took advantage of Solar Impact's roof leases, renting out 12 rooftops and receiving a large sum of money in the process.
"Barry sees all these public school roofs and they're wide open and just perfect, but the schools have no cash," Ryan says. "Along comes this FIT which allows a private investor to sell all of the electricity to the utility and lease the roof space from the school board. As soon as the FIT came along, Barry was the architect to design a project in which the school board does not have to put one penny of their own money into this."
The final agreement between the schools and the leasing arrangement gives the school district $123,000 each year for 20 years, or close to $2.5 million total.
"For doing absolutely nothing and using roof space that otherwise would just be sitting there — this is found money," Ryan says.
Solar Impact designed, developed and installed 1.23 MW of systems across the 12 school buildings. While the schools won't directly see a reduction in their electric bills, the lease checks they receive each month can be put to electric bills or wherever else they see fit. There was only one stipulation — a portion of each yearly payment to the schools must be used toward renewable energy curriculum. The curriculum had already been developed, but the schools had no money to buy books or pay a teacher to teach it.
"As much as we love solar and renewable energy, the reality is that it's not a priority because school districts are just dying for money," Ryan says. "We thought that was very cool that this project is going to allow kids from K-12 to actually learn about renewable energy at their school. They're going to be able to see the monitoring data from the system. There are a lot of educational components to this that are cool, in addition to the cash."
SOLAR POWER STATE
Capped FIT programs eventually run out of building power, and Solar Impact has begun to look into surrounding areas for opportunities. But the only way Florida will become the solar producing powerhouse it is capable of being is if significant changes are made now.
"PPAs as of today are illegal in the state of Florida. It's embarrassing," Ryan says. "I'm a native Floridian, and it's absolutely embarrassing that [almost all] states have PPA laws on the books, and Florida does not. It's going to take a legislator or a politician to stand up. PPAs by themselves will be the game changer in Florida. No one wants to say that our state motto is the Sunshine State and here we are in the dark ages when it comes to solar."
Barry Jacobson says Gainesville's FIT program has helped bring a greater acceptance of solar to the area and brought business to Solar Impact.
"[The FIT program] really helped us. I'm not saying we wouldn't have thrived without it, but it definitely has been a help to us," Jacobson says. "We've hit that tipping point where we have enough projects behind us and people have seen enough solar go in locally that they've become quite comfortable with the financials and how to work with it."
Regardless of the financial situations in Florida related to solar, Jacobson says he's confident solar projects will continue to have a home in the state and Solar Impact will be around to build it.
"Additional incentives would of course speed things along, but I'm actually quite happy to see solar work without additional incentives," Jacobson says. "That means it's going to work. We don't want it to be a flash in the pan and the incentives go away and then it's all going to die off. I really see it here to stay."
Listen to more in-depth conversations on Solar Builder's YouTube channel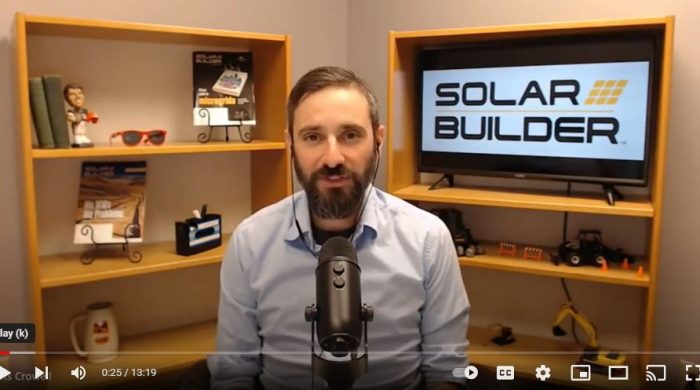 Our most popular series include:

Power Forward! | A collaboration with BayWa r.e. to discuss higher level industry topics.

The Pitch | Discussions with solar manufacturers about their new technology and ideas.