Solar is now the No. 1 new source of capacity being added to the grid, according to the U.S. Energy Information Administration, and solar installer is the fastest growing job in the country according to the Bureau of Labor Statistics. And what's the reason for the rise of this new era? The impending doom of the ice caps melting? Hardly. The advancements in technology? Getting warmer.
Really, things just got cheaper.
This is to say that purchasing plays a large, perhaps outsized, role in the value proposition of the industry and your business. Given that reality, we wanted to kick off the year by polling a handful of solar distributors for their purchasing advice.
You'll be hearing from:
Mike Leone, account manager, CivicSolar
Tom Schoder, marketing manager, CivicSolar
Olivia McShea, account manager, CivicSolar
Ean Kyler, CEO East, Krannich
Stephane Dufrenne, president, Upsolar
Tim Bailey, co-founder, Blue Frog Solar
Jon Brinton, president, ECO Distributing LLC

Here's the No. 1 way to avoid purchasing problems
What are the common problems distributors see when it comes to purchasing systems to install? There are a few quick, solvable issues — stuff like reviewing the details of an order before signing off on it or avoiding last minute purchases.
"Plan ahead and inspect shipments to avoid/mitigate mix ups and ensure fast and timely solutions when needed," McShea says. "Waiting three weeks until install to say something is missing and you need it now is not effective."
But all of that feeds into the advice that resonated with us the most: Seeing the distributor relationship as a two-way street that adds value to your business. According to the distributors we talked to, the more often you communicate, the more the distributor knows about your business, the easier it is for them to help.
"Valuing price over loyalty and the quality of the relationship with a distributor, I think, is a mistake," Schoder from Civic notes.
A simple step up in communication will not only solve a bunch of issues but could create additional value for your business.
"Good communication and transparency are always the best remedies for doing good business and mitigating potential errors," Dufrenne says. "Everyone is busy and going to make mistakes, including distributors and shipping companies. When all parties pay attention to detail and plan accordingly, deliveries and installations seem to go more smoothly."
And it's not just an exercise in mistake avoidance. Keeping everyone on the same page, forecast-wise, can only make the ordering process smoother for everyone.
"At least one call a week to plan upcoming jobs would help avoid supply chain issues," Kyler says. This ensures all orders and forecasting align with expectations.
There's also the training aspect. "Manufacturers are constantly offering training, quite often through their distributors," Bailey notes. "Yet we still see many installers deal with headaches for hours which they could have learned to avoid by going through some quick training on the product features and installation."
Think about kits
Ordering from multiple suppliers for a given residential job can leave more room for error, such as damage during shipping, incorrect parts arriving or a delayed delivery, all of which lengthens install time and increases costs.
"The best solution I've seen yet for lowering soft costs is to have one to two standardized kits which the sales team and installation crew are both very familiar with," says Leone with Civic. "This mitigates both sales and labor costs. We recommend having multiple kits to protect against upstream challenges such as availability."
"Ordering from one supplier and having the experts kit the equipment per job before shipping to the jobsite or warehouse can reduce most mistakes that cause delays and additional labor/mobilization costs," Dufrenne says.
Sticking with brands also avoids the hassle of resubmitting permits with different equipment types or brands.
4 soft cost reduction tips
Schoder: "Utilizing online software programs like Helioscope and Energy Toolbase to drastically reduce the amount of time and effort that goes into a respectable customer proposal."
Bailey: "Smaller installers like to use microinverters for [lowering soft costs]. In many cases they don't have the in-house expertise to properly design a string inverter system which can maximize production. Microinverters are flexible, and the installers can design in the field by adding modules as they see fit."
Dufrenne: "Good operations management [from lead generation to final completion]. Use software, like ENACT."
Kyler: "Installers should keep at least one administrator dedicated to handling all incoming and outgoing paperwork such as permits, SREC registrations and contracts. This would help reduce soft costs and avoid any confusion or dilemmas later on."
Truck these rolls
For starters, it helps to have a mini-inventory of small accessories (L-feet, clamps, wire), but stocking extra parts for the rest of the system is always a good idea.
"A common purchasing mistake I see installers make is purchasing just enough for their project instead of calculating for inevitable adjustments when they get on the roof," Kyler says. "Mostly when it comes to racking, I recommend keeping spare parts in each truck."
Dufrenne laid it out like this: "Not ordering extra parts for racking and attachments ends up costing much more than you'd think, once you have to roll another truck and pay for overnight shipping charges for parts that are usually less than $10."
When it comes to the inverter (and we will get into this more on page 28) MLPE or string inverters could each offer a route to reduced truck rolls, if handled correctly. But for now, we just note what Kyler recommends: "Select products that allow remote updates or choose manufacturers that provide service programs."
"Carry spare parts and get your system up and communicating with your gateway and online account before leaving the site," Bailey says. "Installers who use gateways can track performance as soon as the system lights up. They can coordinate with technical support and determine within a few minutes that all modules and inverters are performing to spec."
Head to page 2 for advice on system purchasing
Listen to more in-depth conversations on Solar Builder's YouTube channel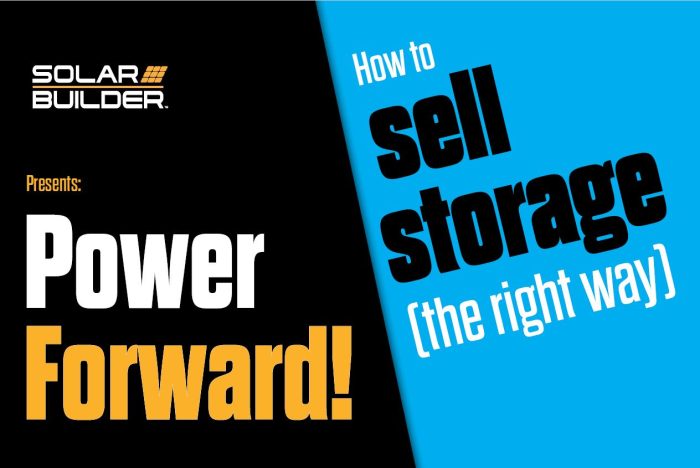 Our most popular series include:

Power Forward! | A collaboration with BayWa r.e. to discuss higher level industry topics.
The Buzz | Where we give our 2 cents per kWh on the residential solar market.
The Pitch | Discussions with solar manufacturers about their new technology and ideas.
Tags:
Aerocompact
,
APsystems
,
axitec
,
Blue Frog Solar
,
Civic Solar
,
ECO Distributing LLC
,
Everest Solar
,
Fronius USA
,
IronRidge
,
January February 2018 Print Issue
,
Krannich
,
SMA
,
Unirac
,
UpSolar