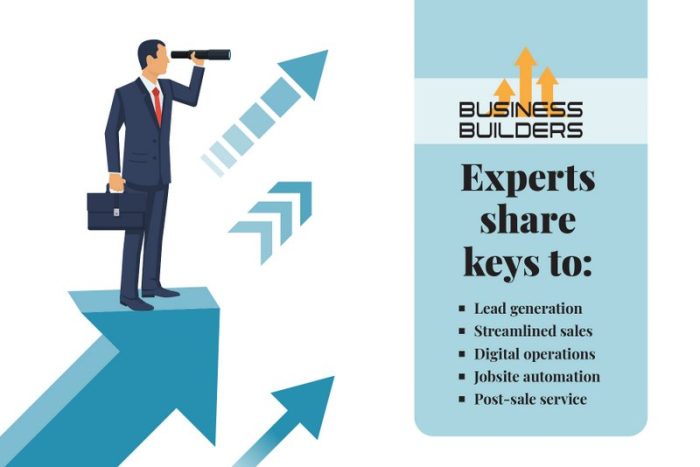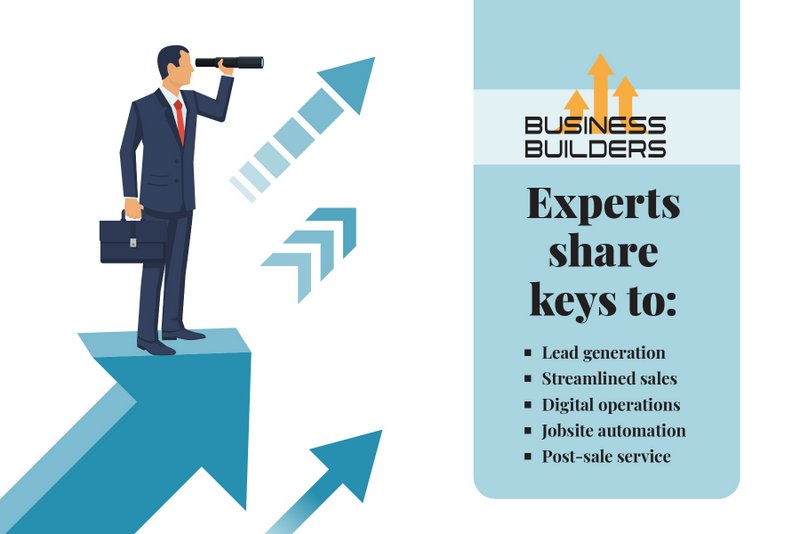 Running a solar business in 2023 is both easier and tougher than ever. On the one hand: demand is high, the ITC is extended long term, and solar-specific software tools are better than ever. On the other hand: net metering rate changes are lowering the value of home solar, energy storage is a complicated line of business, and more competitors are vying for the same projects and qualified labor.
In the Business Builders section of the Q3 issue, Solar Builder staff sought advice from industry consultants, engineers, and tech providers to help ease some of these business burdens. We asked how to close more sales, how to be more profitable, and how to generally operate more effectively in this new market and focus on what you do best: install more solar. Here is an excerpt of the Business Business section.
---
Keys when gathering leads
Understand your customer and their pain points, then frame your marketing and sales to best address those pain points, whether it be through content marketing, paid media or partnerships. Always frame your go-to-market efforts with language that addresses what's in it for the customer. — Matt Rea, VP of revenue operations, Greenlancer
The lead-to-sales pipeline can be a burdensome and expensive function to manage. The best way to overcome this is to leverage a sophisticated SaaS platform to help you track and optimize this process to help you close more sales, more quickly. — Cami Boehme, CMO, Powur
Anything an installer can do to reduce their reliance on purchased leads can help improve the bottom line. But how? Diversifying your lead sources is a powerful way to take back control of your customer acquisition costs. There are a couple relatively quick ways to do this. One is focusing on referrals by developing customer incentives and other programs. Another option that's becoming much more effective is making leads come to you on your website. And, of course, an important part of any successful marketing process is measuring results. Do the best you can to measure the ROI of each lead gen method and focus on the options that turn leads into pitches, and pitches into sales. — Carina Brockl, chief revenue officer, Aurora Solar
Trying to market to anyone and/or everyone is never a good strategy. I recommend that every marketing effort begin with understanding and identifying your target customer(s). Begin by building a persona, which is a fictional character. Personas are based on research to understand your potential customer's needs, experiences, behaviors, motivations and goals. Once you've figured out what kind of customer makes sense for your business, you can then begin to develop custom messages that will resonate with those targets and then determine the appropriate marketing channels (e.g., social media ads, brochures, etc.) to reach that specific audience. — Roy Simmons, VP of strategy, Savant
Consistency throughout the funnel. You can't just do top of funnel marketing if you want to bring people to bottom funnel and close a sale. When earning trust and making your services known, you must have clear processes with clear calls to action. Have consistent messaging on how your service solves a pain point, outreach and communication tied to the entire funnel, and different kinds of marketing whether through ads, education/webinars or direct communication/outreach. — Laurel Hamilton, GM, Mayfield Renewables
---
Tips for in-house sales teams
For solar installers with in-house sales teams, a best practice is for teams to devote any extra time to ongoing education and training. For sales executives leading their teams, it is important to always keep your team updated on the latest solar technologies, market trends, and incentives. Furthermore, make sure to ensure they have in-depth product knowledge and can tailor their communication to meet customer needs. Lastly, always prioritize selling your company's unique value proposition and leverage customer testimonials to improve leads. — David Lopez , national sales manager, Panasonic
1) Be a partner: Nobody likes to be on the receiving end of a hard sales pitch, right? Take a more collaborative approach with the homeowner where you're seen as a partner or advisor, working together with them to design the perfect system for their needs. This can really help build that relationship and lead to a higher close rate. 2) Be hyper local: Knowing the regulations, policies, and programs of each customer's area code lets you help them make the best decision for their situation. Let's face it, turnover in solar sales can be high, so being seen as an expert in these areas provides peace of mind to customers.
— Brockl, Aurora Solar
Initiate financing conversations early. Given that 90% of solar is financed, it is essential to start discussing financing options with customers early in the process. Rather than shying away from it, use financing as a tool to strengthen the value proposition to the customer, empowering them with flexible solutions that show meaningful monthly and lifetime savings. Lay out customer terms and quickly render credit decisions without the headaches or "gotcha moments" that come with traditional bank financing.
— Ted Fawcett, founder & CEO, ORKA Finance
---
Tips when using sales orgs
Using sales orgs not just for leads, but to secure an already designed, AHJ-approved, financed and signed contract for a solar system is a great way to improve your bottom line. It allows installation companies to focus their efforts on their core business without having to deal with all the periphery and less profitable parts of the business. Work with a company that has true local connections to the communities they serve, and even better if they have national backing. — Boehme, Powur
Ensure you are aligned on the goals that will really drive business impact. If you are just paying per lead, you may end up with a large number of bad quality leads. Make sure you are compensating your sales org for closed-won deals as well. — Rea, Greenlancer
Make sure they understand the products, limitations, expectations, and process for the installation so they can represent you well. Develop clear processes between the two companies for communication and sharing information. — Hamilton, Mayfield Renewables
---
How to reduce change orders and soft costs?
Deployment operations management systems are cloud-based systems that combine the strengths of project, asset, and field management software to track and manage hundreds of job sites, assets, and field crews in real-time. The keys are centralized data and standardized but customizable project templates, checklists, and forms. That combination enables visibility into the status of a project's design, siting permitting, installation, interconnection, and financing — all sources of soft costs. That enhanced visibility is helping solar companies trim soft costs through faster project cycle times and optimized resource allocation. — Fadi Abourjeily, energy solutions product manager, Sitetracker
Gather the proper information up front and reduce the amount of equipment changes. Many design partners have site surveys that request all of the proper information to make the design process as seamless as possible. — Rea, Greenlancer
First: gather comprehensive details about the installation site to anticipate any potential challenges or adjustments. This will help ensure a smoother installation process. Second: concentrate on managing and meeting customer expectations. Consider specific customer requirements, especially for home batteries. Design the system accordingly to meet their power needs during outages, avoiding any discrepancies between expectations and the actual capabilities of the system. — Lopez, Panasonic
In my opinion there is no computer program or tool that can facilitate this. Interpersonal communication is key, and it all starts before pen goes to paper. Truly get to know your customer, actively listen, and ask the right questions to gain a clear understanding of goals and expectations from the outset. Repeat the requests you believe you are hearing back to the customer to ensure that you are aligned. When presenting a design, use the same process and be sure to observe facial expressions and body language that can be a red flag indicating unease or unhappiness that can manifest as changes mid project.
— Simmons, Savant
Accuracy. An efficient design process should start from day one with an accurate representation of the subject property and optimized design. If you sell from an accurate design, then change orders become virtually non-existent. This may mean that your preliminary design takes more time to complete, but sometimes spending a few hours pre-sale could shave weeks off the total project time. Fewer change orders reduce fall off, increase customer satisfaction and ultimately reduce acquisition costs. The "quick and dirty" design that you thought was saving you time and money, in the long run is costing you tenfold. — Pete Cleveland, VP, solar business, EagleView
---
Read more advice in the Q3 Digital Edition
Subscribe and access issue below
Listen to more in-depth conversations on Solar Builder's YouTube channel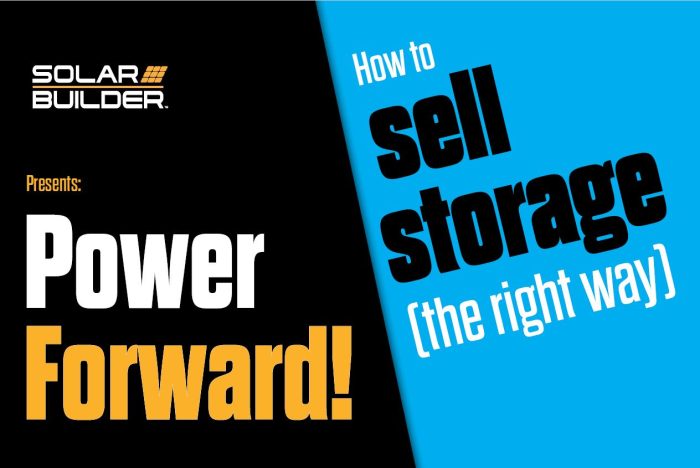 Our most popular series include:

Power Forward! | A collaboration with BayWa r.e. to discuss higher level industry topics.
The Buzz | Where we give our 2 cents per kWh on the residential solar market.
The Pitch | Discussions with solar manufacturers about their new technology and ideas.
Tags:
commercial and industrial
,
marketing
,
operations and maintenance
,
Residential Solar
,
sales and marketing