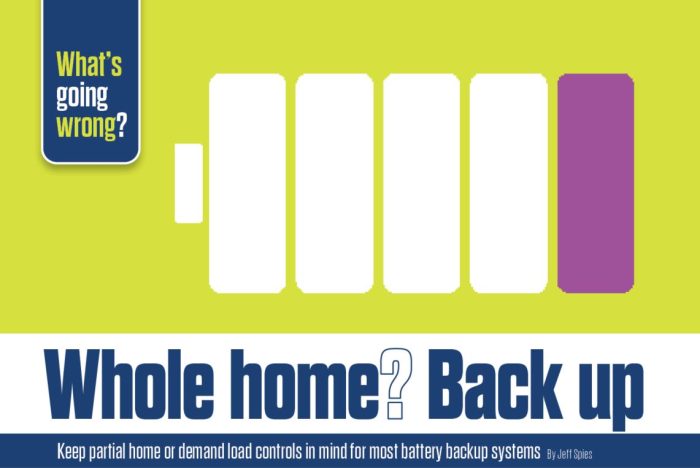 This article originally appeared in the Q1 2023 edition of Solar Builder magazine. Be sure to get your own free print and/or digital subscription right here.
When I first started working in the PV industry in the mid-2000s, the new sector of grid-tied PV installer actively avoided expensive and complicated lead acid battery systems that were commonly used in off-grid home applications. Since the average household loses power for less than 10 minutes per year, few solar contractors felt that battery backup made any sense at all for grid-tied solar owners.
But times have changed. Lithium batteries have eliminated the high cost and complexities of older lead acid battery systems and increasingly frequent power outages in California and Texas have driven solar homeowners to seek out battery solutions to provide backup power and energy independence. Additionally, new time of use utility rates that increase evening kWh rates and reduce the value of a backfed kWh during the sunny hours of the day have led solar owners to charge their own batteries during the day and use the kWh in the evening to save money.
Unfortunately, I see far too many application errors when contractors design and install battery systems for grid-tied customers. One of the biggest problems is that everyone wants to back up their entire home, but few people have the big budget to allow them to purchase a battery system big enough to back up all the loads in a modern home.
Sadly, too many solar sales people and contractors are selling 10 to 20 kWh battery systems and configuring them for "whole home backup." When the next power outage occurs, most homeowners discover to their dismay that their inverter cannot power all of the loads in their home, and it stalls out or, if the inverter does not shut off due to overload, the battery drains quickly when the air conditioning and/or hot water heater kick on. Only then do they realize that whole home backup means power for a few hours, and then no more power for lights, a refrigerator and other critical loads until the sun charges the system again.
Partial loads
Over 90% of homeowners who want batteries with their solar system are best advised to have a partial load backup configuration. This typically involves installing a special backed up sub panel and relocating the load breakers that are higher priority. These higher priority loads typically include lights, computers, medical equipment (CPAP machines), refrigerators and garage door openers.
The load circuits deemed as critical will vary from one region to another and one family to another, of course. In areas with wells, a well pump is a big load that is likely critical to daily life. Others might find sump pumps to be a critical load, and others might find a window AC unit critical for getting sleep on hot nights. In Texas, many homeowners have understandably backed up their furnace blower fan so their gas heaters continue to operate when the grid goes down.
As a general rule, hot water heaters, swimming pool pumps, central air conditioners and EV chargers are too power intensive and will likely stall out the inverter for battery systems, or they will drain your battery too quickly.
Just to use an example, my 2,600 sq ft Phoenix area home with two 4-ton AC units and a swimming pool pump will use an average of 70 to 80 kWh per day in the summer. To back up all my loads in the summer would likely require a 100 kWh battery system costing from $70,000 to $100,000. Even if I had the funds to buy a battery this large, finding suitable space for a system this large would be difficult.
Therefore, the best option is making the hard decision of which loads to rewire to a backed-up load panel.
Taking control
There is a new technology that is increasing the flexibility for powering homes in a grid outage. Demand load controls from Lumin, Span, Savant, Generac and others are allowing solar + storage systems to power the entire home load panel and enable control over which breakers to power off in a grid outage.
When the grid goes down, these controllable breaker circuits will typically be programed to power off your AC system, water heater, electric range, washer and dryer, dish washer, swimming pool pump, and any other noncritical load. The lights, refrigerator and normal plug outlets will remain energized by your battery.
However, some of these noncritical loads may need to be run off battery power. A good example is a front-loading washing machine. If you suffer a grid outage when running a load of laundry in a front loader, the machine will sit there, full of water until power is restored. This could result in a washer full of moldy clothing if the power outage lasts a few days.
Using demand load control, you can override the default programming and instruct the system to allow your washing machine to run on battery power long enough to finish the load of laundry and hang the wet clothes to dry. These new demand controls are getting smarter and more functional, allowing integration with thermostats to intelligently and properly power down AC systems and heat pumps and manage your battery power.
Partial load or load control?
If the project budget allows addition of a load controller, it is possible (and often desirable) to configure the ESS for whole home backup. Here are several options worth considering.
■ Generac's PWRmanager automates control of up to twelve 120V circuits or six 240V circuits, plus two thermostats, and it integrates seamlessly with the PWRcell System and PWRview app so that homeowners can swipe any circuit on or off and see how much battery run time they have left as a result. Learn more in this episode of The Pitch:
■ The Lumin Smart Panel has 12 controllable circuits (six 60A and six 30A) and costs about $2,500 plus install cost. For most projects, this is an easy couple-hour install. This system is sufficient for most homes, but larger homes may need a more robust solution like a Span panel.
■ The Span panel replaces an existing load center and makes all breakers controllable. It is more expensive (starting at $4,500+), and the installation is more involved since you will probably be replacing the existing main load center. Anticipate 4 to 8+ hours (~$2,000 – $5,000) for labor to install and likely coordination with the utility to shut off service during install. A new meter/main version of the Span panel is coming soon, but as of this date, the UL listing is not yet available. Since meter mains can be difficult to use with ESS, I anticipate this will not be the most practical option for ESS.
■ Savant load control modules are installed right in the breaker slots of many common panel boards and are reasonably priced. One of their more common load control module packages for 8 circuits is priced under $1,000 and would require about 3 hours of install time. Keep in mind the Savant control modules must be installed in a panelboard, so you may need to free up breaker spaces by using dual or quad breakers, or even better, install a subpanel to accommodate all the load breakers and the Savant load control modules.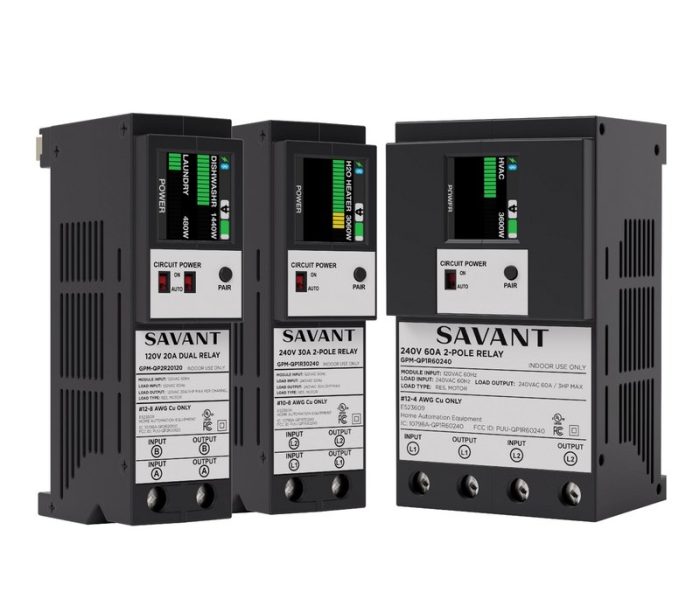 Important note: Not all ESS systems have sufficient power (kW) and energy (kWh) to support loads other than the most basic backup of refrigerator, lights, wall outlets and garage door opener, so depending on the number of loads and their size, a partial load backup may still be advisable for systems less than 7,000 W output or less than 10 to 20 kWh.
Backup wrap up
As a result of the increased demand for resilience and energy independence, the solar installer of yesterday is morphing into a solar + storage installer. This evolution will continue with contractors becoming home energy service providers, integrating solar, storage, demand control, generators, EVs and other control systems. Homeowners will be able to control their energy costs and efficiently manage battery use when the grid goes down while allowing life to continue with minimal interruptions.
---
Jeff Spies is the president of Planet Plan Sets, a solar plan drafting company serving contractors in all 50 states. He is a board member and secretary for NABCEP, a UL 2703 and UL 9540 Standard Technical Panel member, a founding member and past secretary for the Sustainable Energy Action Committee (SEAC) and chairs the Codes/Standards committee for the California Solar and Storage Association (CALSSA).
Listen to more in-depth conversations on Solar Builder's YouTube channel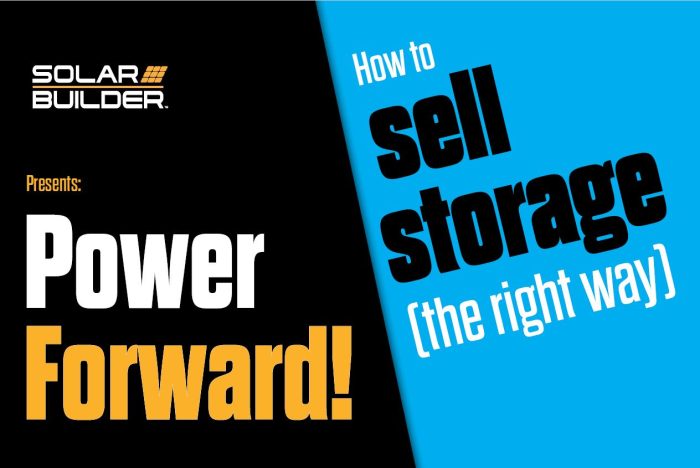 Our most popular series include:

Power Forward! | A collaboration with BayWa r.e. to discuss higher level industry topics.
The Buzz | Where we give our 2 cents per kWh on the residential solar market.
The Pitch | Discussions with solar manufacturers about their new technology and ideas.
Tags:
Generac
,
load control
,
Lumin
,
Savant Power
,
Span