Solar power is starting to bolster the energy capacity in northern climes, especially across Canada and Alaska where diesel generators take the cost of electricity sky high. Both fixed-tilt and tracker installations are expanding rapidly in this region, as advancing solar technology helps cope with bitter cold and erratic daylight.
The sun can be elusive in the north. Between the spring and fall equinox, the Arctic region — including Fairbanks, Alaska, at a latitude of about 65 degrees — receives over 12 hours of daylight, but during the long winter sunlight can fall to only 10 percent of the summer peak. The extremes for the length of an Arctic day can range from 3.5 hours in winter to 22 hours in summer.
The combined potential of direct and indirect or diffuse light available in the north is enticing though. Research cited by the Alaska Center for Energy and Power (ACEP) indicates that there are 230 more hours of possible sunlight at the Arctic Circle than at the equator. The winter holds a steady snow blanket on the ground, yielding one of the highest natural levels of albedo, or reflected light, at 70 to 80 percent of direct sunlight. This bodes well for the use of bifacial solar panels, which today can raise the energy yield by around 10 percent with more field testing expected to increase the bifacial boost by 20 percent or more over monofacial panels.
"We are not under any illusions that solar will not be a tough build, but cost has come down, so now it finally pencils out," says Christopher Pike, a researcher at ACEP.
Thanks to the general decline in the cost of solar and the recent cost reduction in bifacial panel manufacturing, solar is becoming a more promising renewable energy solution in the northern latitudes. Indeed, one estimate of solar growth in Alaska suggests that installations roughly doubled during 2017 to close to 1 MW from a small base of about 300 kW in 2016, according to the Solar Energy Industries Association (SEIA). Anecdotes from Alaska solar analysts suggest that the 2018 installation total could double again.
[button link="https://staging1.solarbuildermag.com/subscribe/"]Don't miss our Solar Installer Issue in March — subscribe to Solar Builder magazine (print or digital) for FREE today[/button]
Design and conquer
The far north is a virtual testing ground for solar reliability, particularly for trackers with moving parts, and chatting with several manufacturers focused in this region reveals a variety of tactics for conquering the elements.
"If you see a tracker system in the Arctic controlled by actuator arms that can freeze, or fragile motors or sensors, it can be a concern," notes Lance Brown, the director of marketing at Array Technologies. "But we are seeing more and more requests for installations at higher latitude locations."
Array did a dual-axis project in the Arctic for the Canadian government 20 years ago for a 360-degree tracker, and it is still operating now, designed to function down to -25.6 degrees F, Brown says (new trackers are tested to -29.2 degrees F). Array is currently working on a new snow stow technology that will further optimize tracker performance in heavy snow conditions. Dealing with snow load is a primary requirement in the north.
"We have installed our dual-axis Savanna in heavy snow areas in northern Ontario and have had no issues with snow load," says Nic Morgan, VP of business development at Morgan Solar in Toronto. "We found that the dual-axis sheds snow faster than fixed or single-axis designs. We can't compete with single-axis trackers below 40 degrees latitude, but above that, dual-axis technology can offer better yield."
One area of expertise that Toronto-based GP JOULE has developed in the cold Canadian climate is foundation engineering, with a current single-axis tracker design that utilizes up to 60 percent fewer piles — or as few as 250 per MW — than general U.S. tracker competition, providing 20 percent more steel and a more robust structure, says David Pichard, CEO of the company. The system also uses up to 20 percent fewer piles than a competing standard fixed-tilt design.
Another innovation in tracker design for snow conditions is the three-armed, dual-axis Konza Solar tracker.
"Our three-actuator design enables an unencumbered range of motion, a simpler tracking method, the lack of a grease requirement and no cardinal orientation requirement," says Nick Moser, the director of operations for the Anchorage-based company.
Part of the challenge tracking the sun in the Arctic is moving panels through wide angles in all directions, for which dual-axis trackers are inherently designed. "The tripodal design is both inherently stable and able to enjoy a number of ingenious mechanical advantages. It handles dynamic loading extremely well by distributing loads in a way that no other tracker can," Moser says.
Advocates for change
While the technology is tweaked, the opportunity grows. One institution that is advocating greater use of solar energy in Alaska is the AECP in Anchorage.
"The November to February months are cold and clear, so solar panels perform well. We have been talking about solar albedo up here for a long time," Pike says. "Our solar resource is not as good as it is in the lower 48 states, but it is about the same as in Germany."
ACEP is particularly interested in helping small towns and villages in more remote locations ween off diesel fuel transported by truck, which can push electricity rates up to the $1 per kW level, Pike says. The ACEP has just begun a new solar field study using vertically mounted bifacial panels oriented east, west and south.
There is also more federal government support for solar and other renewables to offset diesel use in Canada, through the $400 million Arctic Energy Fund, and in Alaska, through the Alaska Renewable Energy Fund, worth about $50 million every year until 2023. Since 2008, the REF has appropriated $259 million for 287 qualifying renewable energy projects.
Consider a new solar installation in Buckland, located in Northwest Alaska, being sponsored by the Northwest Alaska's Native Corp. (NANA) and the U.S. Department of Energy. The remote town of 400 uses over 500 kW of electricity a month at a rate of up to 47 cents per kWh. This compares to 19 cents in Anchorage and a U.S. national average of 13 cents. The alternative is heating oil, which costs $8.25 per gallon locally. So, yeah, an investment in solar energy here will help considerably.
"We expect to offset 7 percent of the town's diesel fuel use through this solar project, and once it is operating fully, we hope to add energy storage and wind to offset a cumulative 30 percent of the town's diesel use," says Sonny Adams, the energy director for NANA. Diesel costs in the region range from a low of $5.75 to a high of $11.00 per gallon locally, he notes.
This project, led by NANA, provides for the cumulative installation of 500 kW among three Alaska Native Inupiat communities — Kotzebue, Buckland and Deering — "to address common energy challenges and opportunities by developing high-penetration wind-solar-battery-diesel hybrid systems through collaboration with Tribal IRA Councils, local electric utilities, a national cooperative financial institution and others," DOE reports. DOE provided a $1 million grant for the $2 million project, which was on track to be completed in December.
Charles W. Thurston is a freelance writer covering solar energy from Northern California.
Listen to more in-depth conversations on Solar Builder's YouTube channel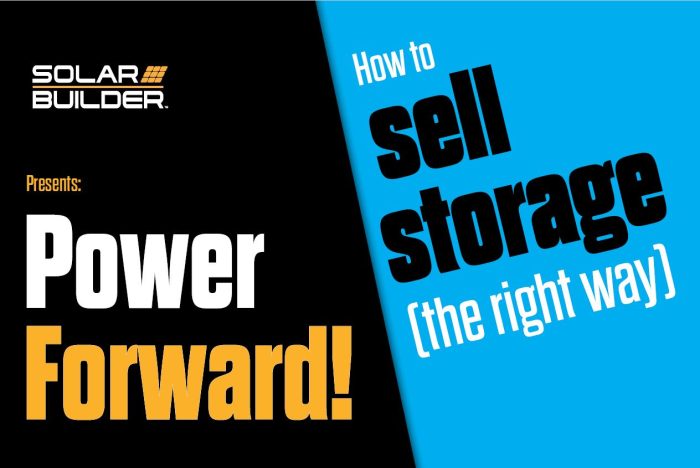 Our most popular series include:

Power Forward! | A collaboration with BayWa r.e. to discuss higher level industry topics.
The Buzz | Where we give our 2 cents per kWh on the residential solar market.
The Pitch | Discussions with solar manufacturers about their new technology and ideas.
Tags:
GP Joule
,
January February 2019 Print Issue