The evolution of EPCs in the solar industry is truly that — an evolution — and not in the cliché business-speak way. For starters, large-scale solar construction is a cut-throat, survival-of-the-fittest environment. Over the years, risky business models failed and bad technology sunk, while successful concepts adapted to the volatile environment.
This process of natural selection has led to all sorts of creatures. Large EPCs that moved into ownership. Racking manufacturers handling more construction responsibilities. Roll formers sending factory-direct systems to the field. And so on. Successful companies redefining the rules as new advantages were discovered and new opportunities emerged.
With this article, we wanted to explore more of those in-between spaces — the adaptations that have been influential in the onward and upward trajectory of the solar industry's expansion across the United States.
Learning to communicate
If you take out your microscope and examine the elements integral to the broader success of solar today, what you see is a lot of close connections, shared relationships and complementary services.
"Our best suppliers understand that we are in a long-term partnership," says Chris Perron, SVP of EPC for Nexamp. "When they are supportive of us, we often will standardize on their equipment for efficiency, and good partners will get the bulk of our business."
Developing relationships and complementary services is no small feat in this high stress, high stakes world of large-scale solar development. On the supplier end for example, consider how often a racking manufacturer provides a front-end design for a winning RFP bid only to lose the actual purchase order and construction to another supplier. On the EPC side, any experience standing around in a field waiting on a missing bolt or overbooked equipment to arrive will drain margins along with good will.
Executing the perfect solar project development starts with accepting that such a concept doesn't exist. Solar projects are all going to have their obstacles, and the best EPCs are the ones most adept at working through the issues that inevitably do arise. Eric Millard, chief commercial officer at Conti Solar, says Conti contributes part of its success to developing strong supplier relationships to navigate the countless challenges they regularly face.
"Being able to work through any issues that arise is vital," he says. "Each side of the equation needs to understand what is trying to be accomplished and work together to find the best solution."
After accepting that risk, everyone agrees communication is a big factor in establishing trust, but what does that communication look like? At Nexamp, Perron says proactive communication with suppliers involves regular calls to lock in on delivery timelines and have the right equipment on site to load or unload as needed. Some of the biggest problems they see in the field are the wrong material being delivered, material not arriving on site when needed, suppliers not being on site to confirm accuracy and unload the product when it does arrive and not having the right equipment on site to complete delivery.
"These issues create confusion and unnecessary slowdowns that impact the overall progress of the project, which ultimately affect our bottom line," Perron says. "With that good communication, detailed receiving becomes a breeze, which enables greater efficiency in the field and a reduction of shrinkage as a whole across all our inventory. Good communication also means that general management of the hundreds of POs we place becomes easier administratively for both of us because we know how each other thinks."
The onus is on the supplier to engage and get this process started and have a rolling action plan and process.
"Suppliers who don't respond to calls or emails in a timely fashion, or who don't alert us to potential availability or delivery problems ahead of time make it harder for us to stay on track," Perron says. "Likewise, suppliers who do not take responsibility for their mistakes and try to push the expediting costs onto us, or fail to consult us on order modifications, won't keep our business for long. We understand that not everything goes according to plan — suppliers just need to provide real-time updates so we can come up with contingency plans to overcome obstacles."
Nexamp changed its ordering practices over the years to standardize equipment orders as much as possible, which in turn reduced the possibility of human error on both sides. This helps suppliers by streamlining the process and lets everyone focus more on other potential challenges.
"Another area where we have improved is in jobsite delivery. We now try to arrange just-in-time delivery as much as possible so we can keep things moving and suppliers don't have to deal with a backup of stock or materials," Perron says.
[button link="https://staging1.solarbuildermag.com/subscribe/"]Don't miss our Solar Installer Issue in March — subscribe to Solar Builder magazine (print or digital) for FREE today[/button]
Hunter-gatherers
The concept of suppliers providing more than just a product has gone from novelty to expectation. Perron points to greater visibility into the supply chain as a huge new supplier development. "This makes it easier for us to plan accordingly and anticipate any obstacles before they become a serious setback," he says.
Other positive changes Perron has seen include more generous terms and conditions, expediting options, an ability to maintain higher levels of inventory for individual companies that warrant it based on volume and, in some cases, preferential pricing.
This expectation was driven by innovations and consolidations throughout the supply chain. Consider OMCO Solar, a roll former that has been a supplier and contract manufacturer for just about every racking and tracker company you know. Over time, OMCO realized it could also provide its own factory-direct, branded racking solution, which yielded additional customer benefits.
"Companies that are able to collaborate and leverage partnerships and co-market them will drive more commitment from their customer because of that deeper level of partnership," says Eric Goodwin, director of solar business development with OMCO Solar.
Goodwin is an advocate for business relationships that are more than transactional. One way OMCO does this is by leveraging its supply chain capabilities, such as provide a monthly index of steel pricing versus location for established customers. This is in addition to regular communication, going over cost roadmaps and collaborating on R&D and problem-solving.
"It's good to hear from each other when it's not just a problem," Goodwin says. "The customers we like to grow with are the ones we can communicate with and always have each other's back. When you have project execution issues and change orders on contracts, most of those things are impacted by not having a good kick off process or handling of expectations."
OMCO recently implemented an internal process aimed to enhance customer touchpoints. A purchase order coming in kicks off a cadence of actions and scheduling of activities internally to keep everyone on the same page during each project. "There's at least one communication planned each week leading up to delivery. Once we start deliveries, we have someone on site to assess everything so nothing is missed."
OMCO is unique in that it's also an OEM and can check everything before shipping instead of having to coordinate parts from several different locations. The delightful adage of there being fewer throats to choke.
"There will be issues in the field, but if you don't respond and pile drivers are sitting there … we can't let that ever happen," Goodwin says. "Suppliers need to show root cause corrective action. When suppliers are not doing that and/or have too many balls in the air, it can impact the project or an EPC's financials."
Adaptation
Rough Brothers Inc. was founded in 1932 and built its name constructing greenhouses. As that segment started to slow in the 21st century, the company thought its steel roll forming expertise could be a fit in the fledgling solar industry. That move to diversify its product portfolio led to what is now RBI Solar, a leading racking supplier in the 500 kW to 2 MW solar space that can hop in at the very beginning of a project or just show up and build. The company recently acquired SolarBOS as well, which may yield even more purchasing and installation efficiency.
"We recognize how important solar mounting installation is to meet overall project deadlines, which is why we take single-point responsibility for the entire project starting from the initial design to complete mechanical installation of solar modules," says Kevin Ward, marketing manager for RBI Solar.
CEO Matthew Skidmore says Conti Solar is a frequent customer of RBI Solar for these reasons.
"The leadership of a company sets the pace and the character of an organization. If an environment of collaboration for quality is set at the top, then that rolls through the company," Skidmore says. "At Conti Solar, we're striving for excellence and that is what keeps clients coming back. We're looking for suppliers like us — ready to go above and beyond for customers."
The RBI story is illustrative of the broader downstream streamlining trend of turnkey solutions influencing solar's evolution. There's also the example of Solar FlexRack, growing from Youngstown, Ohio-based aluminum extrusion fabrication company Northern States Metals, to a provider of in-house branded racking systems and turnkey services. They can handle everything from initial engineering, pull testing and foundation design to the final installation of posts, racks and modules. Its TDP Turnkey Solar Tracker even embeds the service component into the product's identity, an indicator that it's not just selling a tracker system but a full solution for reducing installation time and cutting operations and maintenance costs.
Conti says these days it expects companies to continue to adapt and deliver more diverse options in current product lines, expand fabrication and install services and develop more real-time material tracking.
Being able to pick and choose from a menu of services not only mitigates dependence on third-party subcontractors, but also frees up EPCs to expand and bid more jobs. This is, of course, if that supplier has earned the trust to function as an extended arm of the EPC.
Better tools
Tracker systems are abundant now, and many of your favorite racking manufacturers that don't have one (or aren't yet promoting one) likely will be in the coming year. This is a combination of tracker prices dropping and suppliers working to address the needs of their customers. Meanwhile, the long-established racking and tracker systems on the market have integrated new layers of installation and cost efficiencies.
RP Construction Services Inc. (RPCS), a turnkey construction company that works with Array Technologies, is promoting the Plug-N-Play Solar Tracker system, for example. In addition to the installation advantages gained from its familiarity with Array Technologies DuraTrack HZ v3 single-axis tracker, the Plug-N-Play tracker brings in eBOS suppliers Shoals, CAB Products and Hellerman Tyton for a full solution that saves thousands of feet of trench and conduit while preventing all trench-related schedule delays.
"We are coordinating directly with these various manufacturers to bring products together to form a singular solution," says Adam Larner, VP of projects for RPCS. "Recently we saw a 28-MW project convert from trenching to above-ground Plug-n-Play halfway through the project as they analyzed and then recognized significant savings by making the switch, even midstream."
RPCS says this new partnership has simplified its tracker project installations by reducing trenching by 50 percent (eliminating 900 to 1,100 ft of trench per MWdc), utilizing less specialized labor (for string-level electrical connections) and requiring less time (all crimping, labels, wire testing and cutting are completed in the factory). What's more, the Plug-N-Play Tracker approach also allows for more solar panels per string and fewer combiner boxes per site, cutting cost and solar electrical complications. In all, RPCS has shown $3,000 to $5,000 in savings per MWdc for DG projects. Eben Russell, founder, president and CEO, puts it like this:
"Allowing more of the system to be built in the factory prior to mobilization drastically impacts schedules, keeps the quality level high and consistent across all sites and allows us to manage the work with fewer asset managers. Lastly, building portfolios of projects with identical and uniform high-quality leads to higher ROIs, less transactional cost per project, better control over schedules and higher asset resale value after the full tax benefits are realized."
Perron says integration like this is the future in the supplier space, bringing more "pre-built" assemblies to the site, which leads to faster, higher quality builds.
"We try to have the suppliers do more product integration in their factories rather than us integrating in the field, leading to better quality installs," Perron says. "Logically it makes sense. If you can integrate items in an environmentally controlled setting rather than in the field where you do not know what type of weather conditions you will face, it will always lead to higher levels of productivity and higher levels of quality."
Product line evolution occurs in small ways too based on simple conversations. OMCO was contract manufacturing for First Solar, for example, and without being specifically asked they worked on a redesign idea for its module interface bracket to cut costs. Conversely, proactive customers will explain the pain points they see with designs. Leading up to the debut of its branded, Field-Fast racking system, Goodwin says OMCO made some tweaks to its wire management options and changed the design of its foot bracket to make it easier to package, ship and preassemble in the factory, all of which came directly from working with customers.
What's next?
With the ITC scheduled to phase out over the next few years and the development pipeline more robust than ever, developers and independent power producers are pushing to get as many MWs installed as possible. Construction schedules will be compressed and competition will be fierce. None of that is new for the solar industry, but the context has changed. Due to the innovations and streamlined services that have emerged from EPC-supplier relationships, "the fittest" will be evolving the conditions in which solar development continues to thrive instead of merely survive.
---
Communication Keys
Upfront and clear expectations can help build relationships and smooth the processes of solar project construction. Conti Solar highlights these key areas for stepping up communication efforts:
Schedule
Being able to project the delivery of supplies is vital to the success of a project and staying on schedule.
Cost
Understanding the cost of the supplies up front allows developers to accurately model the total cost of the project early on. These projections are necessary for the developer to understand if the project is economically viable. You risk the project not being able to pencil if the supplier raises cost.
Issues
Mitigating risks and potential issues up front is the backbone of trusted EPCs. When issues arise, having a strong relationship with a supplier who is committed to working through a project's success is a sought-after partner.
Engineering
Getting the right data up front to bid correctly with geotech, borings, etc., is another important element. It sounds simple, but there are myriad complexities to the equation.
Chris Crowell is the managing editor of Solar Builder.
Listen to more in-depth conversations on Solar Builder's YouTube channel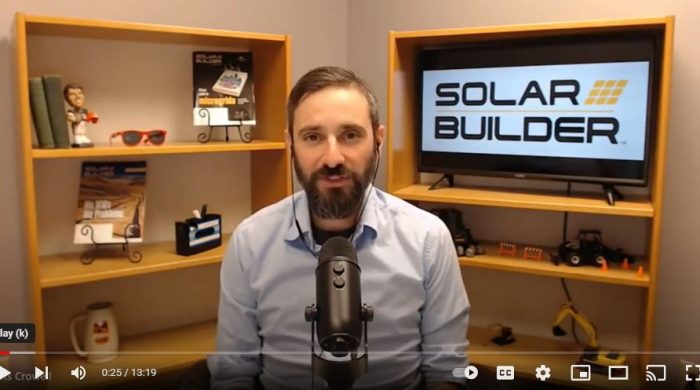 Our most popular series include:

Power Forward! | A collaboration with BayWa r.e. to discuss higher level industry topics.

The Pitch | Discussions with solar manufacturers about their new technology and ideas.
Tags:
Conti Solar
,
customer service
,
January February 2019 Print Issue
,
Nexamp
,
OMCO solar
,
RBI Solar
,
RPCS
,
utility-scale