In business, people often stick with what they know, but some individuals will look to that horizon, willing to take some risks along the way.
Scott Griffin and Janet Miller, owners of G6 Power Solutions, are two of those individuals. They jumped into the growing solar energy market and are seeing quick growth in their co-venture's first full year by introducing a new energy opportunity to farmers, manufacturers, local businesses and city governments around central Iowa.
The transition to alternative energy
While G6 Power Solutions has only officially been in business for a little over a year, Griffin and Miller have been working in similar industries for many years, preparing for the organization that they have today.
Griffin spent the first 20 years of his career working in the construction industry as a general contractor for housing developments and remodeling, commercial construction and tool sales. Around five years ago, he started to explore possibilities in the growing alternative energy
market.
"I have always focused on ways to create additional revenue streams, especially during the recent recession," Griffin explains. "And while homebuilding and remodeling wasn't hit nearly as hard in Iowa as in other parts of the country, I knew I had to start looking at the future by identifying potential growth areas in the economy."
During that period of time, wind turbine construction was taking off in the state. Griffin was intrigued and started talking with representatives of local utility companies about this growing alternative energy source.
"While the wind industry was experiencing a tremendous uptick, many of the engineers I visited expressed concerns about the energy source," Griffin says. "They explained to me that wind fluctuates too much. It makes a lot of power in a short period of time but is not reliable for consistent power. I took that as a personal challenge to find a better way of doing things. I wanted to develop a system that could deliver consistent energy for potential customers, while keeping the utility companies happy."
While still just a hobby for Griffin, he began to look at ways to incorporate solar energy with wind energy. He started having conversations with a manufacturer of capacitors and developed a concept that would combine wind, solar and capacitors to provide energy on a consistent basis. This concept is now a reality — it is the system that G6 Power Solutions installs today, and his customers benefit greatly from reduced demand charges.
As the concept started to take off, Griffin met Miller, and they quickly realized that they would be great business partners in this new company because of their common interests.
Opportunity in rising costs
Miller was introduced to the alternative energy movement while working in sales in the HVAC industry, where she saw the push utility companies' were making for responsible energy. She also understood that businesses and homeowners were going to experience a significant increase to their utility bills over the next several years.
"At some point, the appliances and machinery we use will not be able to get much more energy-efficient," Miller says. "I believe that giving people ways to produce their own energy will be the only way to offset the increasing costs of energy."
Creating a network
Griffin and Miller didn't just want G6 Power Solutions to be another construction company specializing in the installation of solar panels and wind turbines. They believed that growth in these markets is happening right now, and they knew that the business model they were creating needed to scale up very quickly. Knowing that construction companies are always looking for ways to earn extra money during lean times, G6 Power Solutions could stay small while still having a broad reach by simply training more people to install systems.
They also created a grassroots marketing effort that would bring potential customers to them through referral programs that incentivized their colleagues and business partners to help them expand their prospects.
They called this program an Alternative Energy Network, and it has become a crucial part of their business model — it has enabled the company to focus on educating people and creating win-win opportunities.
Selecting the right suppliers
Another important element to the G6 Power Solutions business model has been creating a strong bond with the right industry suppliers. Griffin believed one of the hurdles facing the industry was overly complicated system designs that require too much time to install.
"It was important to us to pick partners who have spent time on jobsites and understand the challenges contractors face," Griffin explains. "For example, we found Zilla, a solar racking and solutions manufacturer in Colorado — the owner used to be a framing contractor, and his company has developed a better system that installs faster.
"We have built patented helical pier anchors that can be installed directly into most soil conditions, eliminating days from a job because installers no longer have to pour concrete anchors," says Dave Kreutzman, president of Zilla. "Our systems' design allows the contractor to reduce labor costs and does not require special installation equipment."
Zilla's helical pier anchors are drilled directly into the soil below frost lines using an auger attachment on a skid steer loader, tractor or other tool-carrier machine.
By selecting the right suppliers and developing an efficient process, G6 Power Solutions is able to get jobs done faster.
Finding a niche
While Iowa does not rank among the top solar energy states in the country, G6 Power Solutions has found a niche category in the agriculture market. Poultry, hog and cattle farms use a lot of energy and are always looking for ways to reduce their expenses.
"Farmers are the ultimate entrepreneurs," Griffin says. "They want to be as independent as possible, and we are able to provide solutions that offset their energy usage — something they have never been able to do before."
"Farmers have also been a great market for us because we can help them reduce their tax burden," Miller adds. "Oftentimes, farmers will invest in new equipment to help offset taxes. By installing alternative energy systems, they are investing in something that will save them money today and down the road."
The systems that G6 Power Solutions install for agricultural facilities vary, but their hybrid system that uses solar panels and wind turbines provides customers with the greatest benefit.
"Our recommendation for each customer has a lot to do with the way their utility company meters," Griffin says. "While the majority of the utilities do not allow net metering, adding wind to a system makes a lot of sense for customers who have utilities that do allow for it.
"In Iowa, for example, customers using solar or wind individually may only be producing energy around 46 percent of the time. By combining solar and wind into one system, our customers increase production to more than 90 percent of the time," Griffin adds.
Starting strong
The first year of operation for G6 Power Solutions has been a good one. This small organization believes they owe that success to focusing on showing others the advantages of alternative energy use, investing in developing new programs that will reduce or eliminate any upfront costs for their customers and actively looking for like-minded individuals to be of their Alternative Energy Network.
Todd Versteeg is with Signature Style PR + Marketing, Urbandale, Iowa.
Listen to more in-depth conversations on Solar Builder's YouTube channel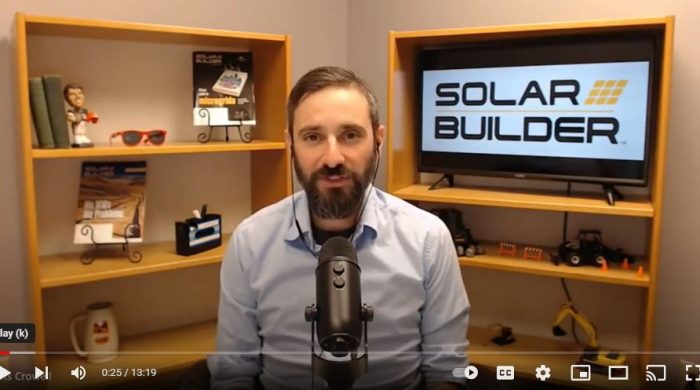 Our most popular series include:

Power Forward! | A collaboration with BayWa r.e. to discuss higher level industry topics.

The Pitch | Discussions with solar manufacturers about their new technology and ideas.
Tags:
agriculture
,
Alternative Energy Network
,
development
,
G6 Power Solutions
,
wind