The commercial and industrial (C&I) solar segment continues to lag behind its potential, but it's not for lack of structural systems. From lightweight rooftop innovations to cost-effective carports to classic fixed-tilt ground mounts, there is a mounting and racking solution to fit any C&I site.
C&I rooftop solar systems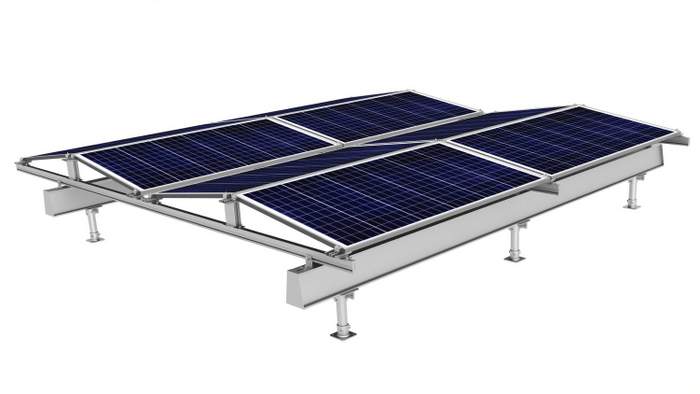 SunModo's Dual-Tilt Elevated Roof Mount
Target project size: 25 kW to 250 kW
Estimated time of install: 1 week
MW deployed: 10 MW
Three notable features
Elevated racking system with up to 25' spans
The dual tilt design increase system capacity by up to 35%
Pre-assembled universal attachments maximize module density
Basics: SunModo's new Dual-Tilt Elevated Roof Mount System is perfect for low-slope roof installation of PV modules. The system minimizes the number of roof penetrations required by incorporating its SB3500 beam technology. The dual tilt design increases system capacity up to 35% compared to a traditional south-facing PV design approach. The universal clamping system can secure PV modules ranging in height from 30 mm to 50 mm. Because the elevated system is entirely aluminum the overall racking weight is significantly reduced when compared to concrete ballast blocks. The solar panels are attached to the dual-tilt supports to position the panels at a 10-degree angle, and the bases are attached to aluminum extruded rail, which are secured to structural beams. The structural beams and the aluminum rail provide long spans that minimize the number of roof penetrations required.
Recent updates: For a system that elevates even more — above rooftop obstructions — you'll want to check out SunModo's SunTurf Multi-Purpose System, which can be used as a Roof Mount or Ground Mount. The streamlined design combines the simplicity of a pipe-based system with next-level engineering. By spanning over roof obstructions, the system takes full advantage of the available roof surface therefore maximizing the PV system size and increasing your ROI. SurTurf is ideal for solar installers looking for a cost effective roof mount system that is robust, versatile, and specially engineered for multiple configurations.
[button link="http://www.omcosolar.com" bg_color="#1ea312″ window="yes"]Get to Know OMCO Solar
OMCO Solar is a manufacturer of solar racking and tracker systems. OMCO offers two fixed-tilt systems, Field-Fast™ and Choice™, as well as its OMCO ORIGIN™ Single-Axis Tracker. Learn more at omcosolar.com[/button]
---
AceClamp Solar Attachment Kit by PMC Industries
Target projects: All standing seam metal roofs
Additional services offered: Full product design services for custom applications and solar array layouts, including wind uplift and dead loads.
Three Notable Features
No rotating set screws to penetrate the roofing panel thanks to a patented sliding pin design.
It comes fully assembled. Just drop into place and torque.
Third-party tested to ensure the strictest standards for wind uplift, product loading and vibration.
Basics: The AceClamp Solar Attachment Kit by PMC Industries is a precision engineered standing seam solar clamp that's one of the fastest installing solar attachment kits on the market. As a rackless-type hold down, the AceClamp A2 along with the Solar Kit offers a low-cost alternative to secure PV panels to SSMRs (Standing Seam Metal Roofs). Plus, its patented, non-penetrating sliding-pin design helps preserve the panel warranty. The same AceClamp can also be used with an L-Foot bracket design for the attachment of rail systems used in other types of PV installations.
Recent update: This Summer, AceClamp will be launching its new Solar Snap. Solar Snap is an Adaptive Solar Racking System designed to work with any of its SSMR clamps and MCP (Membrane Coated Plate). Solar Snap uses the popular, fully-assembled, non-penetrating Ace clamps. Assembly is a breeze, just snap-in pre-assembled components along the rail and secure. The cross-platform system adapts to all roof types creating less inventory to maintain.
Project example: The solar PV system built atop Chromasource by Solar Energy Systems LLC was (picture above) custom-designed and built to fit Chromasource's needs. Phase 1 of the project took about six weeks in early 2020. The system includes 580 SunPower 395W solar panels and 1,200 AceClamp A2 Mini Clamps. The factory-assembled AceClamps, in conjunction with their Rackless Solar PV Kit, enabled a fast and easy installation. The AceClamps fasten across the standing seam roof rib with a patented sliding-pin technique, creating less impact on the roof panel coating, which is why Solar Energy Systems selected AceClamps for this project.
---
S-5! PVKIT
Target project size: 5 kW to multi-MW
Estimated time of install: On projects of scale, first-time users have reported average production rates of 100 seconds per module after a 3-hr (±) learning curve and using a two-man team. Peak production rates on projects of 100kW for first-timers are at 74 seconds/module.
MW deployed: More than 2 GW
Additional services offered: S-5!'s core competence and differentiator is our expertise in metal roofing. We provide layout tools, design assistance, video, web-based and jobsite training.
Three notable features
Single-piece EdgeGrab installs with ease and prevents "zipper effect" under wind load
Low profile hardware provides flush, clean finish
1-in. gap between modules, allowing load reduction per ASCE-7
Basics: The S-5! PVKIT is a total mounting solution with three components made of non-corrosive stainless and aluminum outlasting the life of the roof (and available in black by special order). UL-listed mounting disks ensure module-to-module conductivity, and slots in the disk provide wire containment. Universal design accommodates PV frame thicknesses from 30 mm to 44 mm. Attachment clamps enable penetration-free installation for standing seam roof profiles. Can be engineered to withstand virtually any wind speed up to Category 5 hurricane.
Recent updates: The new and improved PVKIT 2.0 boasts an improved "lay and play" experience for PV mounting technology and comes preassembled with either the S-5! MidGrabs or EdgeGrabs for easier and more efficient installation. The grab seats to the PV module frame by using a single tool for clamp and grab. PVKIT 2.0 features aggressive bonding teeth to secure a better ground path. No lugs or wire are required except to connect one string of modules to the next.
Project example: S-5! provided its PVKIT for an American multinational technology company headquartered in California. The company worked closely with the project architect, roofing manufacturer, solar installer and OEM to determine a solar solution for the ring-shaped aluminum .050" Zip Rib roof. Circular roof geometry required convergence of standing seams so every line, measurement and installation had to be perfect. On-site training was required to ensure proper installation, and the system required specific mechanical and electrical testing. S-5! providing 25 percent better load distribution into the roof and substructure than a rail-based system.
---
Sollega FR510
Target project size: 20 kW+
Estimated time of install: 5 minutes per module
MW deployed: 100+ MW
Additional services offered: Full PE Report for ballast/Anchor/Seismic. CAD layout design services
Three notable features
Extremely durable (glass reinforced nylon) can be installed in any environment including high salt spray
No assembly racking enables quicker installation
Design of racking handles roof undulations with ease
Basics: The FR510 from Sollega is a lightweight, stackable, injection-molded solar racking system for commercial flat roof and ballasted ground mount PV. It arrives ready to install with no assembly required, and its flexible design architecture allows for easy layout changes as needed on the roof. All module attachments are top-down and require one size tool. Modules are mounted in landscape orientation at 5° or 10°. Built-in reference tabs ensure perfectly aligned arrays while improving installation time and ease. The ability to attach rail internally provides for increased load sharing and flexibility in mechanical anchor installation. 500 kW fits in a 40′ shipping container. Full UL2703 and Class A fire rating with Type 1,2,3 modules.
Recent updates: The FR-SBJ (slide on bonding jumper) is Sollega's latest innovation. A stainless steel one piece module-bonding solution requires no tools for installation and replaces four parts.
Project example: Installed in 2016, Sollega provided racking for a 645 kW rooftop solar array at San Juan, Puerto Rico Caribbean VA Hospital. The Center services a population of approximately 150,883 veterans in Puerto Rico and in the US Virgin Islands. The 100' deck installation was both ballasted and mechanically attached to the fully adhered TPO roof. In August 2017 Hurricane Irma and Maria (CAT 5) made landfall on Puerto Rico with measured winds exceeding 180 MPH. The array on the VA Hospital survived both hurricanes and we are proud to say is 100% operational and functioning.
---
Ecolibrium Solar's EcoFoot2+
Target project size range: 50 kW to multi-MW
Estimated time of install: 3rd party tested at 13.5 modules per labor hour. This includes wiring, bonding, and ballasting.
MW deployed: 600+
Additional services offered: Full design services and online design tool called EcoDesigner
Three notable features
Preassembled Universal Clamps. One Universal Clamp fits modules 30 mm to 50 mm thick.
Stackable bases. Bases nest together so that 50 kW is packed on one pallet.
Only three components. It takes less than 5 minutes for a new installer to understand the system.
Basics: EcoFoot2+ from Ecolibrium consists of a durable and roof friendly Base, preassembled Universal Clamps, and a Wind Deflector that reduces uplift. The modular system aligns itself as modules are installed. Ballast blocks are placed on the EcoFoot2+ Bases according to a project specific ballast plan. Mechanical roof attachments can be added to supplement ballasting for sites with higher than normal uplift values.
Recent updates: The new EcoFoot MLPE Bracket was released in April 2020 to provide a system integrated mounting solution that secures any size microinverter or optimizer. EcoFoot Bases are prepped with the Universal Clamps and the MLPE unit as one step. The EcoFoot MLPE Bracket features integrated bonding and is included in the UL2703 certifications for EcoFoot2+ and EcoFoot5D racking systems.
Project example: The Flight Building in the heart of the trendy RiNo district of Denver, pictured above, features a living roof and 135 kW solar system mounted using EcoFoot2+. The solar was installed by Douglas Colony who worked with the Ecolibrium Solar team to create a design that fits the roof and looks great from above.
[button link="http://www.omcosolar.com" bg_color="#1ea312″ window="yes"]Get to Know OMCO Solar
OMCO Solar is a manufacturer of solar racking and tracker systems. OMCO offers two fixed-tilt systems, Field-Fast™ and Choice™, as well as its OMCO ORIGIN™ Single-Axis Tracker. Learn more at omcosolar.com[/button]
---
PanelClaw coupled w/ Yotta Storage
Target project size: 50 kW – 500 kW
Estimated time of install: N/A
Additional services offered: Design and engineering services on pre-orders for energy storage system sizing and electrical and structural systems.
Three notable features
Ease of design and installation – You can determine fixed storage cost via satellite based design
Augmentable. Size storage to fit your customer's needs, expand over time.
Out of sight- Say goodbye to shipping container storage solutions
Yotta Energy's SL1000SX is a modular energy storage solution that replaces concrete ballast blocks on ballasted rooftop systems. Yotta has partnered with PanelClaw's new ClawFR system to allow for easy design and installation and account for future expansion potential. Yotta's energy storage system brings the first energy storage solution that can be designed, permitted, and installed in the same process as solar PV. Yotta's solution can easily scale from 20kWh's to 1MWh. Pre-orders for the SL1000SX now accepted.
Recent updates: Systems will be future-proofed to incorporate the SL1000SX at full-commercial launch in 2021 with future expansion considerations.
Project example: CSU Dominguez Hills University California State University, Dominguez Hills (CSUDH) will roll out Yotta Energy's microstorage systems across university buildings in the city of Carson, both organizations said in a recent statement. the new trials at CSUDH are meant, for now, to produce evidence around the system's power controls and its ability to carry out core tasks. Areas the testing will examine with CSUDH's help include how quickly SolarLEAF shifts energy and shuts down, the seamlessness of remote controls and the performance of the battery's touted thermal regulation capabilities.
---
Fixed-tilt Ground-Mounts
OMCO Solar's FIELD-FAST
Target project size: 500 kW to 10 MW
Estimated install: 2 weeks per MW
MW deployed: Over 50 MW in C&I space
Additional services offered: Geo-technical services including foundation design, pull testing, and report out; stamped structural drawings; turnkey install services to include pile, racking, and module installation; hands-on installation training; project management support during delivery and construction.
Three notable features
Pre-assembled components to accelerate build-time, avoid loose hardware and streamline site staging
Rail assembly with "slide and stay" ensures optimal module orientation
Patented Module Clamp Design allows for all ground-level, below-module work and no heavy lifting
Basics: The FIELD-FAST racking system from OMCO Solar typically consists of five to seven pre-assembled, galvanized steel components. OMCO offers multiple foundation options but primarily installs its pile-driven C-channels. Install is facilitated by the system's pre-assembled components and time-saving features. No overhead lifting equipment means a safer and faster install. One of the favorite features of installers is the module mounting method, which is aided by OMCO's modrail design that allows modules to simply slide up the modrails and be held by precisely spaced tabs. This helps in the placement and alignment of the modules on the modrails.
Recent updates: OMCO Solar developed its FIELD-FAST EXPRESS Program to assist its Regional Solar Installation, Distribution Partners and C&I Projects with even faster access to to its FIELD-FAST fixed tilt solar racking solution. The FIELD-FAST EXPRESS Program consists of standard table sizes, specified embedments, reduced lead times and a sped up county approval process.
Project example: The Concord School District in Arkansas is the second solar project in which Entegrity partnered with OMCO Solar, and it is the first solar project site in the city of Concord, Arkansas. This project was just completed this past month of April and was a clear depiction of the lengths that OMCO will go to assist their customers. Due to COVID-19 restrictions only a specified number of Entegrity's installers could be on site and OMCO worked closely with Entegrity to be able to adequately support this project and another ongoing project.
---
RBI Solar's Dahlia
Estimated time of install: 2-3 weeks per MW for complete structure and module attachment
MW deployed: Over 110 MW
Additional services offered: Complete design, structural engineering, in-house manufacturing and installation services from structural assembly to module attachment.
Basics: RBI Solar's Dahlia is designed with a low tilt and clearance, which is made possible by requiring minimal parts/pieces. The completed assembly includes only 5 different components, some of which come pre-assembled for simplified installation.
Three notable features
1. Maximum PV Density. The low tilt and clearance design of the system allows for more PV modules to be deployed on a given site than a standard ground-mount system. These features, combined with modules being orientated 4-high in portrait, provides a higher GCR than many commercial tracker products.
2. Simplified installation. With only five different components and the same hardware size used throughout the entire structure, installation is easier than ever. Some components are also shipped pre-assembled to only further reduce labor time in the field.
3. Dual post foundations. Dahlia has a dual-post foundation to support the 4-high portrait module configuration. The foundations are designed per the requirements of the project site and alternate foundations such as ballasts or concrete piers can be used in area with more challenging underground conditions.
Recent updates: The most recent modification to the Dahlia system was modifying the bracket which connects the Foundation to the Top Beam. This bracket now offers the system more flexibility and adjustment during installation in the field.
Project example: The largest Dahlia project completed to date is a 75 MWdc system in Grifton, N.C. The array covers 412 acres of land and produces enough electricity to power over 8,000 homes annually.
---
Nuance Energy's Osprey PowerPlatform
Target project size: 2 MW or less
Estimated install time: Foundations, racking and panels all done in a day or two.
Basics: The Osprey PowerPlatform from Nuance Energy is a ground-mount solar racking structure that doesn't require piles, helical screws or cement piers. Instead it relies on a system of earth anchor cable assemblies with one-way wedge grips and a washer to prevent uplift, similar to utility poles. Anchors are sent into the earth via hand tools through the base plates and load tested in real-time soil conditions and are designed to prevent uplift during a wind event. This real-time soil condition test gives AHJ's the best knowledge of the soil at that time, eliminating the need for the advance geotech report ordering, process and price.
Recent updates: The Osprey now uses a much stronger and more durable anchor that removes the previous need to predrill holes and now only one anchor is required per leg in most cases. Nuance Energy also moved its roll forming lines and supply chain to strategic locations in the West and Midwest. This took their lead times from three months to three weeks. We wrote about these features and more in this article.
---
Kern Solar Structures's MaX Ground-Mount
Target project range: 7-kW to utility-scale
Estimated time of install: 5 days average (includes module installation)
MW deployed: 1 MW
Additional services: Customizable design solutions; Preconfigured design solutions; Guidance/recommendations on design.
Three Notable Features
Flexible System that can accommodate most full frame PV modules.
Pre-configured and pre-engineered solutions reduces project cycle times.
High strength system strong enough for 100 mph winds. Coated pile options available.
Basics: The MaX Ground Mount Solution from Kern Solar Structures is pre-engineered and pre-designed, ranging in table sizes from 18 to 90 modules. These tables are designed to maximize the structural components and eliminate material waste. MaX kits are made of at least 14 individual components plus fasteners and can accommodate a wide range of PV modules. These kits are based on Kern Solar Structures standard ground mount offering. The MaX is suitable for both residential and utility scale installations.
Recent updates: MaX structures are currently available in pre-engineered kits for the Central Valley of California. These kits include an engineering package with a site-specific memo of application that can be generated in as little as a day. Pre-configured and pre-engineered ground mound solutions significantly reduce project cycle times.
Project example: Westside Produce. This project used a preconfigured table layout to reduce the engineering and design stage of the project. Installation was also reduced due to the repeated tables and lack of structure variation. This project took advantage of project cycle reductions and optimized layouts in order to achieve the desired power goal and reduce the soft costs associated.
---

The TITAN Series from APA
Target project size: 1 MW to 50 MW
Estimated time of install: Varies on project size
MW deployed: 100 MW
Additional services offered: Custom in-house engineering and optional turnkey mechanical install services. Versatile line of foundations for any type of soil.
Three notable features:
Standard with single driven C-Pile or Dual Screw Foundation
Asymmetrical 3-rail design universal to all 72 cell modules
Pre-assembled Patented Gravity clip reduces module install time
Basics: The TITAN system from APA features a 3-rail asymmetrical design that comes standard with a single driven pile or dual ground screw foundation. Both systems use the same profile and are universal to all 72 cell modules allowing for last minute module changes. APA's patented Gravity Clip reduces module install time by 30 to 40 percent with various features allowing for in the field adjustability. The 3-rail design offers bi-facial compatibility with low backside shading.
Recent updates: The TITAN Series is now available with First Solar Series 6 modules. The FS6 TITAN is also a 3-rail design with a shared center rail and features its own patented Gravity Clip allowing for a fast and efficient module install.
Project example: The Ayersville School District in Ohio is a showcase site with the TITAN C-Pile system. This project was built with Entrust Energy and Inovateus Solar as part of a large portfolio of Ohio schools. APA's full PM and Engineering teams were heavily involved as it was close to home. APA tested how the advanced features in the design helped streamline the building process. With strategic hole patterns in several key connections and engineered roll bars for set and go purlin install, the TITAN exceeded expectations. Most exciting was the Gravity Clip module install time where 450 modules/day could be set with a team of five.
---
Solar Carports and Canopies

Kern Solar Structure's Solar CarPorT
Target project size: 50 kW+
Estimated time of install: Structures can be assembled in as few as 5 days (includes module installation)
MW deployed: 2 MW
Additional services offered: Design, layout and engineering services included in project.
Three notable features
Highly customizable with coatings, and unique value-added features.
Made using 12% less steel by weight, 25% fewer structural components, and 68% less bolts.
Use steel supplier who employ high levels of recycled material – typically in excess of 88% recycled steel content
Basics: Kern Solar Structure's Solar CarPorT System is constructed using structural steel components and features a high strength aluminum racking system called Solar Speed RaX. Using a proprietary installation system, the SoLFasT Method. A single structure can consist of as few as 45 individual components plus fasteners. These carports come in a variety of orientations.
Recent Updates: By implementing integrated project delivery practices, Kern Solar Structures can offer reduced project cycles on all Solar CarPorT projects. This means that projects have no lead times, and the structure is manufactured and ready for installation before the permit process is complete. Additional project cycle times such as layouts and engineering are also reduced thanks to the modular design of the CarPorT System.
[button link="https://goto.webcasts.com/starthere.jsp?ei=1308414&tp_key=ed4a977dbf"]Learn more about Integrated Project Delivery, and the Kern Solar CarPorT five-day install in this free webinar.[/button]
Project example: Imbibe Wines showcases several customizable add-ons that stand out from a typical solar carport. It features a two-toned coating application, as well as customized Wraps from Kern that showcase Imbibe's company logo laser-cut and backlit with LEDs. The project also features area lighting and additional branding elements on the beams.
---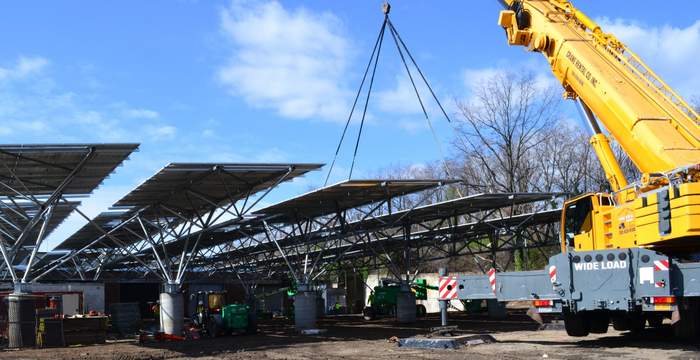 Quest Renewables' QuadPod
Target project size: 500 kW – 1 MW
Estimated time of install: 1 MW system (racking installation and foundations) = 5 weeks
MW deployed: 10 MW
Additional services offered: Structural design and engineering, construction planning, and on-site support. We are currently qualifying regional construction partners to be certified installers across the U.S.
Three Notable Features
Aesthetics. The QuadPod solar canopy is aesthetically unique among solar carports.
Density and Foundation efficiency. The QuadPod allows more panels per foundation as there are fewer foundations per truss, adding up to a great ground coverage ratio.
Construction method. QuadPod solar canopies are constructed on the ground.
Basics: QuadPod solar canopies are space frames (3d trusses) that are 80 percent tube steel by weight. They consist of 5 major part typologies: square tube chords, round tube web struts, round ground struts, z-purlins, and splice brackets. The QuadPod system is constructed on the ground, eliminating the need for scissor lifts and ladders. Panels are mounted while the racking system is still on the ground. Electricians come behind the truss construction team and mount the home runs and conduit. After panelization and electrical work is completed, the system is lifted by cranes and attached to the foundations.
Recent updates: This year, Quest Renewables was chosen by the Department of Energy to develop a ground-mount solar array that can withstand a category 5+ hurricane and continue to produce power. One inherent weakness from a hurricane-prone area's demanding conditions is the connection between the rack and panel frame. Quest's partner, Vespr Solar, created a clip-based solution that not only delivers the strength needed, it also increases panel attachment speed by a factor of 4. Quest's ground-mount solution, Windmaster, is now available.
Project example: A recent project utilizing QuadPod solar canopies was constructed by New Columbia Solar in Washington, DC. Quest Renewables delivered an aesthetically pleasing PV system that also delivered on the site owner's need for maximum density. With Quest's long span canopies, New Columbia was able to maximize density on a compact parking lot where the system owner wanted to maximize kWh for the SREC program in DC.
[button link="http://www.omcosolar.com" bg_color="#1ea312″ window="yes"]Get to Know OMCO Solar
OMCO Solar is a manufacturer of solar racking and tracker systems. OMCO offers two fixed-tilt systems, Field-Fast™ and Choice™, as well as its OMCO ORIGIN™ Single-Axis Tracker. Learn more at omcosolar.com[/button]
---
SunModo's SunPort Carport System
Target project size: 100 kW+
MW deployed: 10 MW
Additional services: Standard and custom carport canopy solutions
Three notable features
All-aluminum construction to reduce stress on the foundation
Span up to 25 feet with its long span truss
Easy-to-assemble design for fast installation
Basics: The SunPort Solar Carport System is a lightweight, cost effective, aluminum frame carport structure. The system maximizes energy harvesting and minimizes structural weight with its all-aluminum construction. The SunPort Carport System has been engineered to resist any site-specific wind, snow and seismic forces with a wide variety of anchoring options available.
Listen to more in-depth conversations on Solar Builder's YouTube channel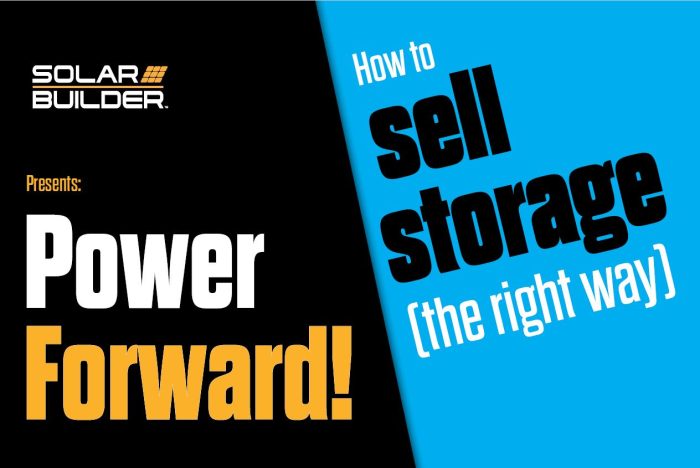 Our most popular series include:

Power Forward! | A collaboration with BayWa r.e. to discuss higher level industry topics.
The Buzz | Where we give our 2 cents per kWh on the residential solar market.
The Pitch | Discussions with solar manufacturers about their new technology and ideas.
Tags:
AceClamp
,
ballast
,
carports
,
commercial
,
Ecolibrium Solar
,
fixed tilt
,
Nuance Energy
,
OMCO solar
,
PanelClaw
,
Quest Renewables
,
RBI Solar
,
S-5!
,
Solar Builder Buyer's Guide
,
Sollega
,
SunModo
,
Yotta Solar