Along with the doubling of the U.S. residential solar + storage market last year, new system providers have cropped up like spring weeds, helping to make the consumer decision about which to select a more difficult proposition. Many of these new providers are banking on well-known brands, strategic acquisitions and partnerships, as well as extended platform capacity, culminating in a clear, single-vendor approach to the provision of full solar + storage system.
Most of the newer storage systems are being sold under a single brand name, with one warranty and single point of service contact. Most come prepared for TOU optimization and include the capability for user-defined home energy management. Most are capable of microgrid islanding, and some are already capable of energy arbitrage. Some of the systems are capable of incorporating diverse renewable generation sources, and a few are able to do so with three-phase options, catering to heavy power users and light commercial users.
In this article, we wade into the weeds to help parse out the differences among these solar + storage system options.
Panasonic
Among the new solar+storage system providers, there are some very big names. Panasonic, for example, introduced its new EverVolt system in September, at the 2019 Solar Power International trade show. In addition to offering both AC and DC coupled options, the 5.7 kWh modular system can be scaled up to 34.2 kWh providing up to 50 amps, relying on Panasonic's own lithium-ion batteries.
Cool features: One feature of the Panasonic system is its installer-friendly design, with no component weighing more than 60 pounds. Another is its field serviceability that precludes the need to return a system to the manufacturer for repair.
"In the longer term view, we designed the system so that it can be completely repaired in the field," observes Dan Glaser, a Panasonic senior sales engineer, based in Ventura, CA.
[button link="https://staging1.solarbuildermag.com/energy-storage-start-up-kit-for-solar-installers/"]Now is the time to prepare your business to sell and install energy storage systems. Here's a rundown of the basics with Panasonic's Energy Storage Start-Up Kit.[/button]
Generac
Another corporate behemoth now in the solar+storage fray is Generac, which already has 2 million generating systems installed in North America. In December, the company announced that shipments would begin for its PWRcell system, based on 8.6 kWh Panasonic lithium-ion batteries, expandable up to 34.2 kWh.
"What homeowners and installers have been asking for is a plug-and-play solution from a single manufacturer, within which all the elements work cohesively together. They want a system that goes in easily, and if anything goes wrong, there is only one phone call to make," says Keith Marett, CEO of Neurio (which is now a part of Generac).
[button link="https://staging1.solarbuildermag.com/category/residential-solar/" window="yes"]January is Residential Solar Design Month here at Solar Builder. Check out all of our residential solar news and insights this month right here.[/button]
Cool features: Generac's energy management system can meld homes with or without PV installation to the PWRcell solution, which can also seamlessly link to backup generators. The PWRview monitoring system enables remote control of the system, along with the ability for remote firmware updates. Generac's long experience with backup generators also led it to offer the PWRcell system in a three-phase grid-tie configuration, which will power residential heat pumps. The three-phase option also opens the door to small commercial operations, commonly wired for heavier load demand.
LG
LG is another global brand offering a comprehensive solar+storage system. LG Chem's RESU home storage solution is offered in a 48V option from 3.3 kWh to 13.1 kWh, and in a 400V option ranging from 7 kWh to 9.8 kWh, based on the LG lithium-ion RESU10H battery. The 400V battery is not used in off-grid applications.
LG partnered in March 2019 with SolaX Power, a manufacturer of battery storage inverters, including the Hybrid X grid-tied inverter. Apart from its widely-recognized brand, LG has also been in the U.S. residential storage market since 2012, when it began mass production of its system. Globally, the company has installed over 4 GWh of energy storage systems.
Fronius
Fronius in December announced its GEN24 Plus hybrid inverter, available in both a single-phase Primo and a three-phase Symo version, available in Q2. Hybrid inverters allow multiple energy flows into the battery and the household at the same time. The Fronius GEN24 inverters guarantee energy safety through PV Point, an integrated basic emergency supply for an emergency power plug.
Fronius has forged an alliance with BYD to offer the latter's Battery-Box Premium1 for use with the GEN24 Plus. The Battery-Box Premium HVS ranges from 5.12kWh to 10.24kWh and the Battery-Box Premium HVM ranges from 11.04kWh to 22.08 kWh. The Fronius Solar.web online platform provides monitoring and online troubleshooting that enables installers to become energy consultants for homeowners.
Enphase
Enphase also will begin delivering its Ensemble storage solution in Q1 with the modular Encharge 3 or Encharge 10 storage systems, which offer usable and scalable capacity of 3.4 kWh and 10.1 kWh. As many as four of the 10.1 kWh units can be stacked. The new system is designed to be compatible with Enphase IQ 6 or IQ 7 rooftop microinverter. The system contains microgrid enabling technology that is available in only 1 microsecond, according to Ken Milhous, the company's Senior Director of Brand and Channel Marketing.
Cool feature: Enphase is touting its third generation storage system as based on three pillars: safety, power and reliability. Unlike many storage systems based on lithium ion batteries, Enphase uses Lithium iron phosphate (LFP) batteries. Reliability is enhanced through the use of a wireless communication kit enabling direct communication between Encharge and other system components using 2.4 GHz and 915 MHz frequencies in parallel.
SimpliPhi + Sol-Ark
SimpliPhi has partnered with Sol-Ark DC to include the latter's hybrid inverter in the latest evolution of the AccESS energy storage and management system, also launched at SPI. The AccESS system is based on cobalt-free LFP PHI batteries, and is available with 15.2 kWh or 22.8 kWh of storage. The system can be AC or DC coupled.
Extending the SimpliPhi platform to other renewables, AccESS can be charged with solar, wind, grid or generator power, and comes pre-wired and pre-programmed.
"Sol-Ark's 4 millisecond no-glitch transfer time is twice as fast as Outback or Schneider and 500x faster than Tesla or SolarEdge," claimed Tom Brennan, engineering manager at Sol-Ark, at the time of the launch.
ABB + Humless
Another storage system that is based on a recent strategic partnership is that of ABB and Humless, also announced at SPI. ABB's new 10/4 Residential Storage System is now powered by Humless' 48V Universal Energy Management system and ABB's UNO-DM-TL-PLUS-Q line of residential inverters. The system is supplied with LFP batteries but can operate on any battery chemistry, Humless also claims that installers of its Universal system can connect any brand of panels or inverters into one seamless and scalable system.
Humless claims that its Universal system is the only system in the U.S. market with simultaneous AC/DC coupling, according to Eric Lobdell, the company vice president of sales and tech support. The Universal platform also features programmable smart outputs for home energy management, as well as arbitrage and community energy management capability, already being piloted in South Africa and features programmable smart outputs for home energy management, as well as arbitrage capability. ABB operates in more than 100 countries.
Listen to more in-depth conversations on Solar Builder's YouTube channel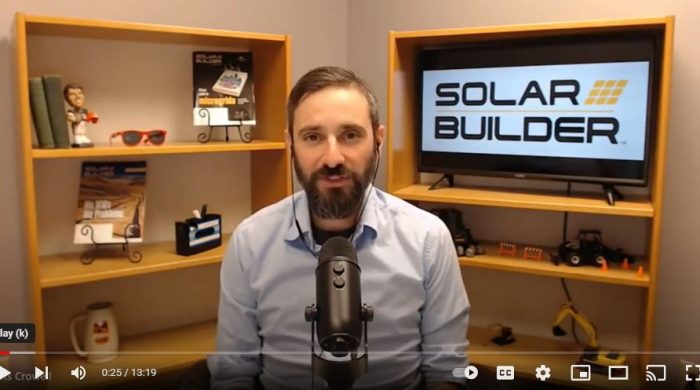 Our most popular series include:

Power Forward! | A collaboration with BayWa r.e. to discuss higher level industry topics.

The Pitch | Discussions with solar manufacturers about their new technology and ideas.
Tags:
ABB
,
Enphase
,
Fronius
,
Generac
,
Humless
,
LG
,
Panasonic
,
Simpliphi
,
Sol-Ark