Once predicted to be the wildest/busiest year in U.S. solar history, 2016 was instead "busy, but chill," (our phrasing) as the industry found its new normal after the extension of the Investment Tax Credit at the end of 2015.
So maybe a million projects didn't get done this year, but according to the latest U.S. Solar Market Insight report from GTM Research and the Solar Energy Industries Association, Q2 2016 showed 43 percent growth year-over-year and marked the 11th consecutive quarter in which more than 1 GW of PV was installed (2.05 GW).
As noted in that report, the largest portion of these gains came in utility-scale chunks. As they phrased it "this record-breaking installation total marks the beginning of an unprecedented wave of growth that will occur throughout the remainder of 2016, specifically within the utility PV segment. With more than 10 GW DC of utility PV currently under construction, the second half of this year and the first half of 2017 are on track to continue setting new records for solar capacity additions."
Another place the utility-scale boom showed up: Our Project of the Year submissions. For the fourth year running, we asked all of you to submit your best/coolest projects to be named a Project of the Year. We usually split the nominees into Rooftop and Ground-Mount categories before launching the popular vote. Well, this year, with the sheer amount of utility-scale entries, we broke the utility-scale projects into their own category, which is why you will see three winners claiming the title as 2016 Project of the Year.
Hope to see even more of you send in your best projects in next year's awards. Who knows, maybe it will force me to create another category in 2017.
---
Fort Madison Middle School
Category: Roof-Mount
Fort Madison, Iowa | 300 kW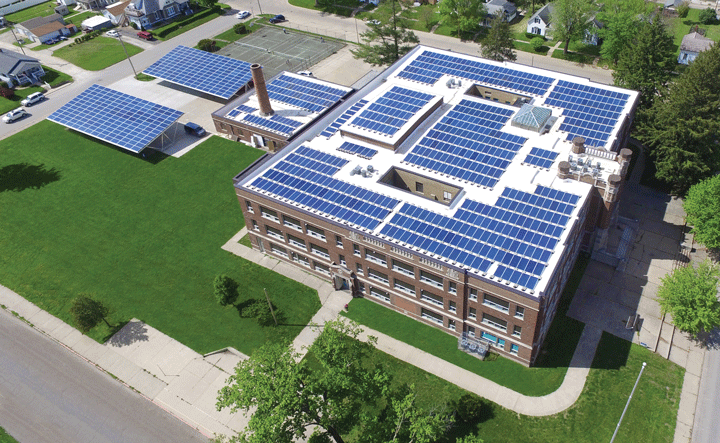 The landmark 1922 Fort Madison Middle School nearly wound up in an Iowa landfill, but thanks to the vision of developer Todd Schneider, and thanks to state-administered funding from the federal Community Development Block Grant (CDBG), the apartment complex is a showcase of renewable energy.
Schneider had already remodeled a number of public schools in Iowa before the middle school fell into his hands. Sorely outdated for school use and empty since 2012, he transformed the three-story building into a 39-unit apartment complex, primarily featuring three-bedroom configurations.
"Designing green definitely helped finance the project because the CDBG is a competitive loan that is scored on a point system, so more points for our green design, including renewable energy, pushed us to the top of the pile," Schneider says. "It was a one-time CDBG program involving new housing as part of flood relief. There were $124 million worth of applicants across the state, and only $12 million in funds to release, and we got $3 million. The total project cost was $5.5 million, with the remainder borrowed from a local bank. We're also on track for some historical tax credits to pay down the notes."
While the project is a for-profit venture, Schneider also retained the gymnasium and the auditorium, which may come to serve more public use. He said members of the class of 1960 have offered to contribute some funding to preserve it.
---
Levee Mount
Category: Ground-Mount (C&I)
Delano, Calif. | 522 kW
The agricultural segment has a conundrum when it comes to adding solar: it could benefit greatly from the power generation, but dedicating too much land for a sizable enough project will cut too deeply into its revenue. Wasting productive land just isn't an option.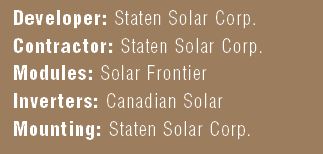 "Typically, farmers love their trees like their children, and they don't want any harm to them or to their revenue," says Sandipan Bhanot, president and CEO of Staten Solar Corp.
The owners of a farm in Delano, Calif., were just the latest example for Staten Solar, which has these conversations time and again since 30 to 40 percent of its revenue comes from agricultural installs. Solving this conundrum would be both a huge deal to its customers and its own business.
So, they solved it.
---
Moapa Southern Paiute Solar
Category: Ground-Mount (utility-scale)
Moapa, Nev. | 353 MW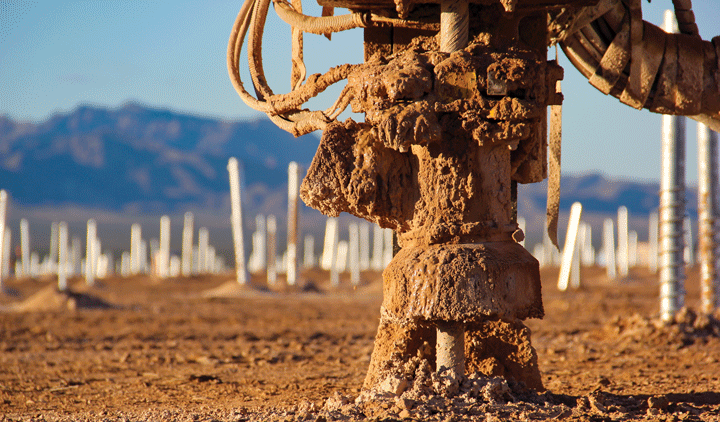 You may remember this project first appearing in our Sept./Oct. issue in which we highlighted the importance of the ground screws in completing the project. It was entered into the Project of the Year awards shortly thereafter and received the most votes in the utility-scale category. So, let's get reacquainted with it, shall we?
Located 45 minutes northeast of Las Vegas is the Moapa Indian Reservation and tribal members of the Moapa Band of Paiutes are motivated to make better, more sustainable use of their available land. As the Dakota Access Pipeline debacle has revealed, the energy sector doesn't always treat tribal lands with much respect, and the Moapa Band of Paiutes tribal members have fought for years to close a nearby coal-burning power plant that releases coal ash into their land and could very likely be causing a rise in asthma and other health issues.
Pursuing a renewable energy future here is beneficial beyond economic impact because reliable solar energy that closes this coal plant could change lives.