What are you looking for in a tracker? Longer rows with fewer spans? A two-up bifacial module setup? A simple central drive configuration with reliable bearings? More self-powered options? There are a lot of trackers in the segment, and we wanted to highlight some of the cool, innovative features outside of the market share leaders that reduce costs, ease installation or improve reliability.
Arctech
Three tracker styles to match every solar site
Arctech offers three tracker designs: The Arctracker Pro is its centralized tracker with push-pull design that is the best for flat land. The SkySmart is a single-row design with two modules in portrait that has fewer posts and is perfect for bifacial modules, and the SkyLine is a single-row design with one module in portrait.
Arctech makes the majority of its products with the support of two enormous factories, with a third on the way in 2019, to better control costs and quality.
Key hardware
All of Arctech's trackers have its new D-shaped torque tube that adds stability and saves material.
Single-row trackers are powered from the string rather than from the batteries.
A beefy bearing was recently added that can handle a 20 percent N-S slope and stop the translation of weight.
Software
"Most of what we are doing is ensuring interfaces to client's SCADA systems," says Guy Rong, president of Arctech Solar. "We have a number of alarms in the rare case something happens to the system. Beyond this we are building software to create more accuracy on a row-by-row basis. We will announce when this is available."
Case study
A 172-MW project in Telangana, India, had three main challenges that were solved by the design of the Arctracker Pro.
Challenge 1: Rough terrain and uneven slope. Solution: Arctech took advantage of special linkage and different post lengths to offset land contour variations and, at the same time, keep the high density of PV modules in available land and maintain high energy yield. Moreover, tracker sizes were specially designed to make best use of corner areas of land.
Challenge 2: High wind. Solution: Arctech Solar reinforced the tracking system by adding 25 percent more dampers to ensure stability and reliability of general operation and avoid damages caused by strong wind.
Challenge 3: Installation within timeline. Solutions: Installing 172 MW at a single site within the timeline was a challenging task for the EPC. In India, it's not always easy to find skilled man power in remote areas. To solve these issues, the Arctech engineering team collaborated with the EPC to finalize installation phases well before shipping. Posts were shipped first to make sure the civil work started early while Arctech's project managers gave tutorials on demo tracker installation so that all teams could start work simultaneously.
Nclave
Recently acquired by TrinaSolar, this international tracker has beefed up its design
Spain-based Nclave keeps on expanding. Founded 12 years ago by the Clavijo Family, it integrated with MFV in 2017. Nclave has installed over 2.5 GW worldwide. Earlier this year, the company teamed up with Trina Solar, a Chinese supplier of global solutions for the solar sector, to be a part of its TrinaPro utility-scale solution, which eventually led Trina to acquire a controlling interest in Nclave.
Structure
Nclave has developed and patented a module mounting design, the Nclave Clamp, that reduces assembly time of modules by more than 75 percent with as low as 50 manhours per MW. It also lessens the weight of the material by more than 30 percent. It includes UL-compliant integrated grounding features and has been load tested to UL and IEC standards.
Nclave separates the tracker assembly from the module assembly process to ease installation. The registered purlin allows the system to be pre-assembled on the tracker so modules can be installed with only a nut driver. Installers get rid of dedicated hardware for module installation (no more clips, bolts or rivets) as the U-bolt brackets secure module, purlin and clamp all together with just two nuts: a sandwich-like concept.
Software
The Nclave tracker controller is part of smart PV solution TrinaPro. The tracker controller is connected with the inverter in order to boost energy yield production: the optimized matching among components and the "Edge Computing" algorithm integration of TrinaPro can improve system stability with higher power generation.
The controller is empowered with a smart O&M system on a cloud platform that analyzes and processes data to optimize the system's operation model and ensure the system runs smoothly and efficiently.
Solar FlexRack
We featured this in more detail right here.
Tough, reliable, and cost-competitive, Solar FlexRack introduces their new, advanced TDP 2.0 Solar Tracker for commercial and utility-scale ground mount solar installations. The TDP 2.0 Tracker's new BalanceTrac design offers more modules per row (up to 90), a rotational range of up to 110° and is compatible with 1,000V and 1,500V crystalline and thin film modules. This solution allows for shorter piles and lower per-unit fixed costs for balance of system savings. The combination of complete project support services and this next-generation technology enables solar power plants to increase energy yield while significantly reducing project risks. The results are cost savings across your solar project budget.
Soltec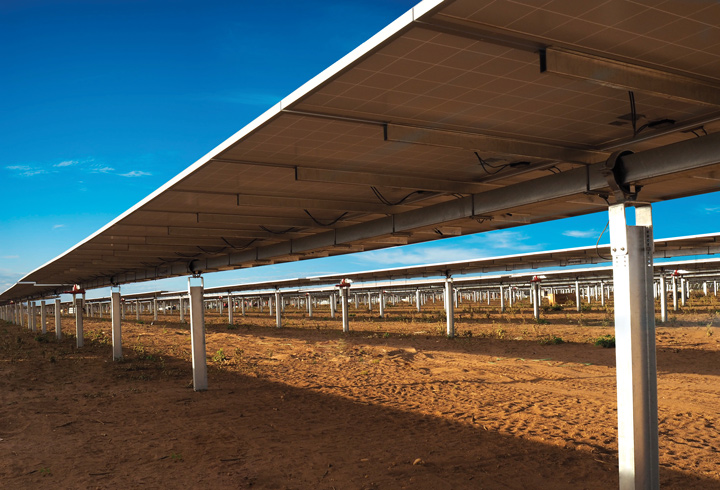 Smartly designed structure offers slick wire management
Soltec, a manufacturer and supplier of single-axis solar trackers and related services, has installed its trackers all over the globe for more than a decade now, but the company says 2017 was its best year so far, showing over 200 percent revenue growth. The strategic move to the United States in 2015 has coincided with additional market share in 2017, amid market uncertainties and strong competition.
Structure
The DC Harness StringRunner wire management solution is a proprietary standardized component of Soltec's SF7 tracker. It performs the functions of combining fused PV source circuits and cabling a homerun trunk circuit, all enclosed within the tracker torque tube, to a DC power switch for off-take. It eliminates the traditional fused combiner box and other cable management materials and controls the power output of eight trackers typically around 240 kW.
Soltec says the cost benefits come from the reduction of materials and related operations in manufacturing, power plant design, purchasing, supply and installation. The net cost benefit is a 30 to 35 percent reduction of installed first-cost compared to the traditional exposed installation of bundled copper wire circuits with a traditional combiner box. Installation labor is reduced by 75 percent thanks to less material and fewer manual operations including wire connections.
There are yield-gain benefits too with a reduction of IR cable losses, reliable low-resistance connections and factory dimensioned trunk cable sizing. The elimination of cable-management backside shading increases tracker compatibility with bifacial module technology.
Software
Comparative tracker yield-gain elements are both standard and site-dependent. Principal to site-dependence is asymmetric backtracking control to modify tracking position in the case that terrain irregularities cause inter-row shading in morning and afternoon hours, a case that is avoidable on flat terrain.
Soltec's TeamTrack asymmetric backtracking control solution achieves both yield-gain and cost reduction benefits in tracker technology, achieving up to 6 percent yield-gain over the alternative of standard tracking on irregular terrain, and enabling cost reduction of earth-grading on contours and steps. The TeamTrack differs from other backtracking solutions that incorporate an auxiliary PV module and feedback response mechanisms that can add cost and vulnerability by instead performing the task straightforward with programmed operation and robust tracker position control.
The TeamTrack control algorithm works with NREL sun position data versus programmed constants of local irregularities (that never change) to calculate and execute backtracking movements and avoid inter-row shading. TeamTrack is part of comprehensive tracker positioning control that includes sensing and response to cloud cover, snow cover, standing water level and wind regime.
Schletter
New tracker product with self-locking mechanism now available
Although the U.S. arm of Schletter filed for bankruptcy, the Germany-based headquarters is still chugging along. At this year's Intersolar Europe, Schletter Group presented its new tracking system.
Hardware
The core feature of the new Schletter tracker is that it combines the stability of a fixed mounting system with the additional yields of a tracking system. This is achieved by the drive concept: While most other tracking systems use hydraulic dampers or similar supporting structures to mitigate the vibrations and torsional forces caused by the wind, this Schletter system features a drive system with a self-locking mechanism. Each post locks as soon as the row has stopped moving. This newly-developed and soon to be patented drive system fully eliminates vibrations over the entire row which can be caused by wind. Therefore the system, while at rest, has the properties and durability of a fixed mounting system and is designed to withstand wind speeds of up to 161 mph. It thus completely avoids the dangerous galloping effect.
The second feature that stands out is its efficiency, achieved through its large wing-span and ground cover ratio. Each row can be up to 393-ft long and is driven by one centrally located motor. At 13 ft in width, each row is wide enough to hold either two panels oriented vertically or four horizontally, thus up to 574 sq yds of solar array can be installed per row and motor. This allows operators to make optimal use of the available land and a ground cover ratio of more than 50 percent can be achieved.
Software
The tracker has a rotational range of 60 degrees and is controlled through wireless technology, which completely obviates expensive wiring for both power supply and communication. The motor and the control systems are selfpowered by a dedicated PV panel in each row with a battery pack. To make O&M easier, mechanical connections between the rows have been deliberately avoided. This allows unhampered vehicle access between the rows, for instance during servicing and maintenance work.
GP JOULE
GP JOULE's single-axis tracker passes 20-year reliability test
The PHLEGON single-axis tracker from GP JOULE Canada Corp. passed a series of accelerated life-cycle tests conducted by the Southern Alberta Institute of Technology (SAIT) in Calgary. The Institute's Green Building Technology Lab and Demonstration Centre confirmed PHLEGON's long-term reliability within a wide range of environmental conditions and proved its performance in extreme northern climates. SAIT's Accelerated Life Test Report shows that GP JOULE's active tracking technology provides proven results in the Northern Canadian and U.S. markets where fixed-tilt PV has been dominant.
SAIT cycled PHLEGON's mechanical components continuously 7,305 times over a 19-day period to simulate two decades of functionality. PHLEGON initially underwent the tests without environmental factors, and then went through another round that simulated extreme conditions including grit, freezing rain and sleet. The test included a deep freeze below -20C, confirming sensitive components function under extreme temperatures. "Freeze-thaw" tests mimicked the effects of spring and fall on the tracker, flooding moving parts with water before immediately exposing them to below-zero temperatures. The actuator, responsible for controlling and rotating the solar panels, completed both the mechanical and environmental rounds of testing — essentially 40 years without failure.
"GP JOULE wanted SAIT to test two things. First, how the system will operate in Alberta's climate and second, what the cost of operating and maintaining the PHLEGON over a 20-year lifespan will be," says Tom Jackman, SAIT's principal investigator. "Our testing protocol introduced freezing conditions that were not considered in their original test plan, resulting in substantial ice buildup and additional weight. All components tested without failure."
SunLink

Updates strengthen the TechTrack design
SunLink's single-axis tracker TechTrack is one of the quickest mounting systems to install, largely due to the simplicity of every component designed to eliminate inefficiencies and optimize energy production. The company is responding to the current environment, with customers looking for faster installation to keep up with their volume of solar projects and ultimately reduce field labor and associated installation costs, with some tweaks to its tracker design.
Hardware
One change is a new bearing and pivot design that arrives on site preassembled. The new and improved bearing design provides enough room in the stabilizer stroke (SunLink active damper) so that the system no longer needs to be rotated. Instead, the stabilizer mount position can be set from a measurement, saving substantial installation time. And with the preassembled bearings, installation crews can immediately install the component, saving valuable time in avoiding additional assembly of multiple parts in the field.
An additional design benefit enables drop-in torque tubes, eliminating the requirement for specialized jack equipment. SunLink also improved the durability of its pivot and bearing to withstand the rigors of construction crew handling on the project site.
"Another way we're is reducing installation time is by revisiting our slew arm," says Kate Trono, SVP of product, SunLink. "With a more streamlined design, we've eliminated the need for multiple or expensive custom tools and install kits that can sometimes add another $10,000 to a project. Our redesigned slew arm can be installed with standard tools, reducing the number of components, labor time and additional expenses."
Feature enhancements like these may seem like small improvements, but the pay-off is big when you consider the reduction in labor, installation time and reducing your overall solar project cost.
Listen to more in-depth conversations on Solar Builder's YouTube channel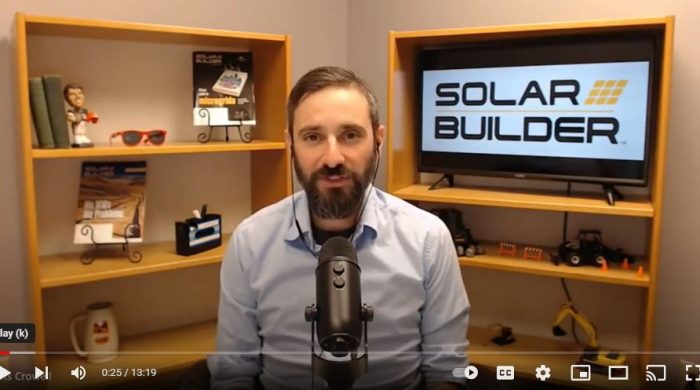 Our most popular series include:

Power Forward! | A collaboration with BayWa r.e. to discuss higher level industry topics.

The Pitch | Discussions with solar manufacturers about their new technology and ideas.
Tags:
Arctech Solar
,
GP Joule
,
July August 2018 Print Issue
,
NClave
,
Schletter
,
Solar FlexRack
,
Soltec
,
SunLink